Future uncertain, Class XII pupils seek help
Students seem to be feeling they have 'no control' over their lives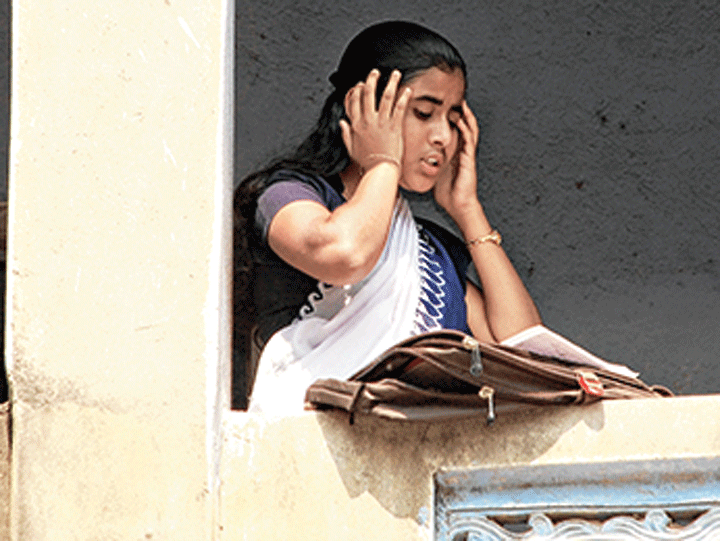 ---
|
Calcutta
|
Published 28.04.20, 10:19 PM
---
Psychiatrists are receiving calls from board examinees, especially those in Class XII, expressing their fears and anxiety as they stare at an uncertain future.
In one instance, an "academically bright" student tried to self-harm and had to be taken to hospital. On recovery, the student — a top scorer in school — said she felt "cheated" by the circumstances. Another Class XII girl had to be admitted to hospital because of what doctors described as a "panic attack".
Students seem to be feeling they have "no control" over their lives and are also worried that their admission to colleges abroad will be jeopardised, psychiatrists said.
Some of the academically brighter students are apprehensive that if they cannot write exams, they will not get a subject of their choice, a psychiatrist said.
The calls became more frequent with the extension of the lockdown beyond three week. Some students had to be prescribed medicines, another psychiatrist said.
"They are feeling a total lack of control on their lives. Till some time back, they knew their exam dates, but now there is complete uncertainty and they are losing focus and getting anxious," said psychiatrist Sanjay Garg.
The students' complaints include inability to sleep, loss of appetite, lack of concentration, racing heart and shortness of breath.
High achievers are among the more anxious ones, doctors said.
"Many high achievers are feeling that everything is at stake because they have their eyes set on a goal and now they fear that their whole plan for the future has gone awry," Garg said.
Psychiatrist Praveen Kumar said high achievers are "perfectionists" and they tend to constantly compare themselves with their peers. "Those who are high achievers look for predictability but since the situation is uncertain they might be more at risk of anxiety," Kumar said.
The role of parents is crucial.
"If parents focus more on exams and results, it increases anxiety in students. If they focus on other things such as character and behaviour, it can be less taxing for students," Kumar said.
Psychiatrist Jai Ranjan Ram said the idea is to assure students and make then understand that they are not alone in this situation.
"We are asking them to compartmentalise their thoughts — study and be prepared for exams (because many of them are not studying) and do not delve into something you cannot control," he said.
Ram urged parents to play a supportive role and let the children talk about their anxieties. "Children should be allowed to articulate their feelings and not be brushed away."
Online fun for children
The state child rights commission will launch an online programme where actors, authors, poets and singers will tell a story, recite a poem or sing a song for children during the summer vacation.
Goromer Chhuti will be a creative space on the commission's website and Facebook page where a new activity will be uploaded almost every day, starting May 1.