Fare hike or more passengers, it cuts both ways
Auto operators face dilemma as demand plunges after lockdown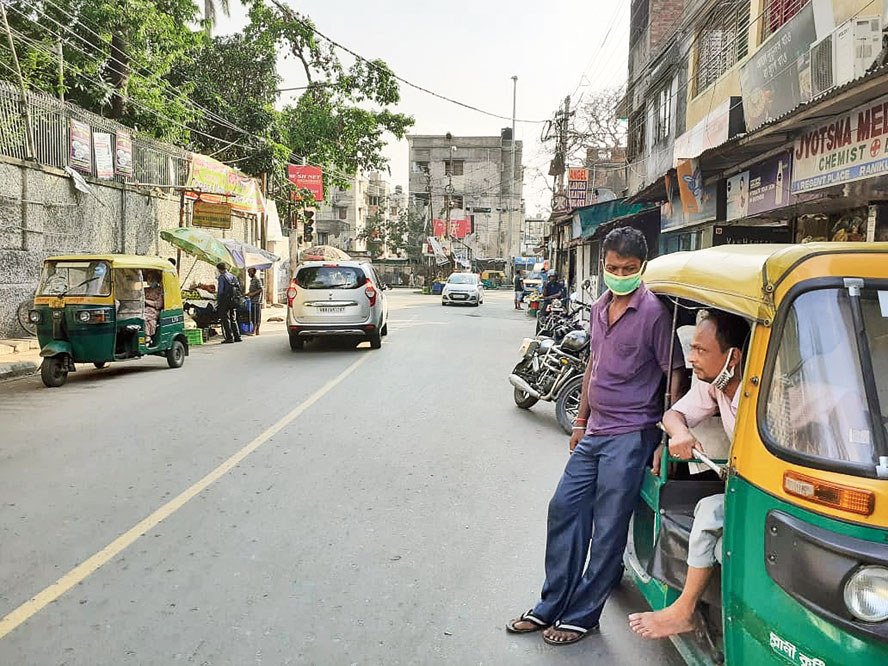 ---
|
Calcutta
|
Published 04.06.20, 09:53 PM
---
Autorickshaw drivers are in a Catch-22 situation. If they double the fare to make up for the drastic fall in passenger count, people are not always willing to pay.

If the drivers decide to ferry four people on each trip, they run the risk of scaring away potential passengers.
In such a situation, some auto operators and their leaders, who otherwise lord over the streets, don't know the way forward.
On at least three routes, Metro saw operators pleading with passengers to pay more, if possible, considering that no more than two people could take a ride at a time.
In Calcutta, auto operators are not known to make requests. From running an auto on split routes to demanding extra fare, they usually have the last word.
The prolonged lockdown, the fear of the disease and the resultant financial impact have dented the won't-bend attitude of at least some auto operators.
On routes such as Ranikuthi-Jadavpur 8B and Golpark-Jadavpur, it appeared that even as the government was trying to normalise the city's mass transport, the reality on the ground continued to pinch both operators and passengers.
An auto on the usually busy Ranikuthi-Jadavpur 8B route was waiting with two passengers for 15 minutes on Thursday afternoon, while the driver kept shouting that he could ferry two more. Since no one came forward, the driver, Bablu, told the two persons seated in the vehicle that he could start the trip only if they agreed to pay double the fare. The two agreed.
"If passengers don't pay double, I won't earn enough even for the LPG consumed by the vehicle," said Bablu. For loading a litre of LPG, he has to pay Rs 36.
Now, he is required to fill at least 3litres of gas a day because the passenger count has nosedived. Before the lockdown, the daily requirement was 6litres.
Charging the double fare was not always a pleasant experience.
While getting off an auto, a middle-aged woman asked the driver why he was asking for double fare. He said: "Think of the reality."
The passenger was heard responding: "We are all suffering, isn't it?"
Sushanta Ghosh and Shankar Sardar, who ply autos on the Ranikuthi-Jadavpur 8B route, said they were not getting passengers because schools, colleges and Jadavpur University were yet to open.
Ghosh said he had earned Rs 150 till 4pm on Thursday. "On this route I used to earn Rs 1,200 a day. I don't know how much I could take home after paying Rs 100 to the owner as the daily rent," Ghosh said.
Most autos on the Baguiati-Ultadanga, Salt Lake-Ultadanga, Karunamoyee-Phoolbagan and Karunamoyee-Beleghata routes are plying with two passengers and asking for extra fare.
Additional reporting by Snehal Sengupta