Domestic help in unfamiliar space
With Unlock 1 debuting on Monday, certain complexes in city pass directive to not share workers among residents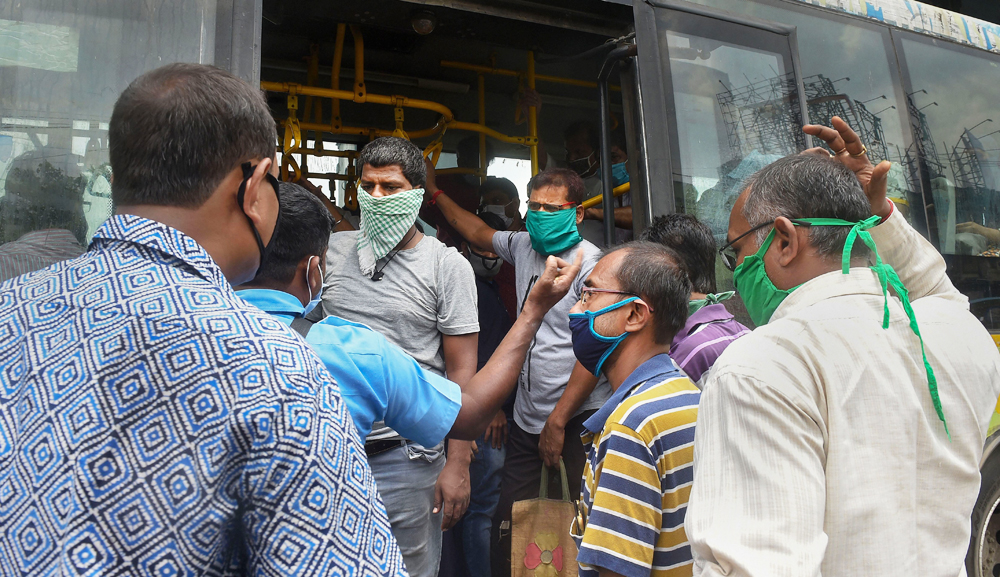 ---
|
Calcutta
|
Published 01.06.20, 11:52 PM
---
Domestic workers, who keep many a home running in the country, have entered uncharted territory with the phased easing of the lockdown.
At least one complex in Calcutta has told residents not to share domestic help, which has prompted some to put in place 12-hour shifts that entail higher pay.
The directive not to share help is prompted by the need to minimise the chance of wider transmission of the coronavirus by one possible asymptomatic carrier to multiple households in the complex.
However, probably unwittingly, the order also shakes up the Indian household economics that is not always viewed as a model of equity in spite of offering some advantages to both sides.
On one hand, the sharing of hands allows domestic workers to earn more; on the other, it makes the services affordable for the employer. But a view also exists that the remuneration has been kept low for the unorganised sector with little bargaining power.
When the lockdown was announced, several housing complexes had banned domestic help from turning up for work.
However, with Unlock 1 debuting on Monday and several older residents complaining of hardship, some of the complexes have started allowing domestic workers to return.
"Our society has allowed 12-hour shifts for domestic help from today after a lot of protests from residents (against the bar on their entry) on WhatsApp groups. Several elderly residents were suffering a lot," said a resident of Urbana, off EM Bypass.
An advisory circulated among the residents says: "Only one domestic help per house. Such help will not be shared between residents."
A few residents said they would pay more for the longer shifts but it is not clear whether that would make up for the domestic worker's lost income from other homes.
The decision to reinstate domestic hands was taken after a poll in which 60 per cent voted in favour, sources said. Basic safety measures like wearing masks, washing hands and feet at the time of entry and the use of sanitisers are in place.
In addition, forms have been circulated among residents for the declaration of details of the domestic help, which will be sent to the local police station.
The residents' welfare association (RWA) in Gariahat's Fort Terrazzo has handed to all residents a form to declare that the help is not coming from a "red containment zone".
Residents have the responsibility to inform the health department and the local police station if the domestic worker or any other domestic service provider falls ill.
A washbasin has been installed at the entrance to ensure all service providers wash their hands with soap before entering the complex.
At Uniworld City, domestic help have been allowed four days a week, and only one at a flat, till June 7. Thereafter, they can turn up for work seven days a week.
Avishikta-I and II, Greenwood Nook and Ruchira Residency on EM Bypass have also been allowing domestic workers in from Monday.
Residents were asked to give a written undertaking citing the details of the help who would enter the housing. Avishikta I insisted on only one help per household.
Newspapers
After a gap of more than two months, several complexes allowed doorstep delivery of newspapers from Monday.
With lockdown norms being eased across India, some associations have revised their "entry rules", with one society advising that the newspapers be "ironed".
Urbana has yet to allow doorstep delivery of newspapers. From Tuesday, newspapers will have to be collected from the ground-floor lobby. Until Monday, they had to be collected from a place near the clubhouse.
At Upohar: The Condoville and South City complex, both the entry of maids and doorstep delivery of newspapers started from Monday.
"It's a welcome respite. I got the newspaper at my doorstep today. To go down every morning just to collect the newspaper, come back and undergo the complete sanitisation process that I follow every time I go out has been exhausting," said an Upohar resident.
At South City, an elderly resident said: "All these days, it was practically not possible for me to go down every day and collect my newspaper. My children did not want me to step out."
He added that some of his neighbours would get the newspaper and then leave it like that for several hours and read it in the evening. "I know some who are even microwaving it," he said.
As early as on March 23, the International News Media Association (INMA) had said, citing health agencies and medical experts, that there is no record or any evidence for the coronavirus being transmitted through print newspaper, magazine, letter or package.
All scientific evidence suggests that porous paper surfaces that include newsprint are safe from the coronavirus, Earl Wilkinson, INMA's executive director and chief executive officer had said in a blog that refers to research studies and health agency guidance.
Doorstep delivery started at South City from Monday with an advisory "to either use hot iron on the newspaper or leave it under the sun for 30minutes to kill any contaminants".
The residents' welfare associations at most New Town housing complexes — Rosedale Garden, Bengal DCL and Anahita, for instance — began allowing the entry of domestic workers and doorstep delivery of milk and newspapers from Monday.
At Rosedale Garden near Karigari Bhavan in Action Area III, separate lifts have been earmarked for visitors and residents.
RWAs have framed diverse standard operating procedures during the lockdown, often raising the question whether they were entitled to take such decisions and impose restrictions on residents.
Lawyer Anirban Guha Thakurta said: "Any action by anybody cannot hinder the fundamental right to life as guaranteed by the Constitution. Sometimes, the restrictions being forced on residents could be a greater threat to life, especially for the elderly, than the lack of them."
Another lawyer, Saumyajit Raha, said most of the RWAs were not registered under the Apartment Ownership Act and acted within the framework of "by-laws" that they themselves had often framed at meetings held without quorum.
"But as they are elected representatives in most of the cases, they have the majority mandate to implement their decisions," Raha said.