Lockdown diaries: Residents share how they are spending time indoors
Here is the fourth lot of responses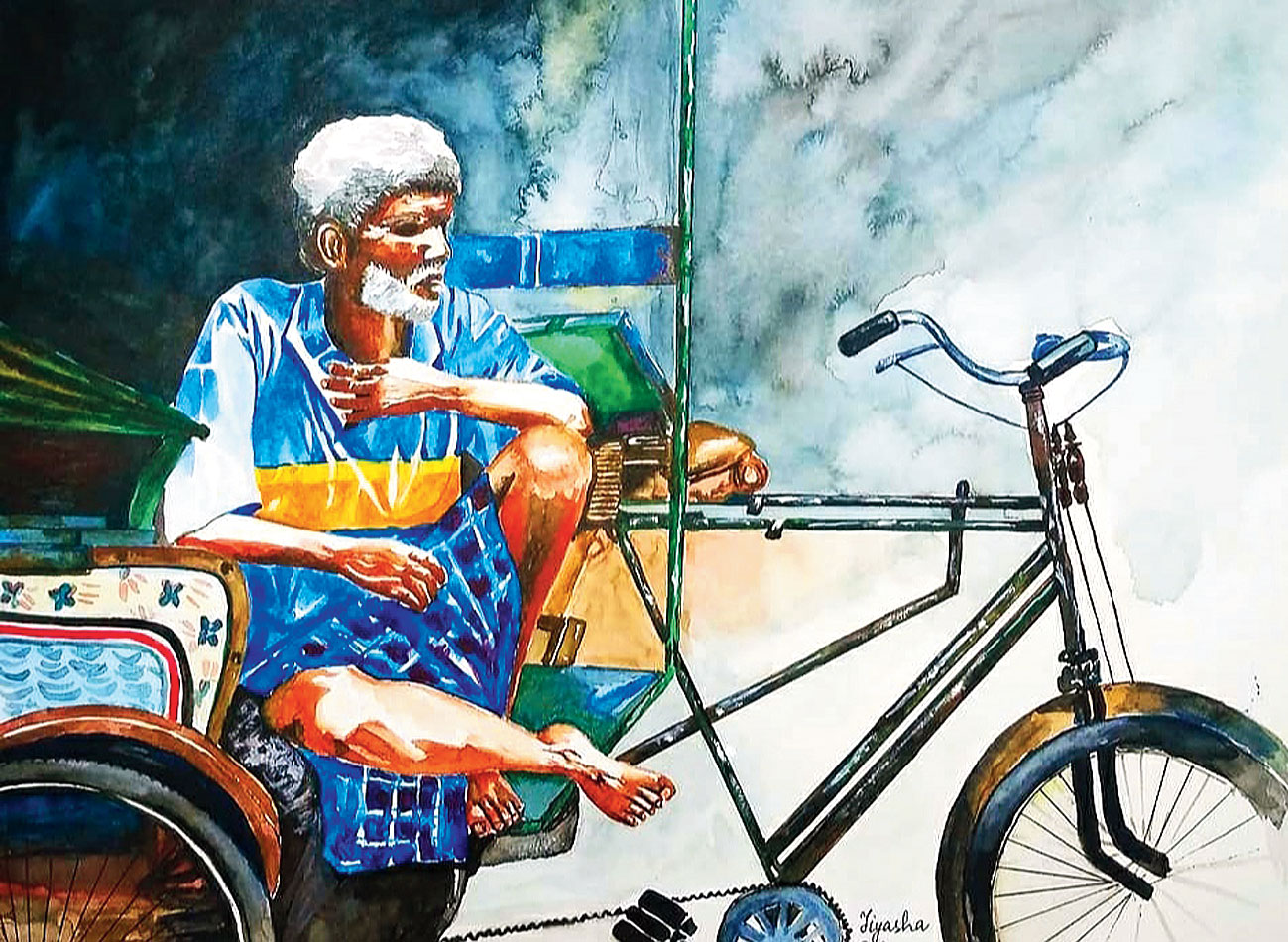 ---
---
Srijita Talukdar
Resident of: Renaissance Housing Society, New Town
Half of my days are spent attending online classes, and completing and mailing assignments. But after that I'm doing quite a lot.
Reading a good book is bliss and I've just read Pride and Prejudice, The Great Gatsby, The Fault in Our Stars, The Kite Runner and I am now reading Chander Pahar by Bibhutibhushan Bandopadhyay.
After a long time, I also have time to paint. Not that I'm great at it but painting helps me de-stress. I finished watching Operation MBBS and Little Things (Season 3) and am now streaming the web series Kota Factory and the crime series Breathe.
I am hooked to DIY (do it yourself) craft videos on YouTube and thanks to them have painted almost all my "mason jar" drinking glasses with various colourful designs. I also made a few scrap wood frames and room decor. The life hack videos have also taught me to turn my old clothes into cool outfits!
Though I have to study till late night, I get up early to meditate. This keeps me calm and relaxed the whole day. I am also following online exercise classes, doing squats, side planks and zumba.
My mother and I have been experimenting with new cake recipes, such as red velvet cake, which was delicious! Baking is our new-found love. I am also pursuing advanced French classes online and am writing a horror story for my school magazine.
Animesh Ranjan Das
Resident of: Baguiati
Previously I used to take out time for family activities from my busy work schedule but now the tables have turned. Now I am giving more time to my family and taking out pockets to complete office work.
My five-year-old daughter would always complain that I neither spend time with her nor play with her. My wife had the same grouse. She said I never sat to help our daughter with her studies. But now I'm getting the opportunity to spend time lots of quality time with her.
Dayita Chakraborty
Resident of: Millenium Tower
Going to bed early and getting up after 10 o'clock has become a daily routine. Mom has taken out her recipe book and started experimenting with new dishes (they're all plate-licking good!)
It has been long since I last read comics or mystery books but now, with the AC on, I lie on my bed and read the adventures of Tintin and Feluda. I've regained my passion for writing stories and am working on a horror-crime-fiction called No. 13.
Our locality is now calm and quiet and we can hear the chirping of so many varieties of birds from dawn till dusk! These days may be boring but they're definitely musical! But I feel bad for Keltu, a timid street dog I would previously offer biscuits and bread to. Wonder if he manages food now.
Should a vegetable-vendor be spotted outside, everyone is dashing to him like they'll find the last of Willy Wonka's golden tickets with him!
Earlier dad would return home by 8pm but these days he's at his computer and answering calls 24 hours a day.
What really annoys me is that the domestic helps are sleeping at home and we are paying them! These are really weird days.
Debanjana Ray
Resident of: Bangur Avenue
I was supposed to get promoted to Class VI this April. I was very excited, but then this Coronavirus came along and now my friends and I are unable to go to school.
Now, during lockdown I am studying very hard as our teacher gives us new lessons every week. I am also watching Project Mc² on Netflix. Then I am helping my mother in the kitchen by mixing spices, peeling eggshells off boiled eggs etc. I am also exercising daily as we have to stay healthy in this time of coronavirus.
Ashmidyuti Bhattacharya
Resident of: BE Block
Being in Class VII, I barely knew the meaning of words like lockdown and isolation before this. But now, not only have I understood the meanings, but have also learnt that we can live without fast food, without going out and can stay in contact with our extended family virtually.
Now I am playing cricket for two hours almost every day, practising my batting, bowling and even fielding. This I could not do if school was on. I can also do gardening, again something I may never get time for when school resumes. Previously I would get so much homework and external studies that I would get to play the synthesiser once in a blue moon. Now I am so happy playing it!
I like sky-watching at night as the sky is clear and the surroundings hushed. I am pursuing photography as there are many new kinds of birds which I had never seen around before. I am even getting to play games such as ludo and carrom with my family members, when earlier I could not even talk to them!
Before the lockdown, I had a chock-a-block schedule but strangely it is now that I'm doing more work. Still I am mystified as to whether my prior life was better or this one, as now I cannot meet my friends. On the other hand, previously, I could not spend time with family. That is something I'm enjoying now.
Swechcha Dhara Dasgupta
Resident of: Sraboni Abason, FC Block
This too shall pass. It is perhaps clutching on to these words that people all over the world are passing through the days fraught with the fear of Covid-19. I am no exception.
Through the onslaught of online classes and panicking about buying essentials, we are all overwhelmed by loneliness and the fear of the uncertain. To help myself overcome these, I have begun a social media initiative to bring everyone together. The initiative, run in Bengali so as to reach out to the masses, is called Ghorbondir Dinjapon (Living amidst a lockdown).
Every day I share my mother's poetry, written for these fearful times, along with a recipe or art video emphasising the values of zero wastage and conservation of resources. People watching these posts send me their own writings or recipes which I compile and share.
Maybe this is a tiny attempt but in these times of fear and divisiveness, this is the manifestation of my wish to keep everyone together and to remind and remember that it is darkest before dawn.