Lockdown diaries: Residents share how they are spending time indoors
Here is the second lot of responses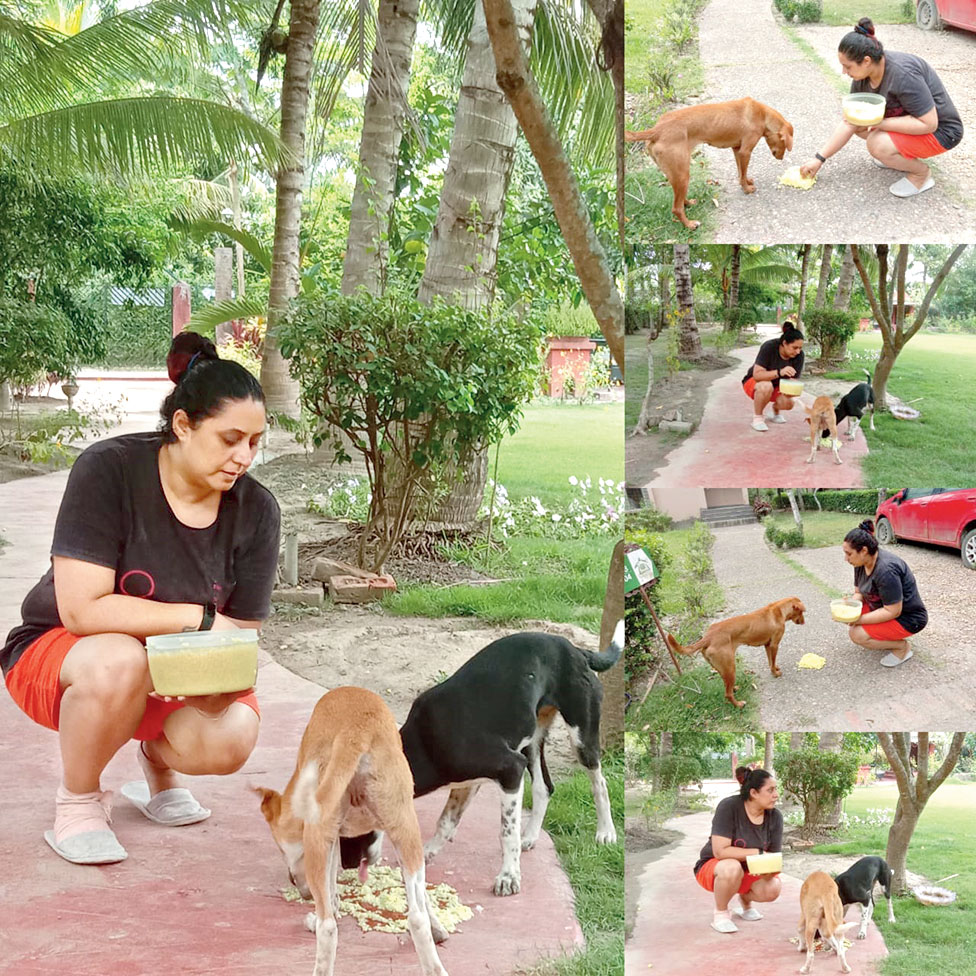 ---
---
Debraj Sengupta
FE Block
I am listening to songs like songs like Jokhon tumi badha chile tar and We shall overcome to relive my mental agony of the Covid-19 crisis. I am singing them too. These songs have a morale boosting effect when one is despondent or crestfallen.

Anup Jain
CJ Block
I am having the experience of a lifetime, staying home and looking after my family. I had the privilege of watching and helping my daughter and mother painting old t-shirts and dresses, coming up with amazing new designs and renewing their utility. We are baking cakes and dishes with leftovers. We are joining special quizzes and games on social media.
It has brought family members close, making us do household chores, eat and chat together. It is bonding neighbours, where youngsters are helping the elderly.
We also contributed to the Jain Purvanchal Terapanth Yuvak Parishad, which is disturbing food and medicine to the needy. I have been following only government websites for updates instead of believing and spreading social media forwards.
The lockdown is a fight of, for and by humanity. We people are staying homes but the real heroes are those working outside. The grocers and home delivery people, chemist, garbage collectors, fruit and vegetable grower and sellers, the police, health workers and researches NGO etc are risking their lives to serve and protect us.
Dayita Chakraborty
Millenium Tower
Going to bed early and getting up after 10 o'clock has become a daily routine. Mom has taken out her recipe book and started experimenting with new dishes (they're all plate-licking good!)
It has been long since I last read comics or mystery books but now, with the AC on, I lie on my bed and read Tintin or The Adventures of Feluda. I've regained my passion for writing stories and am working on a horror-crime-fiction called No. 13.
Our locality is now calm and quiet and we can hear the chirping of so many varieties of birds from dawn till dusk! These days may be boring but they're definitely musical! But I feel bad for Keltu, a timid street dog I would previously offer biscuits and bread to. Wonder if he manages food now.
Should a vegetable-vendor be spotted outside, everyone is dashing to him like they'll find the last of Willy Wonka's golden tickets with him!
Earlier dad would return home by 8pm but these days at his computer and answering calls for 24 hours a day.
What really annoys me is that the domestic helps are sleeping at home and we are paying them! These are really weird days.
Meenakshi Nathani
Baguihati
I have been trying to workout and eat healthy but its hard that when you are free, have a filled kitchen to yourself and a Netflix account. Sometimes I just want to lie down and do anything but I know that the pain of regret is more than the pain of discipline and if I waste my days, I will regret it.
So I'm brushing up on my creative writing skills, painting and cooking new items. I've started a journal so that when I read it 10 years later I have something to laugh at. This is the best time to spend with family. I mean, isn't this we all wanted? A break?
I know it's hard to do all this when the future is so uncertain but talk to your friends and you'll realize that everyone is on the same boat. These days when I wake up (late, typically), I realize that the Covid crisis is not a dream and that I am indeed living in a pandemic along with the whole world.
But when I take a walk on the terrace I feel close to everyone. All the terraces are full of people wishing for a better future.
Sharmistha Dhar
AC Block
Ever since the lockdown, it has occurred to me more than ever that there is not a single day to be lost. Being a teacher, the first thing I did was contact my students - who to me are my world - and convey that classes must go on, come hell or high water.
I am now fine-tuning lecture notes and study materials and uploading them on the WhatsApp group with my students. After finishing the work from home schedule, I unwind by forging my long lost bond with nature, something that has got a new lease of life for the first time in this century!
I feed a waif neighbourhood kitten, watch it play and observe and note down names of different species of birds flying into my backyard. Instead of bogging me down, the lockdown has taught me to unlock new avenues of learning and happiness.
Animesh Ranjan Das
Baguiati
Previously I used to take out time for family activities from my busy work schedule but now due to the lockdown, the tables have turned. Now I am giving more time to my family and taking out pockets to complete office work.
My five-year-old daughter would always complain that I neither spend time with her nor play with her. My wife had the same grouse. She said I never sat to help our daughter with her studies.
But now, as I am spending all day and night at home, I'm getting the opportunity to spend time lots of quality time with her
Sandip Sengupta
Vidyasagar Niketan
I have not witnessed World War II myself but have heard a lot about it from my parents. Going by what I see around me now, I am sure the Covid-19 crisis is a replica of the war.
Since I am a senior citizen, and thus more susceptible to risk than others, I have totally confined myself at home. I am keeping myself busy by doing routine household tasks daily. I start the day by making breakfast for me and my Mrs, who generally takes care of shopping for essentials nowadays along with cooking and managing other household chores.
Post-breakfast, I do some dusting and help with other indoor activities like washing utensils etc. Just before lunch and dinner, I heat food and try to arrange the table. Since I am generally involved in work that requires me to go outdoors on normal days, the lockdown has surely made me realize how challenging and underrated regular household chores are. Hats off to my wife and all homemakers!
During afternoons, I scan through The Telegraph in detail and keep myself abreast with all the latest Covid-19-related news and happenings all over the world. Although, for the sake of my mental well-being, I make it a point not to watch too much TV 'breaking news'!
I also try to do some freehand exercise and asanas during early evening on our apartment terrace to keep myself physically fit. If I get time, I listen to music on my CD player and on TV, and connect with my friends and family over phone.
My main objective during this lockdown period is to chronicle my daily life and thoughts in a diary, which I plan to give to my grand-daughter, Raisa, later. Since she is less than a year old now, I can't explain the world situation to her right away. Maybe when she grows up, she will read the diary and be able to get a glimpse of it. The diary should also be able to make her understand the value of responsibility, positivity, and co-operation in times of crisis.
Srijita Talukdar
Renaissance Housing Society, New town
Half of my days are spent attending online classes, and completing and mailing assignments. But after that I'm doing quite a lot.
Reading a good book is bliss and I've just read Pride and Prejudice, The Great Gatsby, The Fault in Our Stars, The Kite Runner and I am now reading Chander Pahar by Bibhutibhushan Bandopadhyay.
After a long time I also have time to paint. Not that I'm great at it but painting helps me de-stress. I finished watching Operation MBBS and Little Things (Season 3) and am now streaming the web series Kota Factory and the crime series Breathe.
I am hooked to DIY (do it yourself) craft videos on YouTube and thanks to them have painted almost all my 'mason jar' drinking glasses with various colourful designs. I also made a few scrap wood frames and room decors. The life hack videos have also taught me to turn my old clothes into cool outfits!
Though I have to study till late night, I get up early to meditate. This keeps me calm and relaxed the whole day. I am also following online exercise classes, doing squats, side planks and zumba.
My mother and I have been experimenting with new cake recipes, such as red velvet cake, which was delicious! Baking is our new found love. I am also pursuing advance French classes online and am writing a horror story for my school magazine.
Ashmidyuti Bhattacharya
BE Block
Being in Class VII, I barely knew the meaning of words like lockdown and isolation before this. But now, not only have I understood the meanings, but also learnt that we can live without fast food, without going out and by staying in contact with our extended family virtually.
Now I am playing cricket for two hours almost every day, practicing my batting, bowling and even fielding. This I could not do if school was on. I can also do gardening, again something I may never get time for when regular school is on. Previously I would get so much homework and external studies that I would get to play the synthesizer once in a blue moon. Now I am so happy playing it!
I sky-watching at night as the sky is so clear and the surrounding hushed, I am pursuing photography as there are many new kinds of birds which I had never seen around before. I am even getting to play games such as ludo and carrom with my family, when previously I could not even talk to them!
Before the lockdown I had a chock-a-block schedule but strangely it is now that I'm doing more work. Still I am mystified as to whether my prior life was better or this one, as now I cannot meet my friends. On the other hand previously I could not spend time with family, something I'm enjoying now.
Rakshak Kapoor
Dakshin Dhari Road
Namo Namah! That's 'namaste' in Sanskrit and by my greetings you can make out what have been learning during the lockdown.
The Covid crisis has made us cry but has also made us creative. I for one have have become a master at cooking and an intermediate in Sanskrit.
Despite being in Class 12, I now have a lot of time to learn this language. I'm also teaching it to my relatives in other cities through video chatting and they are taking it seriously. Now I can call myself a teacher.
My cooking skills have made me the 'Master Chef' of my house and so I'm making lunch for my family. There have been challenges in cooking but I have now learnt things like how not to mistakenly add powdered sugar into a dish assuming it to be salt!
I am also writing a book called The Current Education System (of India) for which I'm using about five languages. Above all, the lockdown has made me a multi-tasker.
Swechcha Dhara Dasgupta
Sraboni Abason, FC Block
This too shall pass. It is perhaps clutching these words to heart that people all over the world are passing through the days fraught with the fear of Covid-19. I am no exception.
Through the onslaught of online classes and panicking about buying essentials, we are all overwhelmed by loneliness and the fear of the uncertain. To help myself overcome these I have begun a social media initiative to bring everyone together. The initiative, run in Bengali so as to reach out to the masses, is called Ghorbondir Dinjapon (Living amidst a lockdown).
Every day I share my mother's poetry, written for these fearful times, along with a recipe or art video emphasizing on the values of zero wastage and conservation of resources. People watching the posts send me their own writings or recipes which I compile to share.
Maybe this is a tiny attempt but in these times of fear and divisiveness, this is the manifestation of my wish to keep everyone together and to remind and remember that it is darkest before dawn.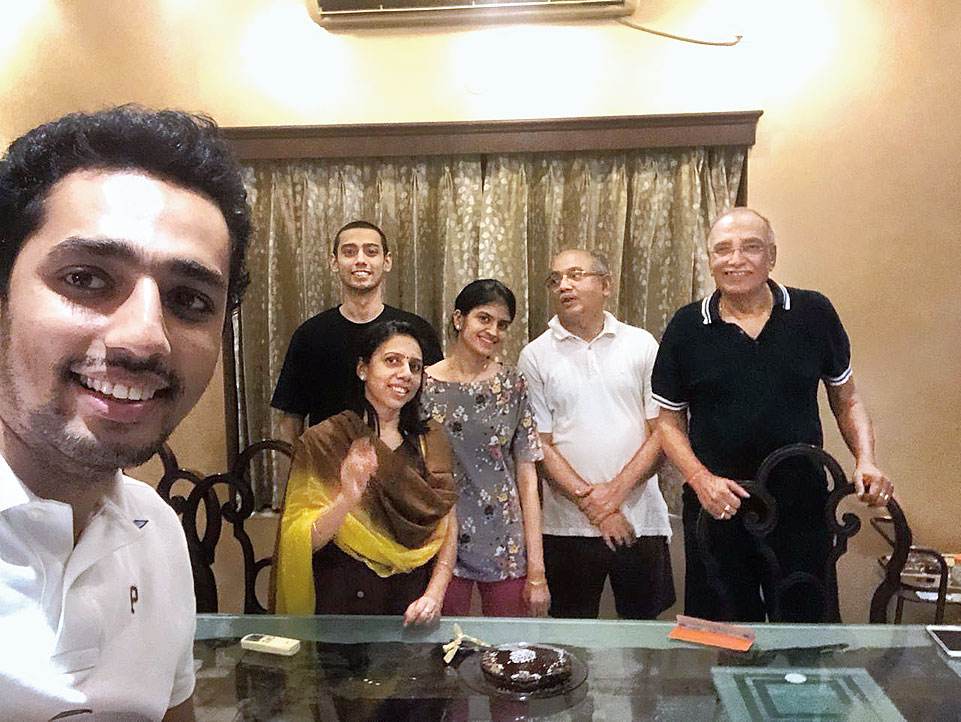 Bhawna Shah
Resident of: Vedic Village
I am spending my time by feeding the hungry. The first thing that came to mind when the lockdown started was stray dogs who used to depend on food from passersby. Who would care for them now? Since we have a Saint Bernard and German Shepherd Dog at home, we felt even more for the street dogs.
So I have started serving lunch and dinner to 20 to 25 stray dogs and puppies. The trust, love and satisfaction earned from dogs cannot be bought with money. Just seeing them healthy and playful gives me immense happiness. They have become a part of any activity I do outdoors.
Creativity-wise, I tried the #newspaperdress challenge (where one had to make an outfit out of old newspapers). My dress was much appreciated on social media. I also tried the #PillowChallenge (where one uses a belt to wear a pillow in front of them like a dress).
I am trying out new dishes and fitness regimes. Though the reason of the lockdown is not a happy one, we have to stay involved in various activities to stay positive and stress-free.
The prime focus of this lockdown is strengthening the lost bonding among family members.
Sourish Banerjee
Resident of: Shapoorji Pallonji, New Town
My joy knew no bounds when I heard that my school will be closed for few extra days! But as the days passed, I started feeling bored and lonely. Now I'm waiting for the lockdown to be lifted.
Anyhow, this is allowing me to pursue a variety of new activities. My school (I'm in Class VII) is conducting online classes everyday on Google Meet. It is also sending us e-books to read and I've already read Great Expectations and Twenty Thousand Leagues Under the Sea.
I heard from my uncle that bored people are now-a-days counting the holes in Marie Biscuits! I too have tried counting the holes in Cream Cracker biscuit and had great fun.
These days I wake up a little late in the morning, do yoga and eat breakfast. I live in a crowded area but these days it is calm and quiet. I see the police standing on duty to enforce the lockdown. Only a few shops are open.
As I learn singing, I am able to learn many songs now. I am also clicking photographs of rare birds and the trees from the terrace. I am also able to spend time with my parents.
Our school celebrated Rabindrajayanti online but I am still missing the school experience very much. Nonetheless I pray to my Gurudev, Shree Shree Ma Anandamayee for the welfare of India and the world. Jai Hind!
Raka Chaudhuri
Resident of: AD Block
Napoleon had said that every adversity brings with it a seed of equal or greater opportunity. I believe that the joy of creating music and being able to enjoy music every day takes away much of the negativity and drudgery of our lives now.
I am a member of a music group called Abhog, Bidhannagar and this group is, in its own way, helping me cope with the abrupt change in lifestyle.
Every evening, a member from the group is asked to choose a specific word, topic or genre. Each member is then asked to sing a song based on the word or topic and post it in the group's chat room. Not just singers, instrumentalists are also contributing with their notes on the violin. Members residing abroad are participating too, and at the end of each day, there is a collection of nearly 20 songs for the members to listen to, discuss among themselves and enjoy.
It is helping us stay positive and use the lockdown time in pursuit of creativity and skill development.
Shampa Das
Resident of: CA Block
The sudden standstill, the deafening silence all around, the confinement, overload of household chores were initially overwhelming. But as the days passed, I started enjoying the cool breeze, chirping of birds, fragrance of summer blooms and the changing colours of the beautiful skies. I realised that now is the time to stand and stare and do all that the heart ever wanted but couldn't in our otherwise busy lives.
While we stand apart in solidarity in the war against the invisible enemy, this time of our lives is getting etched in the pages of history. It motivates me to see how we are being able to live with limited means, spending quality time with parents, catching up with friends and kin virtually, trying new recipes with Ma or enjoying "me time"!
I talk to our plants these days — love them, caress them; to my pleasant surprise, they smile back with lovely growth and blooms.
It amazes me to see how patient I have become, standing masked in long queues at the kirana stores or even when online deliveries are extremely delayed.
Being a laughter yoga trainer and a happiness coach, I am conducting sessions for various corporates and am blessed to see them distressed in these critical hours.
When I sit for tea after my yoga practice, I love the calmness inside and out, with only the sound of cool breeze blowing. Perhaps I wouldn't have been able to experience these priceless moments if not for the lockdown.
Though I feel tired after chores and office work, I am amazed at the peace and happiness I feel at bedtime — a sense of gratitude that I am home and being able to care for my elderly parents.
Sushil Chopra
Resident of: BJ Block

Attending daily webinars, practising yoga, meditation, reading spiritual books and watching the epics Ramayana and Mahabharata on Doordarshan have become part of my routine.
My wife Sarita and daughter-in-law Pooja are cooking new dishes to satisfy the family's appetite. Even I have tried my hand at learning the art of dough-preparation for pizzas, chapatis and bread.
The biggest challenge after this pandemic will be rebuilding society's confidence and entering work life safely. I am used to travelling extensively and enjoyed my journeys, whether for business or leisure. This is something I am missing a lot in these social distancing days. Another challenge will be to not lose control when we all come out of this confinement. The industries will have to ensure safety of workers. There will be a new "normal".
Hopefully this phase will make us stronger and better as people.