Covid turns musician into guard
Livelihoods lost as musical evenings, club performances and corporate events stop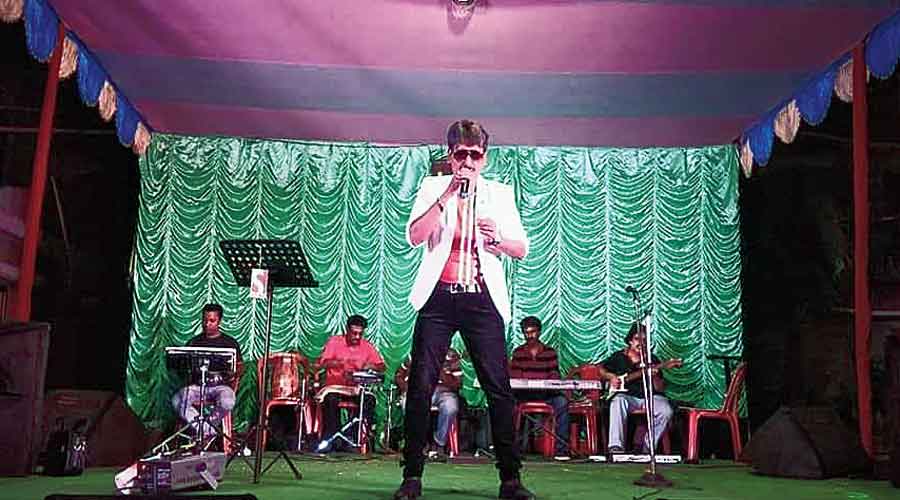 ---
|
Calcutta
|
Published 22.11.20, 01:18 AM
---
This time last year an octapad player had been playing in front of boisterous crowds in musical soirees that would roll late into the night four days a week.
This year, he has been spending the nights as a guard manning an Alipore apartment.
A 50-year-old percussionist shifted seamlessly between a djembe and a conga drum during musical shows, keeping up the tempo with fellow musicians.
Two months ago, he had to sell both to sustain his family.
The pandemic has brought to a halt the musical evenings synonymous with this season, posing a livelihood challenge to hundreds of musicians and singers.
For musical troupes, the "season" used to start with Ganesh Puja in September and last till March. Post Kali Puja to New Year used to be the "peak time". Troupes used to perform in and outside Calcutta, some travelling outside the state as well during the festive season.
The budget of a modest open-air performance in Calcutta — with a singer and basic musicians playing the guitar, bass guitar, keyboard and drums — would start from around Rs 20,000, organisers said. With more established singers and specialised instruments, the budget would go up.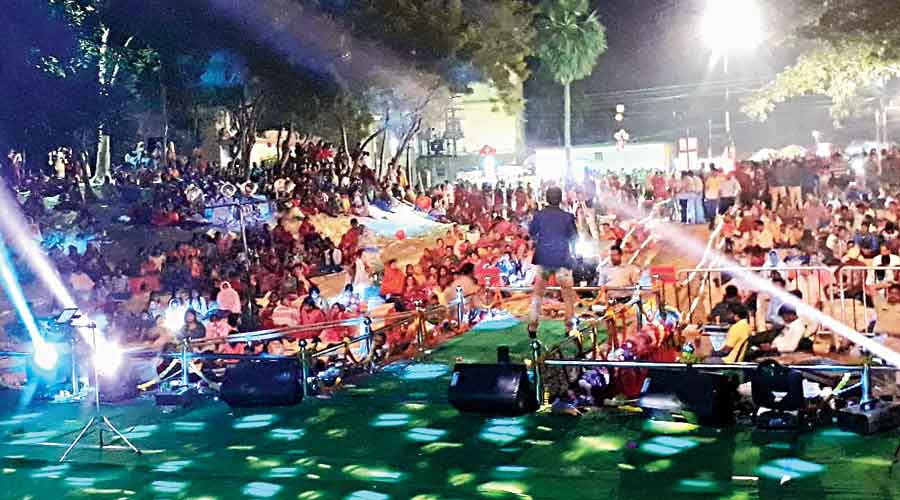 A "mega event" with "singers from Bombay and reality shows" would cost more than Rs 1 lakh.
Hundreds of musicians and singers who performed in such events are out of work now. Some of them have been forced to look for other ways
of income. Some have been selling their instruments. Most have loaned money, some by mortgaging or selling jewellery.
Biswajit Das — a Kishore-kanthi (the ubiquitous term for aspiring singers who have modelled themselves on Kishore Kumar) — used to get "12 to 15" monthly contracts on average between September and March.
In November and December, he did the maximum number of shows, often back-to-back ones.
In the first week of March, he had done two shows — in Uluberia and Diamond Harbour. Since then, there has been none.
Das, a freelancer, used to earn more than Rs 30,000 a month during the peak season by performing with multiple troupes. "I used to spend the entire year with my income of six months. The income has so far been zero this year. I have had to borrow money to meet my expenses."
Das lives with his wife and seven-year-old daughter.
Stanley Anthony, 50, has spent close to three decades as a percussionist, dabbling in a range of instruments from the Indian dhol to the African djembe.
A freelancer, Anthony used to "work non-stop" from September to March and "practise non-stop" from March to September.
"I am getting old and I have stiff competition from younger performers. This year, there is no show and no competition," Anthony who has raised three daughters with the money he made from music said.
When the shows dried up, he dug into his savings and took a loan against an insurance policy for the first few months.
In August, he had to sell two instruments because he needed more money. "A
djembe and a conga drum together fetched Rs 30,000, good enough for the next few months. I don't know what will happen after that," Anthony, who lives in Mominpore, said.
In an order issued on November 1, the state government had said the assembly size in open areas maybe fixed "keeping the size of the ground/space in view and with strict observance of social distancing, mandatory wearing of face masks, provision of thermal scanning and hand wash or sanitiser".
Since then, a handful of places in Calcutta has seen resumption of musical programmes as part of Bijoya Sammilani. But the number is miniscule.
Most organisers said they were still to get their first contract of the season.
Sanjay Seal, founder of Swan Musical Tour, had travelled to Hyderabad with his troupe during Diwali last year. "We had enthralled the Hyderabad audience," Seal, who plays the bass guitar, said. His last performance was on March 16, at a "musical night" in Sarisha, South 24-Parganas.
"It is painful to look at the members of my troupe. Some of them are finding it hard to earn two square meals a day," Seal, who in the past had to turn down many organisers because of his packed schedule, said.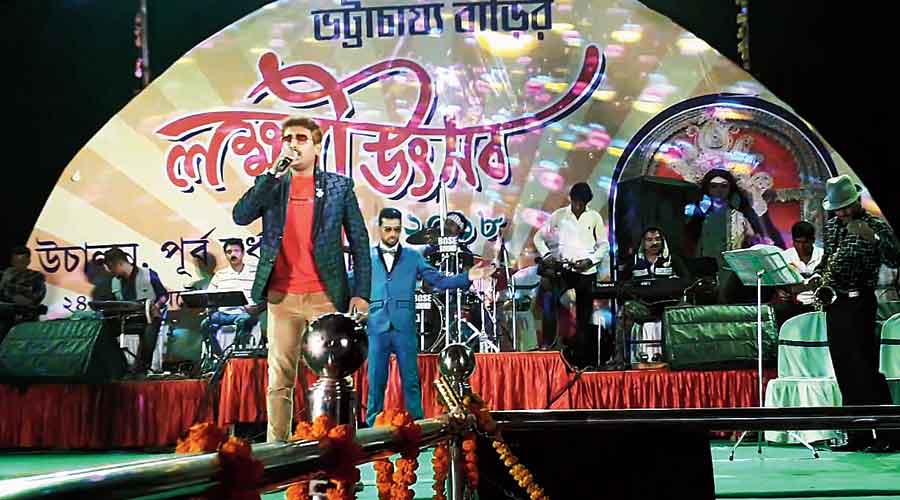 Some of the city-based groups have started getting their feet back on ground since the resumption of live performances — through a government order — in the run-up to Durga Puja.
These groups were regular performers at prominent clubs in Calcutta.
Live performances at clubs are still to take off but the groups have been getting contracts for private parties with a curtailed audience.
The wedding season has boosted their prospects. But even then things are not what they used to be.
"Performances have been reduced to half the usual number this year. Clubs are shut. Many corporate events that used to happen around this time of the year have stopped. But marriages, sangeet ceremonies and other private occasions have kept us afloat. Considering the situation from March to September, I cannot complain," Imran Qaisar, a singer and leader of a musical troupe that used to play regularly at the Dalhousie Institute, said.
But many others are still to find something they can hold on to.
One of Seal's troupe members, who used to play the octapad, took up the job of a guard at an Alipore apartment in August. "I was sitting at home without earning anything. I could not say no to Rs 6,000 a month," the man in his late 40s, the sole earning member in a family of five, said.
He requested not to be named.
Another organiser, Prashanta Dey Sarkar, has been making ends meet by brokering on small-time real estate deals in the Behala and Tollygunge areas. "We can only pray that the situation improves," he said.