Cops arrange food for Goa returnees
The bus carrying migrant workers was stopped near the Baguiati crossing as it could not go any further because of the total lockdown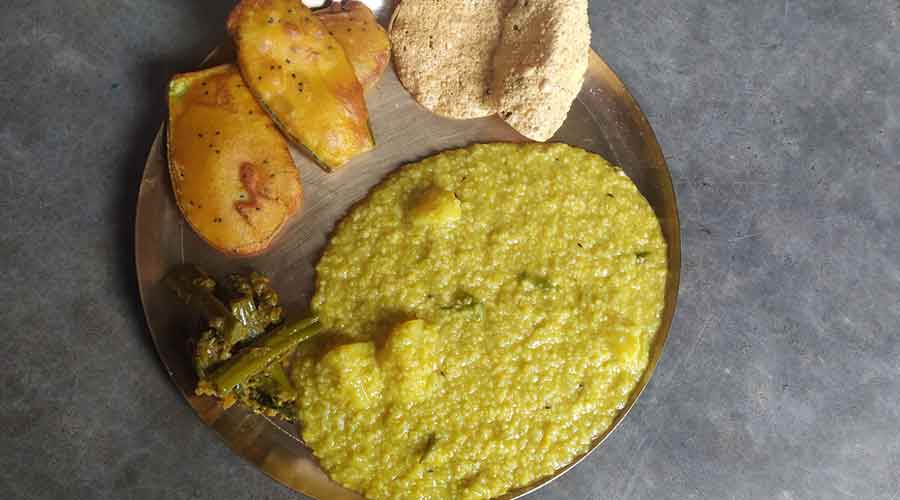 ---
|
Baguiati
|
Published 26.07.20, 02:43 AM
---
Police stopped a bus on VIP Road early on Saturday to find 29 migrant workers headed to Sandeshkhali in North 24-Parganas from Goa having survived the five-day journey on puffed rice and cucumbers.
The bus was stopped at the checkpost near the Baguiati crossing and cops could not allow it to go any further because of the total lockdown. So, they arranged breakfast, lunch and dinner for the workers.
Pradip Kumar Jana, a traffic inspector who was at the checkpost, said: "I alerted senior officers about the workers… we decided to get them lunch and dinner before the bus could resume it journey to their village."
The men on the bus had gone to work at a construction site in Goa but hadn't earned anything because of the lockdown.
They had borrowed Rs 3,000 each from their relatives to hire the bus from Goa.
Dhritiman Sarkar, the deputy commissioner of traffic in the Bidhannagar commissionerate, said the police decided to help them with their meals because they had little money left and all shops in the vicinity were closed. "We sourced whatever we could locally."
Cops at the checkpost asked the bus driver to park the vehicle in the service lane of the Ultadanga-bound flank of VIP Road.
Some cops got a nearby grocery store to open and brought snacks and other items from the store for the workers. The police arranged khichri and vegetables for the workers' lunch and roti, dal and chicken for dinner, an officer said.
Sanjay Singha, 25, said he had left home for Goa because of the higher pay there.
"I used to earn Rs 400 a day there. But we did not get any payment as work stopped during the lockdown. We stayed at the site hoping things would get better… but we ran out of money and food and had no option but to return," he said.
According to him, he had to borrow money from one of his relatives so that he could pay for the seat on the bus.
Pradip Sardar, another worker, said he was scared when cops stopped the bus but was "extremely happy" when he realised they would be given food.