Bindi man to Samaritan
Lives of others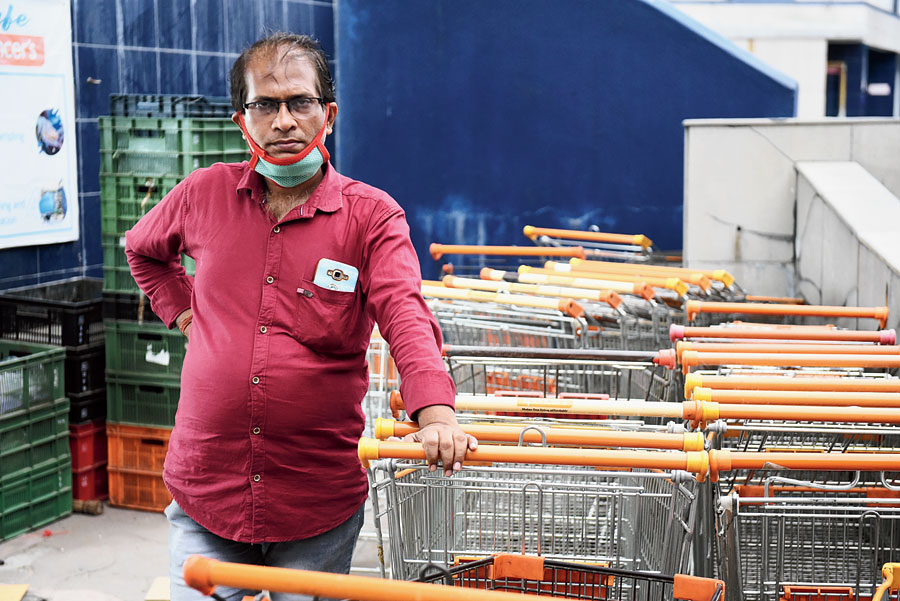 ---
|
Calcutta
|
Published 19.04.20, 08:32 PM
---
All that glitters is not gold. But imitation gold can offer a good livelihood. And when that fails, there is plain good work.
Bijoy Roy, 47, used to run a small but busy roadside imitation gold shop on Rasbehari Avenue, close to Fern Hotel, a few metres away from where Bijon Setu slopes up. Roy, whose family was originally from Bihar, but who is only mistaken for a Bengali now, took over from his father as a boy of around 15, in the late Eighties. The shop sold biscuits and bottled drinks then.
But the young Roy, who had studied till Class VII in La Maternelle school in the Gariahat area, was not interested in such stuff. In four years or so — "the year Babri Masjid happened" — he converted the shop into something more glamourous. And lucrative.
He began to sell cosmetics and imitation jewellery. But his forte was the bindi.
Roy, a genial man of medium build, who is also a resident of the area, and a popular one, became well known for his brand of decorative bindis through the Nineties, the post-liberalisation years when India began to dress up. Later, as the age of bling arrived, flashing in with some help from television serials and social media, and a new focus on the self, not to mention the selfie, Roy concentrated on cosmetic jewellery. Imitation gold to be precise.
It was a good decision. Women flocked to his store. And so it went on, till recently.
First came demonetisation. Then GST. And now Covid-19.
"I shut my shop when the lockdown was declared. But business was already very bad by then," says Roy, who lives very close to his shop with his family — his wife, three young sons and parents. His wife used to help him run the store. "Once my daily sales would go up to Rs 2,000 to Rs 2,500. I was very busy then. But by the time I closed shop, my sales had come down to Rs 200-300," he says, standing on Rasbehari Avenue, close to his closed shop.
He was beginning to feel worried. He has his family to look after and loans to repay. The lockdown was the final nail in the coffin.
But then he found a way of being useful again, for which he is very glad.
"After the lockdown, we heard that our 'councillor madam' was looking for volunteers to help carry supplies to households, especially to senior citizens in the area," says Roy.
Sudarshana Mukherjee, the councillor of ward 68 in Ballygunge area, of which Roy is a resident, has been working hard in the area, organising sanitation and supplies. She needed a team of volunteers to help her with it.
Roy became one of the neighbourhood's lifelines. His name was entered in the various WhatsApp groups the councillor has for the area. When a ward resident would want anything, the message would reach Roy fast. The request would be forwarded to the right team — there is one for medicines, another for groceries, etc — and all the neighbourhood shops would be looked up.
Which leaves Roy very busy again.
"I am out by 6.30am. First with the boys I go the market at Citizen's Park and see if there is anyone needing any help. Then we start the work of reaching the supplies," says Roy.
One of his first jobs was to see why 11 bookings from the area for cooking gas — at the same dealer's — were being ignored. He went into the outlet and sternly demanded an explanation. The cylinders were delivered promptly.
"I was really angry," says Roy.
He feels happy when he is able to get something a senior citizen has asked for. He does not feel afraid. "What is there to fear? None of us feel afraid," he says forcefully.
What does he intend to do later?
His past already looks distant. He remembers it wistfully.
His bindis were the best in the market, in their quality, their original designs. "I had gone to Poush Mela in Santiniketan with the bindis for two-three years. They sold very well." He had also become a distributor of the manufacturing company, Fashion Care. But it went bust.
He also remembers how a drum-shaped mangalsutra sold during one Durga Puja — "the year the Bosepukur pandal was made of bhaand. I would sell 200 to 300 mangalsutras a day."
But he never just went for everything trendy. "I chose what looked good to me. I chose sensible stuff. I would never sell something that is trendy but offended my sensibility." Wedding sets, going up to Rs 3,500, were available with him.
He does not know what the future will bring. It looks like a mass of uncertainty.
But as of now, he has a lot of work.