Bengal govt rules out bus fare hike, hints at support
Operators to sit down and discuss among themselves on Sunday before deciding on their course of action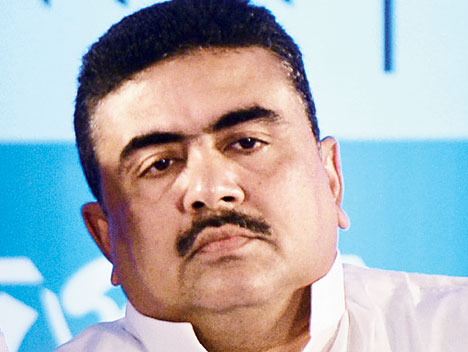 ---
|
Calcutta
|
Published 16.05.20, 09:23 PM
---
The fares of private buses will not be increased and the government will try to bring in more state buses to cater to the rising demand, transport minister Suvendu Adhikari said on Saturday.

"The fares of state buses have not been revised. Those of private buses will not be increased, too," Adhikari said. "We don't want to create inconvenience for bus operators. The government will try to provide support to them in some other form."
Private bus operators said they would sit down and discuss among themselves on Sunday before deciding on their course of action. "We didn't volunteer to come up with any fare structure. The government had sought it," said Tapan Bandopadhayay of the Joint Council of Bus Syndicates.
The minister said the operators of private buses would not be forced to roll out their vehicles. If any owner wants to ply buses following the existing fare chart, the government will provide him all help.
Buses will run from 7am to 7pm.
The minister said that from Monday, the number of app-cabs on the roads would go up, too. Like buses, the app cabs would only be for essential workers.
Adhikari's negation of any possibility of upward revision of the fares of buses and minibuses came within a day of the private operators proposing separate plans for a hike. Some operators rooted for a 30 per cent increase in fares to make up for the losses they are expected to suffer because of the government's order that a bus cannot carry more than 20 passengers to enforce social distancing.
The Joint Council of Bus Syndicates, for instance, had proposed to the government that the minimum fare be Rs 20, compared the existing Rs 7. A few minibus operators had suggested a fare of Rs 30 for the first 6km, compared with the existing fare of Rs 17.
"We will run more state buses from Monday," Adhikari said. "The frequency of these services will be increased so that the waiting time is reduced significantly."
Since May 13, the West Bengal Transport Corporation has been running buses on 13 routes. On Friday, the fleet strength of eight routes was increased as the demand started rising and an increasing number of employees in the private sector are being asked to attend office.
Senior transport department officials said a government bus would leave the depot every half an hour, instead of an hour, to cater to the rising number of passengers.
"Senior officers across four police commissionerates — Calcutta, Howrah, Bidhannagar and Barrackpore — would be asked to increase deployment of cops at bus stops so that there is no unruly rush for boarding buses," a transport department official said.