Aggression worry about hungry dogs
Attack on humans unlikely but may target food: Vets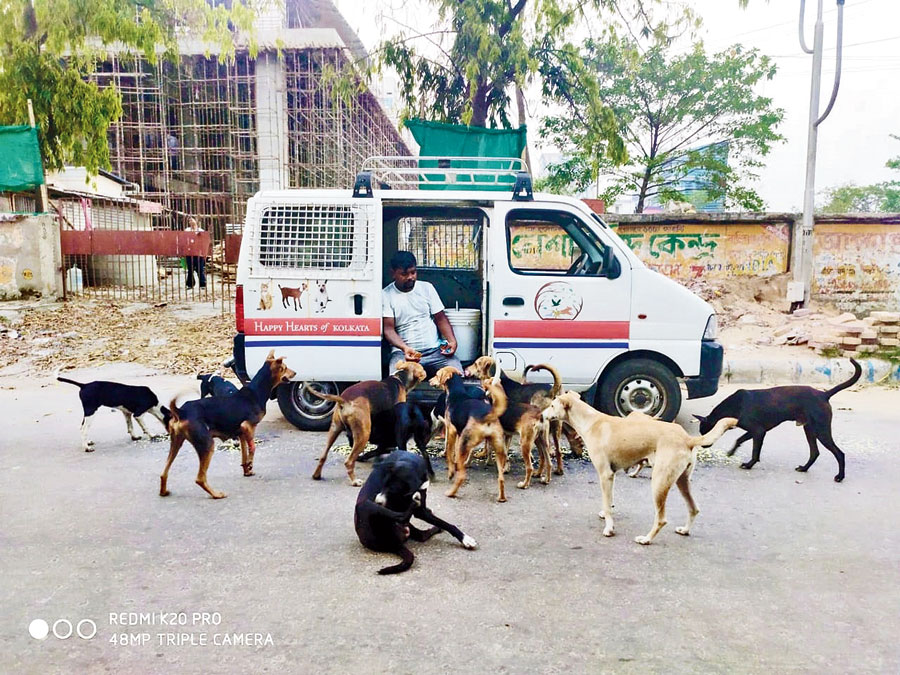 A man feeds stray dogs in Salt Lake
Telegraph picture
---
Calcutta
|
Published 05.04.20, 08:43 PM
|
---
Little or no food during the lockdown has left stray dogs starved and many humans worried that hunger could make the canines aggressive and prone to attacking people.
Veterinarians did not rule out the possibility but said such a situation was far-fetched. Attempts to steal food or target a pack of bread being carried by a passer-by was more likely, they said.
The situation could have been worse but for individuals and NGOs, who have been fanning out across the city's office and commercial areas to feed dogs.
Several dog lovers and NGO representatives said dogs in residential areas were better off than their counterparts in office paras, railway stations, court compounds and similar places that have been shut.
"In residential areas, the dogs are getting food from homes like before. But in office areas and similar places, there is no one to feed them," said Sanjoy Mondal, who lives in Salt Lake and runs an NGO called Happy Hearts.
Mondal has been feeding over 700 dogs in Sector V and adjacent areas since Day I of the lockdown. He gets 60kg of rice and chicken cooked at his home every day for the dogs.
"These dogs survive on food from the office crowd and the eateries dotting Sector V. But the area is desolate now," he told The Telegraph.
Help has also been pouring in for dogs in BBD Bagh, Sealdah station and other places in Calcutta.
Social media has been buzzing with posts on people feeding dogs during the lockdown.
"We fed around 200 dogs today. We cooked 17kilos of rice along with 8 kilos of chicken. The scared babies of Alipore Court (Bhawani Bhawan) have become much easy going around us…. I really need some volunteers for Sealdah platform," read an April 4 post by Pragati Halder.
Cops across the city have also been feeding stray dogs. Officers of the anti-rowdy squad have formed multiple teams under an officer of the rank of assistant commissioner for the project that took off last month.
But the huge number of strays in Calcutta poses a challenge. In January 2019, mayor Firhad Hakim had said more than 1.5 lakh stray dogs roamed the streets of Calcutta.
A civic official estimated that there could be one stray dog for every 30 people. The 2011 census had put Calcutta's population at 44 lakh-plus.
Dog lovers are divided over the possibility of strays becoming aggressive and attacking humans because of hunger.
"There is nothing to substantiate that dogs, driven by hunger, can attack human beings. Dogs are natural scavengers. They will flock to vats and corporation compactor stations and manage to scrape through," said Saptadeep Pal, pet trainer and behaviouralist.
Jubilee Ganguly, a software professional, has been feeding around 50 stray dogs — spread across Tollygunge Metro station, tram depot and near Malancha cinema — every day since the lockdown started.
"It is not impossible for a dog to target human beings out of desperation for food. But more than that, there are chances of infighting. Desperation can make them attack each other. But dogs are very territorial. They will not easily venture out of their locality because the local dogs will attack them," she said.
D.N. Mukherjee, a retired vet and a member of the Bengal Veterinary Council, said there was a basic difference in the nature of stray dogs and wild dogs like dhols. "Wild dogs move around in packs and will not think twice before attacking a larger prey. But stray and domestic dogs generally look up to human beings. For attacking a human, a stray dog has to overcome a huge psychological barrier," he said.
Mukherjee, who spent five years at Alipore zoo before retirement, cited the example of animals in captivity. "The deer enclosure at Alipore zoo has a fence that can easily be scaled by the deer. But that does not happen because the deer are not aware they can scale the fencing. Similarly, dogs, unless rabies-infected, are not usually aware they can take a human being on," he told Metro.
However, he did not rule out aberrations. Attempts to steal food or target a pack of food in the hands of a person was more likely in cases of desperation, he said.
Arushi Bhattacharya, who sterilises stray dogs in Kalighat, Lake Market and adjacent areas, highlighted the need for a concerted sterilisation campaign.
"The resources are limited but the number of dogs keeps growing. That leads to more problems," said the 22-year-old who has also been feeding dogs in south Calcutta.