Civic body rush to disinfect blocks of 3 new infected
From regular Covid-19 announcements to sanitising blocks, the corporation is trying to stop the spread of the virus in the township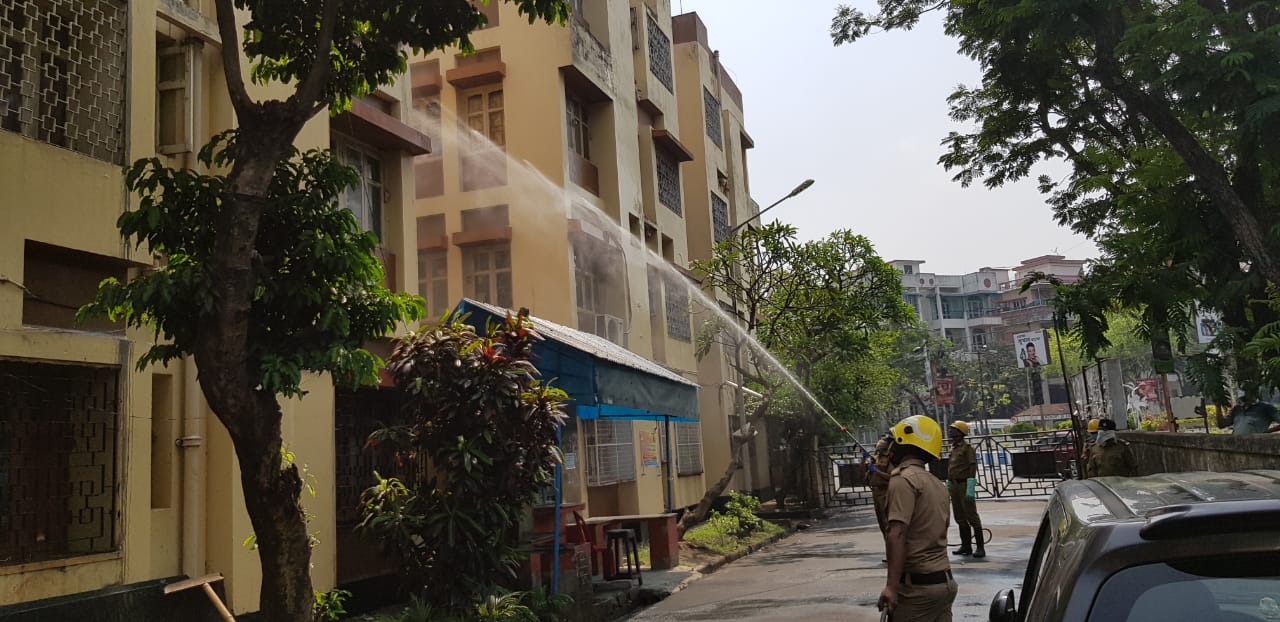 ---
---
A total of four residents testing positive for coronavirus in Salt Lake has not only got residents wary but has also spurred the Bidhannagar Municipal Corporation to launch a range of countermeasures.
From regular Covid-19 announcements to sanitising blocks using truck-mounted water bowsers and sprayers that are spraying a mixture of disinfectants in water, the corporation is trying to stop the spread of the virus in the township.
On Tuesday, mayor Krishna Chakraborty distributed a portable sprayer each to the 41 wards of the civic body. Apart from these, over 2,500 litres of disinfectant were also distributed to the wards, Chakraborty said.
Two truck-mounted sprinklers have been hired by the civic body that are spraying disinfectants in Salt Lake, Baguiati, Lake Town and Rajarhat, she added. The civic body is also conducting awareness campaigns asking people to stay indoors.
Three new cases
While the 51-year-old businessman who stays in AD Block and had tested positive for Covid-19 at a hospital in Salt Lake on March 31, returned home on Monday a bank employee from Karunamoyee Housing Estate's F Block, an elderly EE Block resident and a woman from DL Block are still lodged in hospitals, corporation sources said.
Chakraborty said on Monday that they had received information that four residents had tested positive for coronavirus to date.
"A bank employee from Karunamoyee who originally hails from Odisha, a man in his 70s from Haldia who had come to EE Block to get his heart ailment treated and a woman from DL Block who is the wife of a former senior police officer are still admitted in two hospitals. All of their test reports have come positive for Covid-19," said Chakraborty.
According to her, the Karunamoyee resident's son and wife had been taken to the quarantine centre in New Town as were the two sons of the man who hails from Haldia. The husband of the woman who is a cancer patient and has been admitted to a hospital off EM Bypass too has been taken to the facility.
Arindam Banerjee, the general manager of Columbia Asia hospital where the elderly man from Haldia is admitted, told The Telegraph Salt Lake that he was stable and was responding to medication.
"He has several heart ailments and had a bypass surgery in the past. He started feeling sick in Haldia after which doctors there advised him to seek medical intervention in the city for which he had come and got himself admitted here. We conducted a Covid-19 test that came out positive and we have kept him in isolation," said Banerjee.
Chakraborty said that as soon as the civic body received information that residents of EE, DL and Karunamoyee Housing Estate had tested positive for coronavirus they had sprayed disinfectants and sanitised the blocks.
Not only the block, several markets in the township, including BD and CA markets, have been sanitised. Anindya Chatterjee, the councillor of Ward 41, under whose purview BD and AD blocks lie, said the market was shut down and sanitised as the businessman's helps would often head there to shop.
Rajesh Chirimar, the councillor under whose purview CA Block lies, said he had sanitised CA Market as it is "better to be safe than sorry."
"I simply don't want to take a chance and am ensuring that the markets where most people are heading to get supplies are kept as clean as possible," said Chirimar.
On the other hand, the domestic help of the AD Block family who had gone missing from her Duttabad house, sending cops and civic officials into a tizzy, was finally traced and sent to the New Town quarantine centre.