Church goes online for Easter service
'For the last few weeks we have been following the bishop's service on Facebook and YouTube'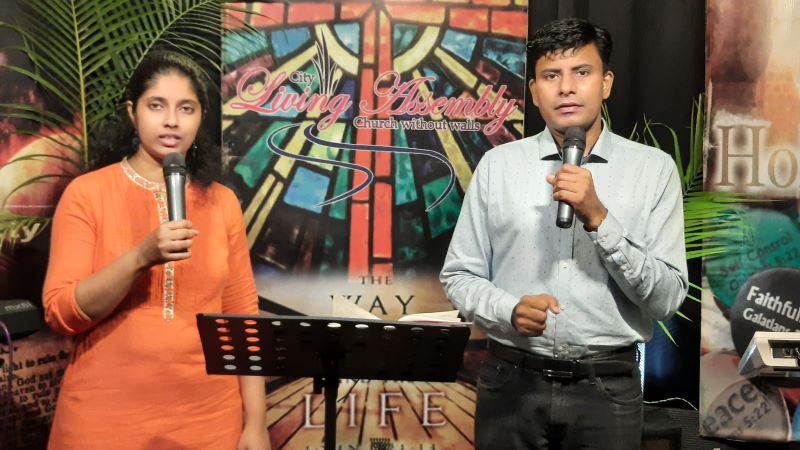 ---
---
Neither Good Friday today nor Easter on Sunday can be observed at churches due to the lockdown but there has never been a more desperate time to pray. So churches are turning to technology to make sure scared and worried devotees can still reach them for guidance.
"For the last few weeks we have been following the bishop's service on Facebook and YouTube," said Sudipendra Mondal, a member of the largest church in Kestopur Christian para, Emmanuel Church. He is also closely involved with running of the institution. "The church is shut to public with only the priest and his family living on the premises now."
At present, the faithful are observing 40 Days of Lent. "This is a period of mourning and we usually have service on Wednesday and Friday evenings with 300 to 400 members coming over. We have a colourful Easter procession too but all that has been called off now," adds Mondal. But they are trying to keep members involved by installing loudspeakers on the festive day. "That way we can be united in listening to the sermons of the bishop and our priest."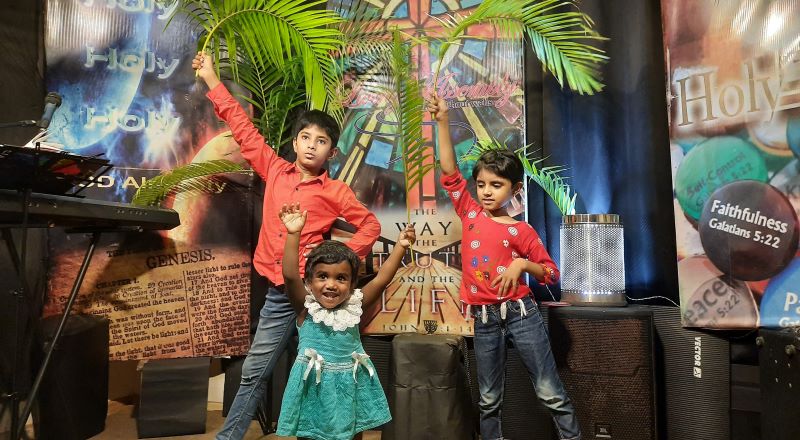 Mondal's own father is hospitalised and he has been using video calls from fellow members and priests to boost his spirit.
Pastor Jennith Israel of City Living Assembly has erected a make-shift studio at his apartment in DLF New Town Heights so they can telecast videos during the lockdown. "Not just festive service, we are streaming videos daily to keep members grounded amidst all the news of death and disease. We share positive thoughts, prayers for the sick and music," he says.
Just before the lockdown, Israel's in-laws moved in with them and his sister-in-law is a drummer. His own wife is a keyboardist, his neighbour is a bass guitarist and the neighbour's wife a singer. "So together we are able to present a band," smiles the pastor. Their children are putting up dances.
The church usually holds their meetings at CK Block's IPHE Hall and next to Shapoorji Pallonji complex in New Town. But online, they are getting views from even Dubai and Ethiopia.
The Church of Jesus Christ of Latter-Day Saints (Mormon) has a centre in CE Block but they have asked members to stay home, focus on teachings of the Christ and to observe a fast on Good Friday so the pandemic may be controlled, caregivers protected, economy strengthened and life normalised.
"I will try to watch YouTube and make Easter eggs for my daughter," smiles Anita Pyne, a member who lives in AD Block. "If they don't turn out well I'll promise her chocolates after the lockdown. But what's important is to focus on the resurrection of the Christ as it gives us hope of being resurrected too."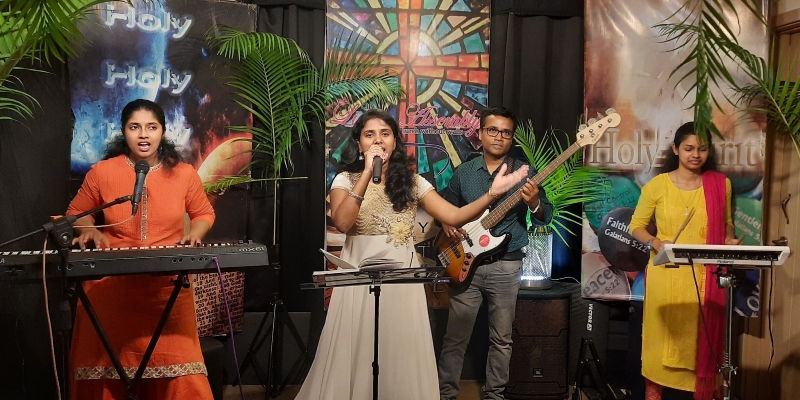 The church's website has shared books, videos etc. for all to study.
Pastor Purnendu Sinha, who usually conducts gatherings for Immanuel Fellowship Gathering church at CK Block's IPHE hall, plans to post videos of the crucification on their WhatsApp group and then stream the Seven Sayings of Jesus on the cross. "But just because they're home members cannot take it lightly. When they kneel to pray they have to be serious about it," he says.
Sinha will also explain Psalm 91 verse 3, which mentions that if you surrender to god he will save you from epidemics. "Covid-19 is perhaps God's judgement on mankind, that had become immoral and materialistic. Together we need to seek His forgiveness," he says.
Incidentally Sinha got married earlier this year but his wife, who is a Filipino assistant pastor, has not been able to come to India due to the lockdown.
Devotees say they will miss the celebrations this year. "I always look forward to Easter. The decorations with palm leaves, the music, messages and food are all lovely," says Suparna Mukherjee, a member of Immanuel Fellowship Gathering. "Nonetheless I shall feel pious even without going to church. The weather becomes cheerful and sunny every Easter and I shall say my prayers solemnly."