Covid guidance meets for resident bodies
The process was started after a resident of Uniworld City tested positive for Covid-19 on May 31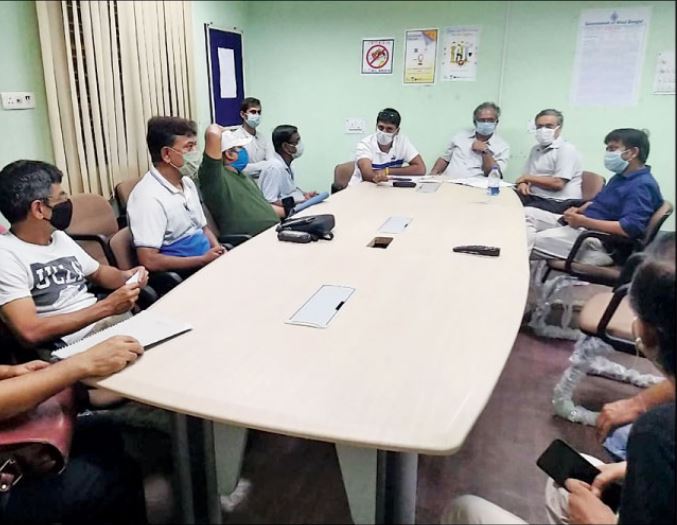 ---
Published 11.06.20, 12:38 PM
|
---
Garbage management and swab testing, quarantine and isolation — these are some of the topics on which queries are being clarified every other evening in the Covid-19 war room at the NKDA Health Centre in Action Area 1D.
"We have created a module on how office-bearers of a block or building committee would manage a Covid case. Doctors in our team are holding training cum discussion sessions. We started on June 4 and representatives of 12 blocks or housing associations have already attended such sessions," said a member of New Town Forum & News, a local residents' welfare group which is co-ordinating the session on the NKDA premises.
The process was started after a resident of Uniworld City tested positive for Covid-19 on May 31.
"On June 2, a representative of the office of the chief medical officer, health, members of the forum along with two doctors met us in our conference room and took us through a protocol of how to tackle the situation. We had already stopped the use of the basement elevator, had demarcated the tower with rope and handed PPE to our garbage collector. We were instructed to ask our infected neighbour to pack his daily waste in double layered garbage bag which we provided. Our house-keeping staff were to pick it up from a common area on the floor after every two or three days, wearing double surgical masks and PPE. We also sent up whatever food supplies they needed," said Pradipta Dutta, board member of Kolkata Uniworld City Apartment Owners Association.
"With the resident not developing any symptom in 10 days since then, we are hoping that the first test was a false alarm. But we now know what to do in case someone takes ill," he added.
At the meeting, office-bearers of resident bodies are handed a detailed protocol to follow along with relevant contact numbers if a resident tests positive. "We are now collecting a database of family members in each house and their health condition," said Kakoli Saha, president, Mallika Malancha Apartment Owners' Association.
Physiologist dies
B. N. Koley, an eminent physiologist, died in his sleep at his CA Block residence on June 5. He was 90.
Koley taught at the department of physiology of Calcutta University from 1962 to 1995. He collaborated on electro physiology with Autar Singh Paintal, who made pioneering discoveries in neurosciences and respiratory sciences. Koley also taught at the University of Leeds as a Welcome Trust Fellow, UK in 1974-1976.
His research work spanned more than 40 years in the field of cardiovascular and respiratory physiology.
A staff reporter