Covid test for 500 from Doha, Dubai
The health ministry has issued a new guideline citing mutant strains of SARS-Cov 2 virus transmission from the Gulf countries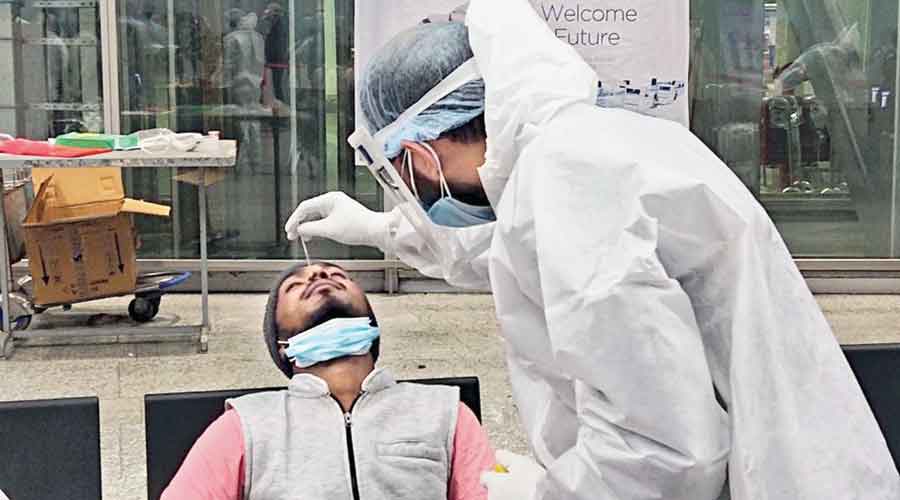 ---
|
Calcutta
|
Published 24.02.21, 01:47 AM
---
Passengers arriving on flight from the Gulf countries had to undergo RT-PCR tests for Covid-19 at Calcutta airport from Tuesday.
Airport officials said swab samples of nearly 500 passengers of four flights, one from Doha while others from Dubai,were collected at the six counters set up at the international arrival area.
"Initially, there were a few passengers asking why they had to undergo a paid test. We explained to them about the new guideline from the Union health ministry," said airport director Kaushik Bhattacharya.
An official of a private airline operating a flight from Dubai said they were making in-flight announcements ab-out the tests at Calcutta airport.
The health ministry has issued a new guideline stating that passengers arriving from the UK, Europe, Gulf countries, South Africa and Brazil have to get themselves tested again after arriving in India because mutant strains of SARS-Cov 2 virus that causes Covid-19, have been detected in many countries.
Officials said many passengers were asking questions on what they needed to do after giving the sample and what would happen if they tested positive. Metro spoke to the state health department and airport officials to find answers to some of the questions.
What do I need to do after arriving at Calcutta from the above mentioned places? Can I go home after swab collection?
A passenger needs to stand in an additional queue for giving swab sample at six counters managed by Suraksha Diagnostics. After the swab collection, a passenger can go home and Suraksha would send them the reports by email and message, said an official of the diagnostic centre.
However, those passengers on transit to other Indian cities, have to wait at the airport for six to eight hours and can board a flight only after the report is ready.
What happens if the RT-PCR test result is positive?
The passenger would be contacted by the state health department and taken to the Infectious Diseases Hospital, Beleghata where a separate 120-bed isolation ward has been created for anyone who tests positive for a mutant strain of SARS-Cov 2. "If someone wants to get admitted at a private hospital, he or she can do so provided that the healthcare unit has an isolation room at the Covid ward," said the official.
He said the sample would be sent to the National Institute of Biomedical Genomics, Kalyani, for further testing. Till the report comes, which takes about 10 to 12 days, the person has to be at the hospital, said the official.
What happens if mutant strain is detected?
The state government would do contact tracing of the passenger. The passenger, who was admitted at the hospital, would be discharged after three days if there is no symptom. Then the person would have to stay in home isolation for seven days.
What happens if the result is positive, but not mutant strain?
The person gets discharged if there is no symptom for three consecutive days and stays in isolation for a week at home.
What happens if the report is negative?
The person needs to be home quarantined for seven days.
What are the rules for those flying back from Calcutta to these destinations?
In most cases, including Dubai and Bangladesh, passengers must be negative in an RT-PCR test.