A video emerged on social media on Friday showing a man snatching a policeman's cane and then trying to grab another cop in uniform, who turns back and runs for fear of contact during the Covid season.
Police sources said the incident had happened on Park Lane on June 24.
The pursuer was arrested on July 2 and charged with deterring public servants from performing duty.
The video has generated mirth among social media users. But it highlights how thankless the task of enforcing the lockdown has been for the police during the pandemic.
Senior officers confirmed the veracity of the video and said based on specific information about "some unrest" near Park Lane United Boys' Club, a homeguard and a constable from Park Street police station went there. They found that a man, who had several cuts on him, had picked a fight with some people in the area, an officer said.
First, one of the two cops tried to stop him using a baton. The man, however, snatched the baton instead and pushed back the policeman. Then the constable was seen trying to pacify the man.
However, the man, whose right hand seems to show blood, tried to get too close to the cop in white uniform and prompted the latter to run.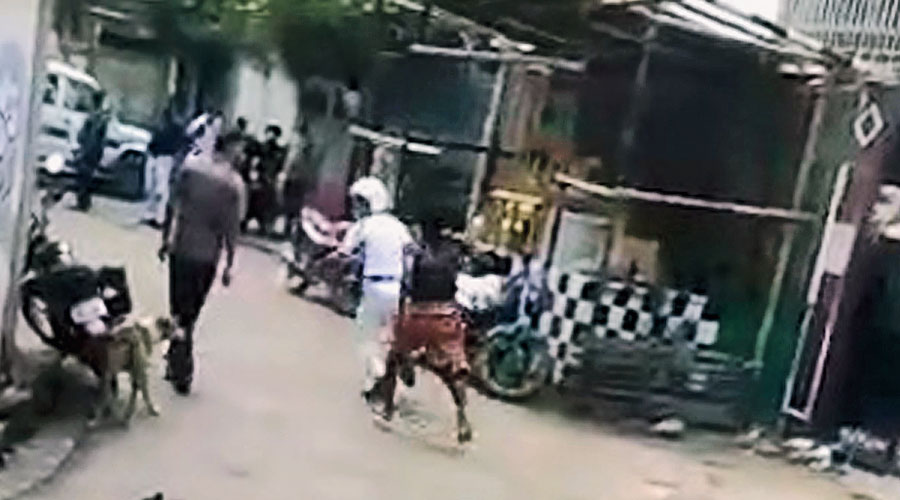 The officer being chased by the man Sourced by The Telegraph
"The man was identified and admitted to NRS Medical College and Hospital. He is believed to have inflicted the wounds on himself," said an officer of the south division.
Several voices in the background were heard jeering the police.
Officers said this was a problem they had been facing while trying to capture an accused during the pandemic.
"Along with implementation of the lockdown, we have been trying to follow the social distancing norms. But it has become a challenge," said an officer.
All 80 police stations and 25 traffic guards in the city have been prosecuting offenders and arresting suspects, sometimes risking their own health while interacting with strangers, whose medical history is not known to them.