Cops credit campaign for lockdown success in Calcutta
Altogether, 886 people have been prosecuted for stepping out without any valid reason and 552 for not wearing masks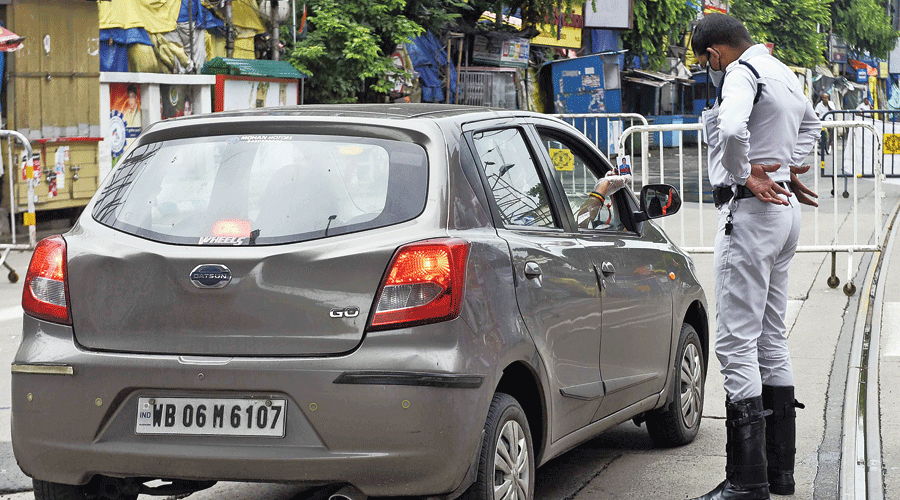 A policeman verifies a commuter's credentials in Gariahat on Thursday afternoon.
Sanat Kr Sinha
---
Calcutta
|
Published 24.07.20, 03:36 AM
|
---
The fear of Covid-19 and police forced most Calcuttans to stay indoors, resulting in a kind of lockdown the city had not witnessed since the virus came stalking.
A traffic police officer posted at the Gariahat crossing said there were not more than 10 vehicles at 10am at the intersection, where close to 200 vie for space around that time on a typical weekday. All major roads across the city reported similar levels of emptiness almost throughout the day.
The city as well as the rest of the state will again come under "complete lockdown" on Saturday and next Wednesday. The Bengal government has announced that the entire state will be under lockdown twice a week as a precaution against the spread of SARS-CoV-2, the virus that causes Covid-19.
Altogether, 886 people were prosecuted for stepping out without any valid reason, 552 were prosecuted for not wearing masks and 40 for spitting in public places in Calcutta on Thursday.
However, Calcuttans by and large abided by the lockdown rule, which the police had a tough time enforcing during the earlier spell in April and May. Some police officers attributed the success to their persistent campaign over the past 48 hours. Others cited the huge police deployment since 5.30am.
"We have been campaigning using loudhailers day in and day out. My voice has cracked. No one can claim that he or she did not know about the consequences of violating the lockdown," said an officer of Park Street police station.
Officers said there was almost no violation in the Park Street-Camac Street area.
The police deployment during the day was almost four times the city saw during the earlier lockdown. Officers from police stations and traffic guards jointly set up check points on all major thoroughfares.
Many people engaged in essential services said they were seldom stopped on their way to work in April and May. "Today, police stopped me twice on EM Bypass and asked me to show my identity card. When my driver pointed at the Doctor's sticker on my car's windscreen, an officer replied that some people were using fake stickers. On each occasion I was allowed to go after I showed my ID card," said Kanchan Mukherjee, a doctor attached to a private hospital along the Bypass.
"I was impressed by the sincerity with which the police were discharging their duty today. I was more than happy to cooperate."
Sources said that apart from spreading awareness, police stations held several rounds of meetings with representatives of all big markets. The result showed on Thursday as no market was found open.
In Behala, several meat shops that did brisk business on Wednesday were closed on Thursday. "There was a lot of demand for meat today, maybe because people were in a holiday mood. Some traders sought permission to open shops for an hour. Needless to say the requests were turned down," said an officer of Behala police station.
Some morning walkers were spotted outside a paratha shop near Behala Chowrasta. Soon after, the police closed it down.
"We closed several tea stalls today. People were sitting and chatting outside the stalls. We prosecuted each of them," said an officer of Parnasree police station. Some roadside shops selling dry snacks near Baghajatin were also closed down.
Many people riding cycles or walking along footpaths were stopped near the Shyambazar five-point crossing and asked to explain why they had stepped out. None could give any satisfactory answer.
In Lake Town, a motorcyclist was prosecuted after he failed to convince the cops that he had driven all the way from Baguiati in search of milk.
In Salt Lake, a few alleged violators told the police that they had stepped out to buy medicines. They, how-ever, failed to produce any prescription.
Twenty six people were prosecuted and eight two-wheelers and three cars were seized on VIP Road and in New Town and Salt Lake, police said.