Contai school students empty piggy bank for Yaas relief, donate Rs 1,200
Mother's words develop into idea to help cyclone-hit children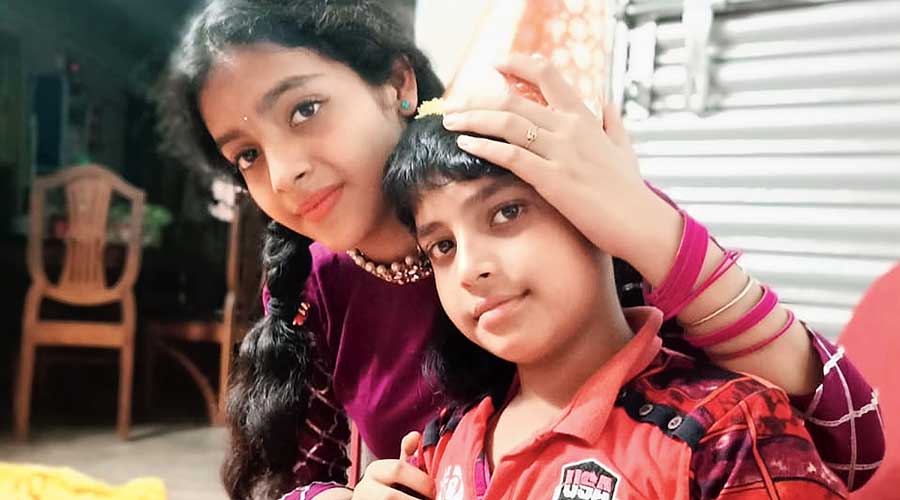 Angana Panda with brother Ambarish at their home in Contai.
Telegraph picture
---
Calcutta
|
Published 14.06.21, 02:14 AM
|
---
Two school students, a brother and a sister, have donated Rs 1,200 that they had saved over the last few months for children whose homes and lives have been devastated by Cyclone Yaas.
Angana Panda, 14, and Ambarish Panda, 11, residents of Contai in East Midnapore, handed the money to an NGO in the town earlier this week to buy books for those students who lost their study materials in the May 26 cyclone.
The siblings had heard of the kind of losses many in East Midnapore had suffered. The idea to help them germinated in their minds because of their mother.
"Many students of our age have lost their homes and are now living on ration. There are many who do not have books," said Angana, a student of Class VIII at Contai Public School.
It all started one evening after Yaas when Ambarish, a Class VI student, was nagging his mother for a big packet of potato chips.
Mother Ishita Panda told him that at a time when many were unable to get proper meals and drinking water, it was not right to make such a demand.
"I asked them to think about the plight of those affected by the cyclone. Instead of thinking what they want for themselves, they should think about those in pain," Ishita said.
A day later, the children came to her with their piggy banks wanting to give the money to help those who were suffering.
"I did not ask them to donate the money. That they did on their own but as parents we have to make them understand the struggle that others are going through," Ishita said.
The family approached an NGO, Fair Field Excellence, whose core area of work is supporting poor and meritorious children. They have also been supporting families during calamities over the past two years.
Fair Field Excellence has been running a community kitchen to provide food to families devastated by Yaas in and around Digha.
"We are also providing books to children, mainly from Classes V to X," said the secretary of the NGO, Sanatan Jana. "We will buy books with the money the duo have given us. We are grateful to the parents for instilling the right values in the children because that is how they learn to be humane and stand by those who are in need," said Jana, a math teacher at a government school.