'Collars' to save stray dogs in Calcutta
The two women — a telecom industry professional and a physiotherapist — have been feeding 250 animals every night during the lockdown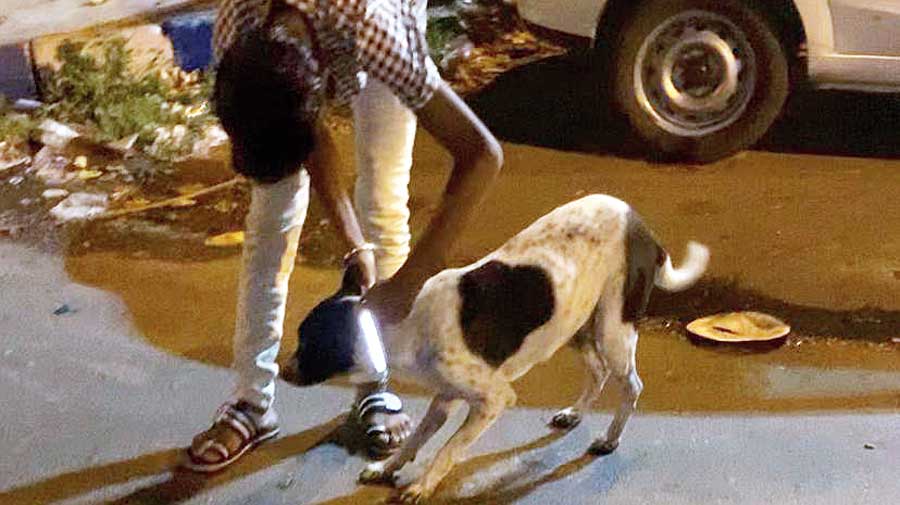 Reflective collars being put on a stray dog on Canal Road near Ultadanga.
Telegraph picture
---
Calcutta
|
Published 03.11.20, 02:07 AM
|
---
Two women who have been rescuing people abandoned on roads during the pandemic and feeding stray dogs have started providing stray dogs with reflective collars to increase their visibility and prevent accidents.
Priyanka Mitra and Priyam Dutta, both aged 33 and professionals, have identified pockets in north Calcutta as vulnerable stretches where they have found several dogs injured or killed in road accidents in the past few months.
Amherst Street, Maniktala, Ultadanga, VIP Road, Dum Dum, Belghoria Expressway are some of the places where the two plan to collar stray dogs in the next few weeks.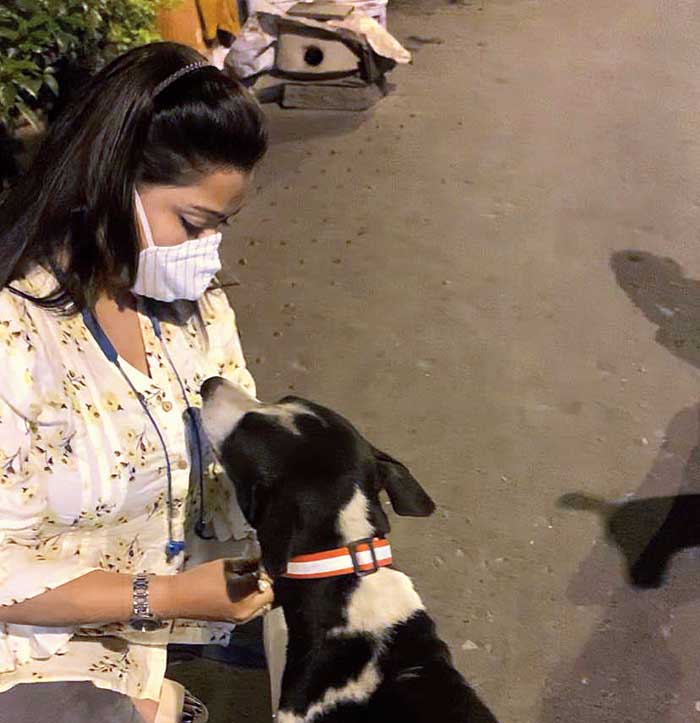 "These are the areas where we have been feeding stray dogs. We find injured dogs every second day on average. So, we decided to make an attempt to make them more visible with reflective collars," Priyanka Mitra said.
The two women — one a telecom industry professional and the other a physiotherapist — have been feeding 250 stray dogs every night during the lockdown. But with shops and eateries opening up, they have now shifted their area of focus to preventing accidents that claim the lives or limbs of such dogs.
They have collared 25-odd stray dogs in the Ultadanga and Maniktala area till Monday. They want to complete at least 300 before Diwali, Mitra said. "While feeding the dogs we come across ghastly accidents like vehicles running over pregnant dogs or trucks simply crushing dogs resting under them. Now that the lockdown norms have been eased and food is available, more or less, we thought of fixing reflective collars on them to make them more visible at night."
The two have found maximum casualties on stretches like Canal Road in the Ultadanga area, Lohapatty in the Amherst Street area, places in Maniktala and Burrabazar, pockets of New Town, stretches of VIP Road, and Narkeldanga Main Road in the past few months, she said.
"We recently found a pregnant dog lying near Ultadanga. A car had hit her and she had fractured her waist. We tried to revive her with medicines; but when her condition did not improve we took her to an animal hospital," Priyam Dutta said. "She passed away after two days. We only wish the motorist who had hit her had noticed her on the road."
The two hope reflective collars would make stray dogs easily visible on roads and help prevent accidents.
Last year they had found a dog in Dum Dum whose lower jaw had been blown away when it tried to chew a chocolate bomb on Diwali night. Tying firecrackers in the tails is common, according to both.
The two plan to print posters of dogs and circulate them in the slum areas where they have come across maximum instances of dog abuse during festivals.
"Unfortunately there is no official record of stray dogs dying on roads but one can imagine their plight by the treatment meted out to them during Diwali," Mitra said.
Instead of celebrating Diwali, the two would rescue stray dogs on Diwali night if they come across such instances, the two said.
Metro had reported about the two rescuing people abandoned on roads, many of whom government agencies had hesitated to touch because of the pandemic.