Coast Guard rescues 19 Bangladeshi fishermen
The fishing trawler had been adrift for more than 20 days after the engine developed a snag and it entered Indian waters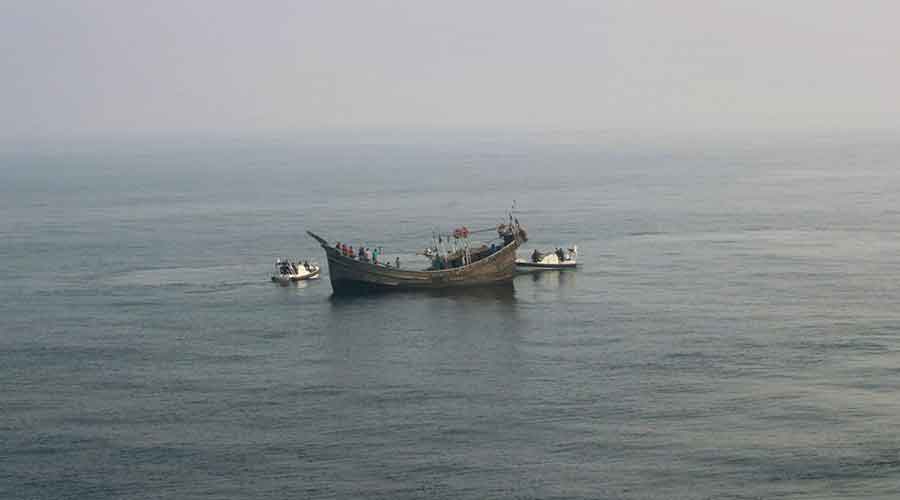 The Bangladeshi fishermen being rescued on Tuesday
Telegraph picture
---
Calcutta
|
Published 09.12.20, 04:32 AM
|
---
Nineteen Bangladeshi fishermen, who were drifting on a wooden trawler on the Bay of Bengal, were rescued by the Indian Coast Guard on Tuesday.
The fishing trawler had been adrift for more than 20 days after the engine developed a snag and it entered Indian waters, an officer of the Coast Guard said.
The crew members had run out of food and were rationing drinking water when they were rescued.
A Coast Guard Dornier that took off from Bhuban-eswar in Odisha on Monday night for a routine patrol spotted the boat around 170km from the Paradip port, the officer added. The aircraft crew tried to get in touch with the boat on a Very High Frequency (VHF) radio but the boat did not respond.
The aircraft crew then got in touch with the Indian Coast Guard Ship (ICGS), Varad, that was deployed on another mission on the Bay of Bengal and gave them the coordinates of the trawler.
According to the officer, the Coast Guard ship's crew also tried to contact the ship on radio but there was no response. The ship immediately charted a course for the boat and reached it early on Tuesday.
"The ship then sent in specialised boarding parties on two fast-moving vessels. Once our men boarded the trawler, they checked for contraband but did not find any. The crew told them that they were fishermen and their engine had developed a snag which they could not repair," said deputy commandant Kamal Singh Bhutola.
When asked why they were not responding to radio messages, the crew said that they did not have a set nor any modern navigational equipment.
The fishermen were then given food, water and first aid.
The Coast Guard got in touch with their Bangladeshi counterparts, Bhutola said.
On Tuesday evening, Varad was towing the trawler towards Bangladesh from where a Bangladeshi Coast Guard vessel would take over and tow it to Cox Bazaar harbour. The trawler had set sail from Cox Bazaar on November 15.
India has a memorandum of understanding (MoU) with Bangladesh and the Coast Guards of the two countries work in coordination to rescue fishermen who cross the International Maritime Border Line (IMBL).
In the last several years, the two forces have worked in tandem to rescue fishermen in distress.
With common security interests, the two forces also undertake coordinated patrolling to prevent activities such as smuggling and poaching. Preventing ecological degradation along the coasts is also a mandate for the two forces.