CM appeals to Modi to defer entrance tests
An official of the state education department said aspirants would have to turn up at centres at a time any kind of physical assembly is being discouraged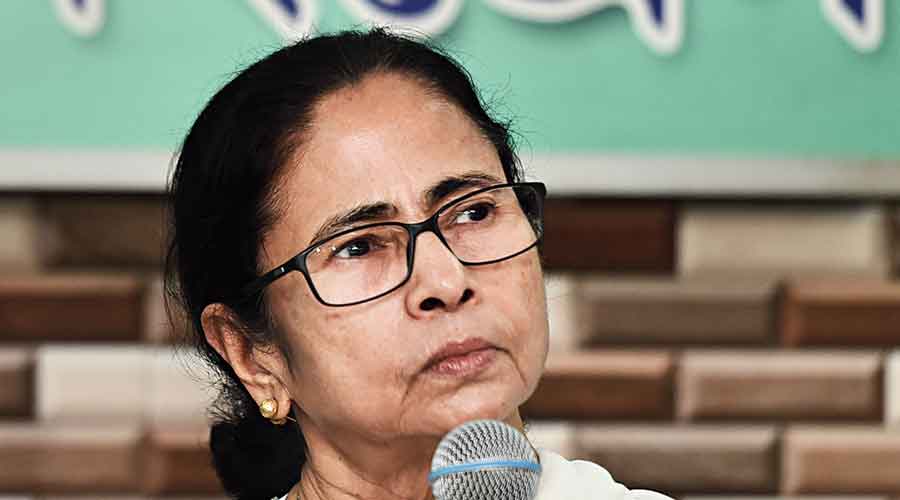 Mamata Banerjee
File picture
---
Calcutta
|
Published 25.08.20, 01:43 AM
|
---
Chief minister Mamata Banerjee on Monday appealed to Prime Minister Narendra Modi to assess the "enormous health risk involved" and put on hold the national entrance examinations due in September "until the situation is conducive again".
"On the one hand, the Covid-19 pandemic is going on and the student community on the other hand is... suffering a lot of mental agony and depression…. I would therefore appeal to you to get the enormous health risk involved in such steps assessed," Mamata wrote in her letter to Modi.
She added: "The central government must not take a decision for which the students feel upset and also ensure that students are not deprived of the opportunity to take examinations. I am sure that you will appreciate the point and postpone these examinations until the situation is conducive again."
The JEE-Main exams, through which most engineering colleges admit undergraduate students, are to be held from September 1 to 6. The National Entrance cum Eligibility Test (NEET), through which all medical colleges admit undergraduate students, is scheduled for September 13.
Earlier in the day, Mamata tweeted her concern about holding the exams amid the pandemic.
An official of the state education department said the health risk arose from the fact that the aspirants would have to turn up at centres to write the test at a time any kind of physical assembly is being discouraged as a precaution against Covid.
"Although the authorities that conduct the exams have issued guidelines on the precautionary measures to be taken by the candidates and others, any assembly can pose a risk. That's why the chief minister appealed for postponing the tests," the official said.
Covid-19 cases are on the rise in all eight cities and towns in Bengal where exam centres will be set up, an official said.
The National Testing Agency — which conducts all-India entrance exams such as JEE-Mains, JEE-Advanced and NEET — has said that each candidate will be offered a three-layered mask before he or she enters the venue. Also, before entering the centre, each candidate will have to wash their hands with soap and water or clean them with sanitiser.
The chief minister in her letter sought to underscore that she was appealing for postponement of the entrance tests for the same reason that prompted her to oppose the UGC's instruction to the colleges and universities to conduct their terminal exams by the end of September.
Mamata concluded her letter by saying: "It is our duty as elders to ensure a safe public environment for all our students in the country."