Clinic uses virtual reality support to treat phobia
This DB Block doctor's chamber claims to be the first of its kind in eastern India to use VR for treatment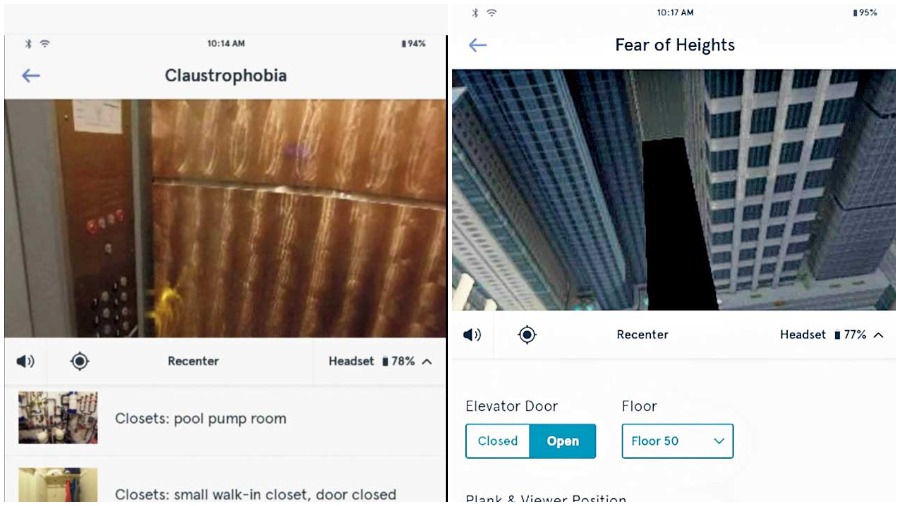 Screenshots of the video clips using VR that simulate experiences
---
Salt Lake
|
Published 12.03.21, 01:40 AM
|
---
You are standing on a plank protruding from the 20th floor of a building. You are being asked to walk up right to the edge. But you are scared to look down to the street far below. But you feel sick, your head swims. You are allowed to slowly step back inside. The session is over for the day. 
The experience of facing one's fear is real but the circumstances are simulated as it all happens in the confines of a doctor's chamber.
A clinic has opened in DD Block to address a variety of mental health issues. There are psychologists, psychiatrists, therapists and special educators, and assisting them is technology-aided simulation of stress-inducing circumstances using virtual reality (VR).
Inaugurated by actress Ritabhari Chakraborty, Sahayta Clinic is on the second and third floors of the building that also houses Suraksha Diagnostics.
"This clinic will address issues of depression, anxiety and stress which have increased today. We want to provide mental healthcare like any other healthcare treatment and the stigma has to reduce among people to reach out for help," said psychiatrist Syed Naiyer Ali, who, along with colleagues Tathagata Chatterjee and Debasish Sanyal, has founded the clinic.
The centre claims to be the first of its kind in eastern India to use VR for treatment. Through this, patients would be subject to virtual environments where they can overcome their phobias or situations of distress. The virtual environments have been engineered through panoramic images and videos and will give patients life-like sensations.
At the inauguration, a VR module for patients of acrophobia (fear of heights), was demonstrated. A volunteer was asked to don VR goggles and then look down. He was virtually standing on the second floor of a building. The man was then virtually taken to the 20th floor and asked to look down. When he confessed to feeling nauseous, he was taken back to the second floor so as to not rush things. The technology allows the doctor to move the patient to the middle or edge of a plank protruding from these buildings, thereby customising treatment.
The technology has been procured from Barcelona and has around 15 modules to help patients overcome issues like acrophobia, agoraphobia (being in situations where escape might be difficult), claustrophobia, anxiety, depression etc. The modules for treating agoraphobia include environments in a crowded street like Times Square in New York, whereas the ones for treating claustrophobia include getting stuck in a lift or a closet.
"VR treatment for mental health is at a nascent stage and doctors have teamed up with engineers to build modules to treat patients. Currently 10 organisations are working on this technology, which has been in commercial use for three years at most, in North America and some European countries," said Chatterjee, the managing director of Sahayta Clinic.
The clinic also provides counselling to corporates, married couples, children, adolescents along with geriatric and career counselling.
Ritabhari lauded the effort. "People shouldn't hesitate to seek mental help if they feel the need for it. Many also think mental healthcare is expensive but that is a myth. We should reach out to professionals rather than suffer in silence," said the actress.