Classic Drivers' Club organise car rally for the first time since Covid-19 outbreak
Trip down to Eco Park from Loreto House on Middleton Row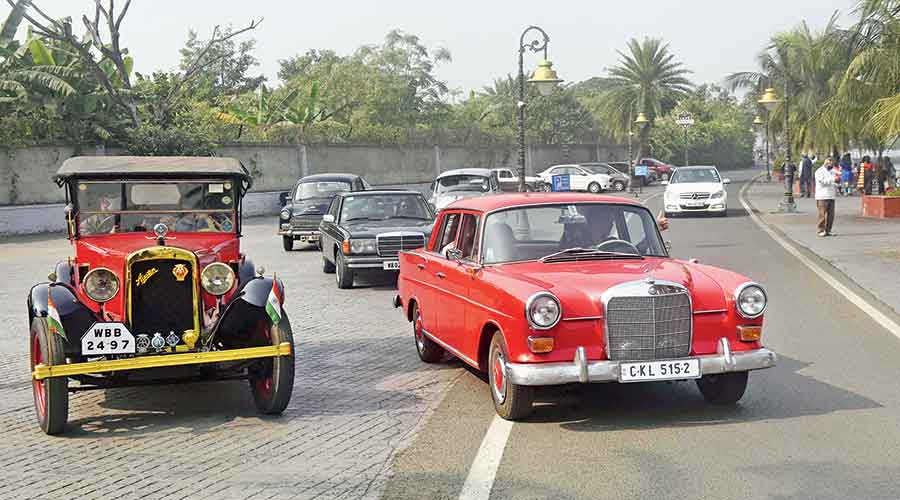 Vintage and classic cars take part in the drive on Sunday.
Picture by Bishwarup Dutta
---
Calcutta
|
Published 25.01.21, 01:56 AM
|
---
A fleet of around 30 vintage and classic cars and two-wheelers made a trip down to Eco Park from Loreto House on Middleton Row on Sunday.
The drive was an opportunity for the owners of the golden oldies to take out their prized possessions for the first time since the Covid-19 outbreak led to the imposition of a nation-wide lockdown in March last year.
Whoever came to take a close look at the cars or click photographs, the owners explained to them the need to maintain social distancing and personal hygiene to keep Covid at bay.
The term "vintage car" is used quite loosely these days. Going strictly by car parlance, all pre-World War I cars, up to 1914, are considered Edwardian or veteran; cars manufactured between 1914 and 1939 are vintage; and those made between 1940 and 1970 are called classic cars.
Sunday's drive had representatives from nearly all categories. On display were a couple of Rolls Royce Phantom IIIs, manufactured in the late 1930s; an Austin Tourer 12/4, which hit the roads in 1922; and a 1963 Fiat Super Select, among other beauties.
The cars that took part in the Sunday morning drive, organised by the Classic Drivers' Club, assembled near the Loreto House on Middleton Row.
From there they took a turn to Park Street, got on to the Parama flyover via the Park Circus seven point crossing and headed north through EM Bypass before plying down the Chingrighata flyover on their way to Eco Park in New Town.
Throughout the drive, other motorists as well as pedestrians shot the cars on their cellphones.
At traffic signals, other drivers pulled up alongside the oldies and asked the owners how it felt to drive them.
Prithvi Tagore, an organiser of the drive, said the idea was to keep the cars running as well as to let Calcuttans have a glimpse of the city's rich motoring heritage.
"Calcutta was the car capital once and we want to make people aware that such cars do exist and despite being so old, they still run," said Tagore, who drove a 1963 Fiat Super Select.
The oldest car was a 1922 Austin Tourer 12/4, which was driven by Phoolbagan resident Supratim Basu.
"We got a chance to drive and also spread awareness about the importance of wearing masks and maintaining social distancing in the current situation," Basu said.
The car, he said, had been bought by his family in 1922. Shipped from England, it arrived at the Kidderpore dock on board a container ship.
"We treat it like our baby, though it is older than most of our family members," Basu said.
Once all the cars and two-wheelers pulled up in front of Dhaba Ajante in Eco Park, they were nearly mobbed by people, who took photographs of the vehicles and selfies alongside them.
Arijit Bhattacharya, who rode a 1948 BSA Bantam, said it felt great to see so many people queue up just to take a look at the vehicles. "This is a great way to keep the love and passion for these vehicles alive," he said.
Souvik Ghosh Chaudhuri, another organiser said, they were planning more such drives over the next few months.
"Delhi and Mumbai have this culture. Old cars and bikes drive together in those cities every week. We are trying to do a similar thing here," said Chaudhuri.