Civic boss damper for New Market traders
According to the traders, police personnel at the gate of the CMC's headquarters told them that the 'commissioner would neither meet them nor receive their letter'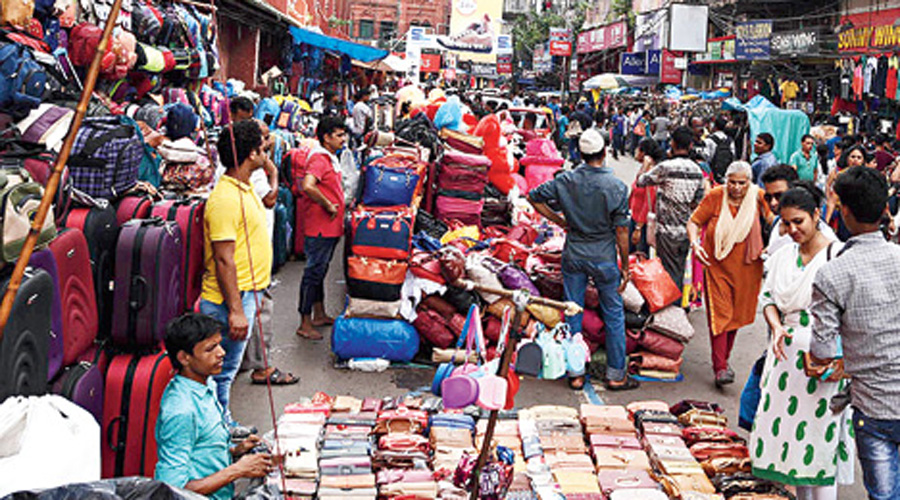 ---
Calcutta
|
Published 26.02.21, 02:59 AM
|
---
Traders in the New Market area who have been agitating since Wednesday against encroachment of roads and footpaths by hawkers alleged that they were denied a meeting with the municipal commissioner on Thursday.
The traders said the police personnel on duty at the gate of the Calcutta Municipal Corporation's headquarters told them that the "commissioner would neither meet them nor receive their letter".
The traders said they had hoped to explain to the commissioner why they were protesting and how encroachment of roads and footpaths was affecting their business.
When Metro contacted municipal commissioner Binod Kumar on Thursday evening, he said: "Please check with my office on what happened."
An official in the municipal commissioner's office said: "Anyone can submit a letter to the commissioner and we will accept it…. As far as we know the traders had come in a group and wanted to submit a memorandum.The CMC rules say a memorandum can only be submitted to the mayoral council member (currently member of the board of administrators) concerned," said the official.
The traders were unhappy at being denied a meeting with the commissioner. "We had submitted a letter outside the municipal commissioner's chamber earlier intimating him that we would like to meet him on February 25," said Rajeev Singh, the general secretary of the Joint Traders Federation, an umbrella body of traders in SS Hogg Market, Treasure Island, Shreeram Arcade, Simpark Mall and other markets as well as standalone shops in the area.
"We wanted to explain to him our problems. Everything cannot be explained in a letter," said Singh.
"We want a permanent solution to the problems we have been facing for years. Every time we raise some noise, the police come and things are in order for a few hours. As soon as the police leave, the same old chaos resumes," said a trader.
The traders have been demanding that the size of the dala (the space where wares are displayed by hawkers) be fixed.Their other demands include that the hawkers be barred from wrapping their wares in plastic and hanging them from the walls of SS Hogg Market at night.
They fear that if a fire breaks out at night, the plastic will fuel the flames and the market will be gutted.
The traders distributed leaflets, containing their problems and demands, to shoppers and pedestrians in the area on Thursday. They also organised a rally.
The traders have planned to meet the deputy commissioner of police (central) on Friday.