City cops remove 191 beacons from vehicles of govt officials
Cars with light atop stopped for verification and the cops asked the drivers to remove them when the concerned officer was not present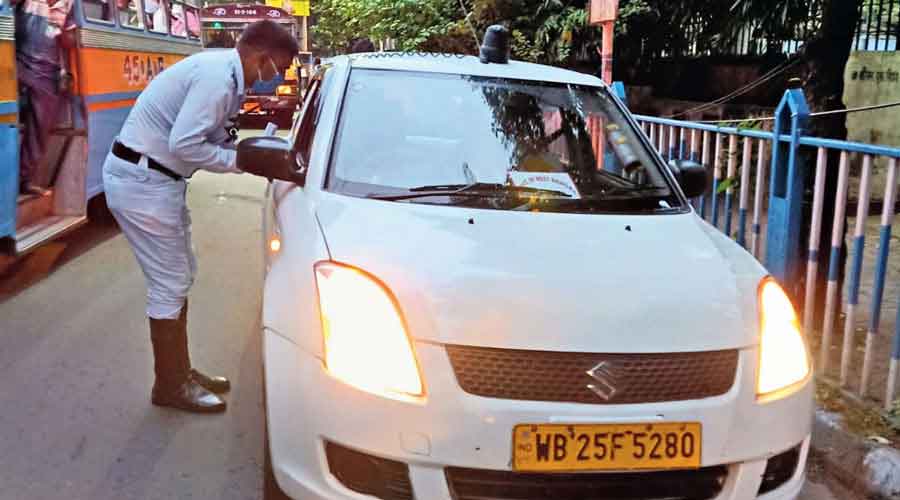 A policeman checks a beacon-fitted car in Jadavpur.
Telegraph picture
---
Calcutta
|
Published 20.07.21, 01:44 AM
|
---
The city's traffic police have removed 191 beacons over the past 72 hours from vehicles of government officials who are not entitled to them, police officers said on Monday.
The majority of the bureaucrats and others who were intercepted and allegedly found violating beacon norms claimed ignorance about their ineligibility for the privilege, the officers said. Some had to be shown the transport department notification about beacon eligibility.
An officer said the public servants whose vehicles were "politely" stripped of beacons were of the rank of engineer, district judicial magistrate, additional district magistrate, divisional forest officer, deputy secretary, chief medical officer of health, medical superintendent (of a government hospital), deputy superintendent of police, sub-divisional officer and director of a government establishment.
The personal assistant of a state minister was spotted using a beacon in violation of norms.
All 25 traffic guards in the city and the special raids section of the traffic department cracked the whip on unauthorised use of beacons from Saturday.
"We are stopping every vehicle with a beacon and politely asking which department the car belongs to. Then we are asking for the rank of the officer concerned and checking whether it is on the list given to us. If the officer is entitled to the beacon, we are immediately releasing the vehicle. If not, we are requesting the officer to immediately comply with the government order," said a traffic sergeant in south Calcutta.
Several empty but beacon-fitted vehicles were stopped and the drivers asked to remove the lights when the concerned officer was not in the car.
The occupants of several vehicles allegedly resisted the move and challenged the list.
"A beacon-fitted vehicle was ferrying a PWD engineer. He said he was confident about his entitlement. In such cases, we did not get into arguments and noted down details of the vehicle for verification," said a sergeant in central Calcutta.
Metro reported on Saturday that the police had written to all offices of the state and central governments in the city to comply with the beacon rules issued by the Bengal government.
The maximum number of violations — 19 — was reported from the south-east traffic guard, which includes pockets like Southern Avenue, Rashbehari Avenue, Lake, Gariahat and Ballygunge.