Choking on whistle and peanut, two kids face hospital refusals
The rejections highlight the attitude of a section of doctors outside the city, often accused of avoiding critical cases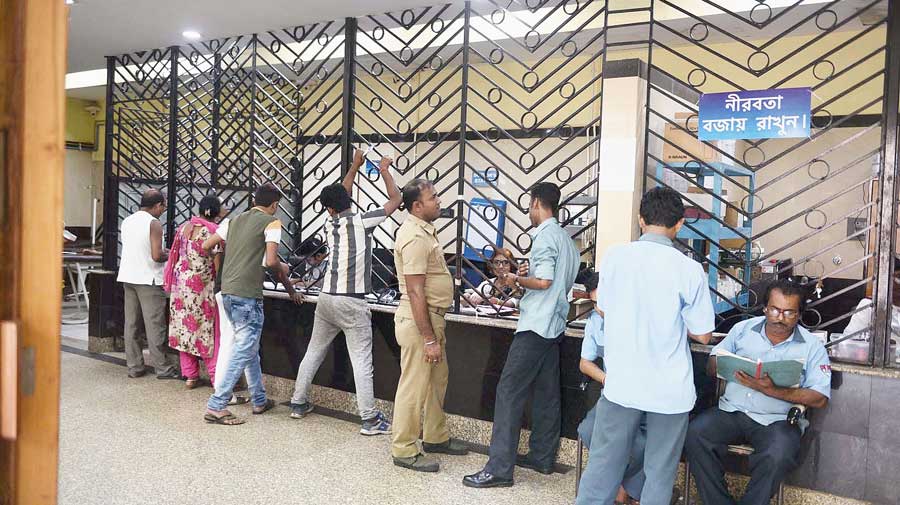 ---
|
Calcutta
|
Published 06.10.20, 01:52 AM
---
Two children, a five-year-old who had swallowed a whistle and a one-year-old who had peanut pieces stuck in his trachea, were allegedly denied treatment by several government hospitals before being referred to SSKM Hospital.
Both children were gasping when they arrived at SSKM's ENT department more than a day after the objects got stuck in their bodies, doctors said. They underwent emergency procedures and are now stable.
The series of refusals highlights once again the attitude of a section of doctors outside Calcutta, often accused of avoiding critical cases, and also the lack of infrastructure in the government health-care system.
Anjan Hembram, 5, who had swallowed a whistle which got stuck in his larynx on Saturday night, had to travel 175km from Bankura to Calcutta to get the object removed. All through the journey the child was having a severe breathing problem, said father Shanti Lal Hembram, a marginal farmer.
The resident of Manora village in Bankura had to spend Rs 7,000 to bring his son to SSKM in an ambulance.
Anjan was first taken to a government healthcare facility in Bankura's Khatra but doctors said they could not do anything. "We then took him to Bankura Medical College and Hospital, but there, too, doctors pleaded helplessness. They referred my son to SSKM," said Shanti Lal.
"The X-ray revealed the whistle was stuck in the larynx and the boy was gasping when he came to us. We had to perform bronchoscopy to remove the whistle," said Ankit Choudhary, ENT surgeon at SSKM, who along with colleague Anindita Sengupta, performed the procedure on Sunday night.
In the other case, one-year-old Aditya Mondal from Baduria in North 24-Parganas had swallowed a peanut on Saturday evening and it got stuck in his trachea. He was first taken to Basirhat District Hospital, where doctors admitted him.
"But on Sunday they said nothing could be done and referred him to RG Kar hospital," said the boy's father Paritosh Mondal, a government employee. He hired an ambulance and paid Rs 3,000 for the 60km journey to the city hospital. AT RG Kar, doctors said they could not treat the boy and referred him to NRS hospital.
"We went to NRS around 3.30am on Monday. We were sent to the ENT department and from there to the pulmonology department. Doctors said the boy needed to undergo bronchoscopy urgently but there was no doctor to perform it at that time," said Paritosh. Aditya was then referred to SSKM.
"Several pieces of the peanut were stuck in the trachea and it took more than two hours to extract them," said ENT surgeon Choudhary, who performed the procedure on Monday morning.
An official at NRS said their ENT department was facing a staff crunch. "There are two professors and an assistant professor. Three doctors were recently transferred and replacements have not come," the official said.
An official at RG Kar said: "I have to find out why the procedure was not done. We have the equipment and manpower."
A health department official said equipment to perform critical procedures, including bronchoscopes, have been provided to all government medical colleges in the state.
"We are ready to train doctors from other hospitals but they have to approach us," said Arunabha Sengupta, a professor of ENT at SSKM.