Chhath Puja: Supreme Court notice to activist in Rabindra Sarobar case
The matter will be heard again on November 16 and the festival is on November 20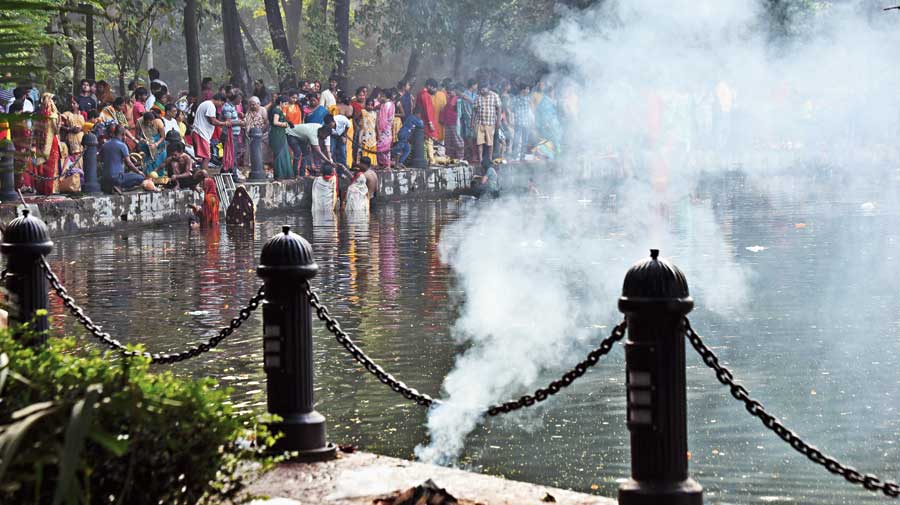 ---
Calcutta
|
Published 03.11.20, 02:06 AM
|
---
A Supreme Court bench on Monday declined to pass any order on the Calcutta Metropolitan Development Authority's (CMDA) plea to allow Chhath Puja at Rabindra Sarobar without hearing the respondents, including environment activist Subhas Dutta, a counsel for the state agency said.
The bench of Justices Rohinton Fali Nariman, Navin Sinha and Krishna Murari issued a notice to Dutta. The matter will be heard again on November 16. Chhath Puja is on November 20.
"Interim directions for Chhath Puja this year will be considered on November 16 after hearing the respondents. Notice has been issued to the respondents, including Subhas Dutta," said Rakesh Dwivedi, a senior advocate of the Supreme Court who is representing the CMDA.
The CMDA is the custodian of the 192-acre Rabindra Sarobar, which includes water bodies spread across 73 acres. It had approached the Supreme Court following the rejection of its plea to allow Chhath Puja at the Sarobar by the National Green Tribunal.
The tribunal, which had banned all pujas, social events and picnics at the Sarobar in 2017, had not even heard the petition before rejecting it.
Environment activist Dutta had approached the tribunal in 2016, ahead of a football match under flood lights at the Rabindra Sarobar stadium. "I argued that the bright illumination and noise will negatively impact the biodiversity of the place. Rabindra Sarobar is an extremely important place in terms of biodiversity," he said on Monday.
A birdwatcher had told Metro that more than 100 species of birds have been recorded at the Sarobar since January. Besides, the Sarobar is also home to turtles and various other kinds of flora and fauna.
"The tribunal had formed an expert committee to suggest how to manage the Sarobar. The committee included scientists from central and state pollution control boards, Zoological Survey of India, Botanical Survey of India and academics. Based on its recommendations, the tribunal ordered a ban on all pujas at the Sarobar in 2017," said Dutta.
Since the order was issued days before Chhath Puja, the tribunal allowed the rituals that year as a special case following a plea from CMDA. But both in 2018 and 2019, devotees went inside and performed the rituals violating the ban. The administration acted like an ally on both occasions, said environment activists.