Steps that saved lakes from damage
Around 200 men and women were posted on Chhath duty at the two lakes round the clock in shifts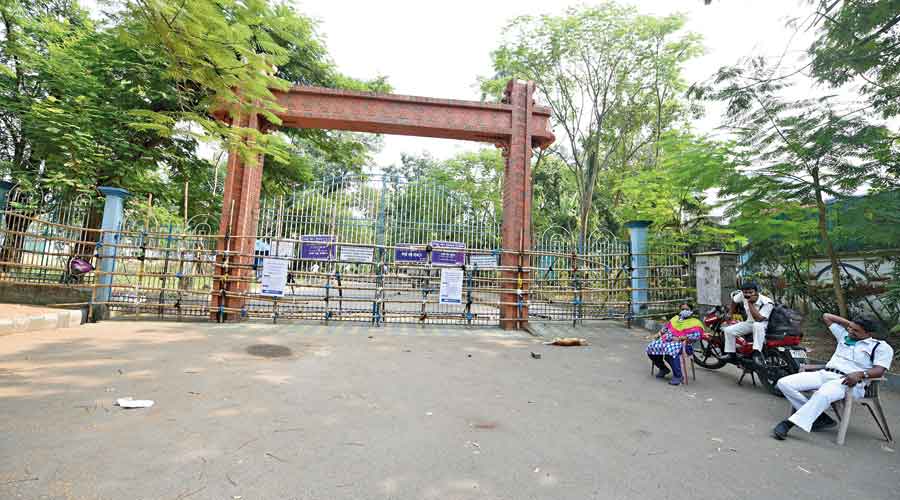 ---
|
Calcutta
|
Published 21.11.20, 02:12 AM
---
Multiple layers of barricades and three times the number of cops, compared with other days, in the compounds of Rabindra Sarobar and Subhas Sarobar as well as outside kept Chhath devotees from violating the ban on the rituals at the two water bodies.
Thousands of citizens offered their prayers but there was not a single case of violation reported till Friday evening, police sources said.
In the last two years, the city had witnessed scenes of people breaking locks and crashing into Rabindra Sarobar to perform Chhath Puja despite the court order prohibiting them from doing so. Police had been outnumbered and silent, too.
This year, the scene was the reverse. The telegraph reports on what the police did this year to encourage people to follow the court order without defiling any of the two lakes.
Barricades
Anyone trying to enter Subhas Sarobar on Friday would have to jump over nearly 5ft-high iron and bamboo barricades along the periphery of the lake. All roads and lanes leading to the lake were sealed. Cops were deployed outside each of the barricades.
At Rabindra Sarobar, the gates were not just locked but guarded by four to five uniformed men and women to ensure no one tampered with the locks. The gates were further guarded by a layer of barricade.
Deployment
Around 200 men and women were posted on Chhath duty at the two lakes round the clock in shifts. "It has been a peaceful day till now. But we will remain equally alert at night as well to prevent any kind of mischief," said an officer of Rabindra Sarobar police station on Friday evening.
Chhath devotees traditionally reach the lake compound by afternoon and start offering their prayers at sunset. Those who come from a distance camp inside the lake at night and start their day offering their prayers to the Sun God. On Friday, only policemen on cycles and motorcycles were seen inside the lake.
Alternative venues
The civic bodies and the police had ensured that those who would not be allowed to pray at the lakes had an alternative place to offer their prayers. Small cemented knee-deep water reservoirs – lined with polythene - have been built to accommodate those who would not be allowed inside the lakes.
"We had to think of both sides. Stopping someone from offering their prayers at a particular location without offering an alternative was not a good idea. This (building the reservoirs) helped us convince people (to not visit the lakes)," said a senior officer of Phoolbagan police station.
The government agencies had made arrangements for illumination and announcement systems to guide the devotees at the alternative venues.
Coordination meetings
A section of cops feels repeated meetings with citizens with the help of local councillors helped them execute the court order in its true spirit. Both Subhas Sarobar and Rabindra Sarobar are located close to neighbourhoods where a large number of Chhath worshippers live.
Around 6,000 people live in the Kurigram, Ghore Bibi Lane, Motilal Basak Lane and Kadapara areas, near Subhas Sarobar, most of whom are Chhath worshippers.
Near Rabindra Sarobar, too, a large number of worshippers live in the Panchanantala and railway colony areas.
"Civic teams played a crucial role in persuading people to stay away from the two lakes and perform the rituals elsewhere," said an officer in south Calcutta.