Charging station coming up for e-cars
New Town has about 10 charging stations for four-wheelers and some more for three-wheelers like totos but these are scattered across the township, unlike at this new station, said Debashis Sen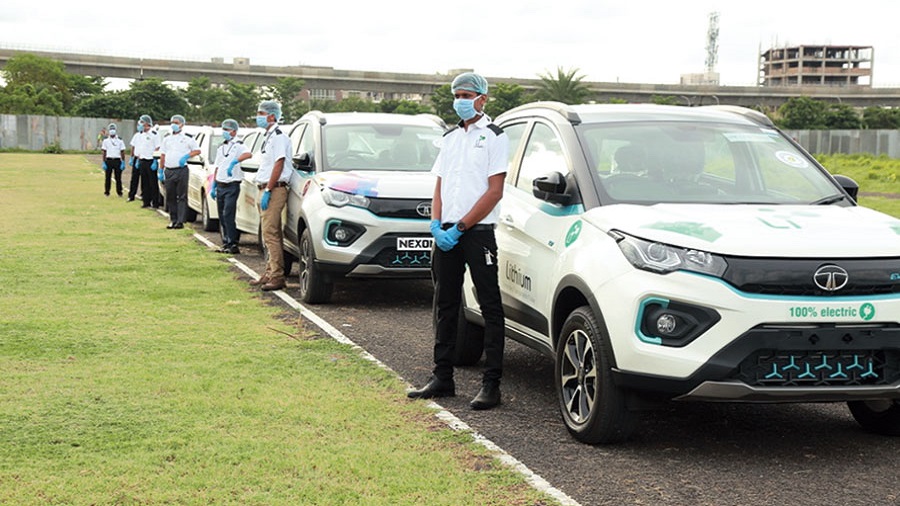 ---
---
In 60 days from now, New Town should throw open a fast charging station to accommodate 25 electric four-wheelers simultaneously, in what is being touted as the largest public station of its kind in the
country.
Debashis Sen handed over the letter of intent to a group called Shuchi on September 16 that will be building this station near Biswa Bangla Convention Centre. Sen is chairman cum managing director of Housing and Infrastructure Development Corporation (Hidco) and chairman of New Town Kolkata Development Authority (NKDA).
"New Town has about 10 charging stations for four-wheelers and some more for three-wheelers like totos but these are scattered across the township, unlike at this new station," said Sen. "Land for this station will be provided by Hidco and Shuchi will pay us 88 paise per unit of electricity sold to vehicles."
The space demarcated for the project is right next to the proposed multi-level car parking complex that will hold thousands of cars, especially of those visiting the convention centre. The space is on the Major Arterial Road and the station will be called Powerbunk.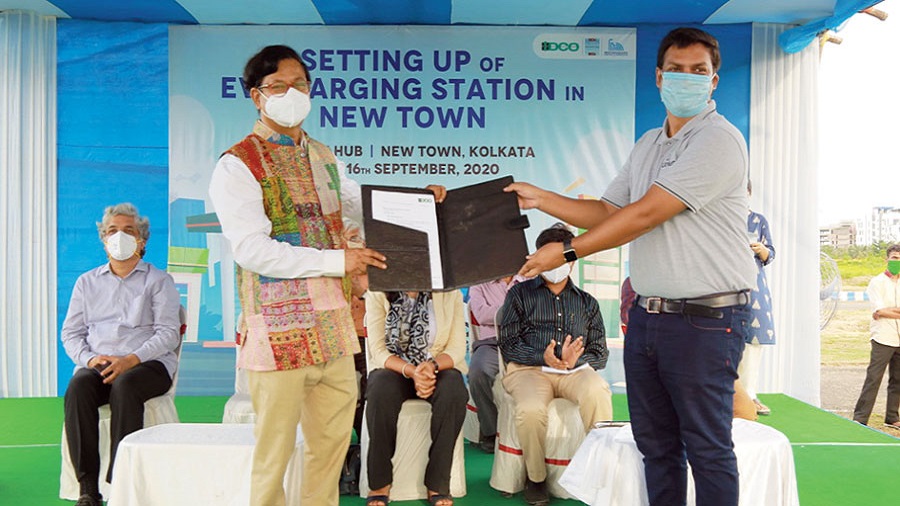 The very first clients of the station are likely to be from Lithium, a Bangalore-based corporate car rental company that exclusively deploys electric vehicles.
"Lithium operates out of six major cities and we have just started out in Calcutta. We shall roll out a fleet of 1,000 electric cars over the next two or three years, which will charged right here," said Vikash Mishra, business head— north and east, Lithium.
Incidentally, Shuchi, the group that will be building the station is a joint venture between Lithium and a solar power company called Fourth Partner Energy. "Electric car owners charging their vehicles at home use the slow mode that provides full charge over eight hours but the commercial level fast chargers here will charge cars in an hour,' said Mishra.
He claims this would be India's largest public charging station and that they will begin services in 60 days. "Our fleet of 1,000 electric vehicles (EV) will abate 10,000 metric tonnes of carbon emission a year. That will be comparable to adding 10 Eco Parks to the environment," he says.
Shuchi will be investing Rs 150 crore in this project and expects to create more than 3,000 direct and indirect jobs, besides triggering the entry of original equipment manufacturers and related EV products and service centres to come up.
Lithium will be using electric cars like Tata Nexon, Tata Tigor, Mahindra eVerito and MG ZS EV.
Principal secretary of the transport department, Prabhat Kumar Mishra, attended the ceremony and hailed the New Town authorities for bridging the infrastructure gap. "Before this, it was always a chicken-and-egg situation with respect to electric cars and charging stations," he said.
"New Town has six electric buses, Calcutta has 80 and a new fleet of 50 such buses should ply in Salt Lake and Rajarhat in six months' time under the Faster Adoption and Manufacturing of Electric Vehicles in India (FAME-II) scheme. The city has a huge number of taxis and we also want to persuade at least some of them to switch to electric power."
Also present was Rakhi Basu, transport expert representing the World Bank. "We had helped the state government procure the 80 electric buses and seeing their success, private players have gained confidence to enter the market. Calcutta has one the highest users of public transport in the world and the city in fact went electric way back with the tram. We want to make electric vehicles (EV) popular in the 21st century now."
Also attending the event was Sanjoy Chatterjee, founder of Ideation Technology Solution that has developed Pathadisha, the public transport assistance app for the state government. "Transport is the backbone of any city," said Chatterjee. "Eventually we shall integrate this charging station with the app so anyone with driving an EV can come here for anxiety charging (fear of the battery running out)."