Centre rules out Bangladesh raw jute
The estimated demand is close to 480,000 bales, which is lower by a margin of almost 100,000 bales from the estimated availability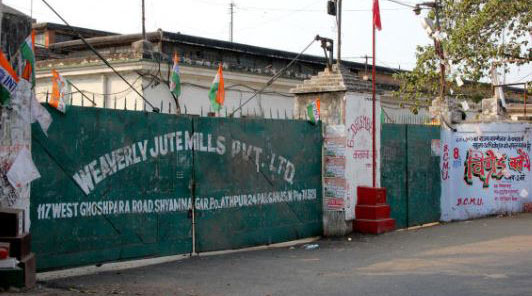 A jute mill in Shyamnagar.
File picture
---
Calcutta
|
Published 07.10.20, 02:20 AM
|
---
The Centre has rejected Bengal jute mills' demand to use imported raw jute from Bangladesh in the manufacture of bags that are used to package foodgrains.
In a letter to the Indian Jute Mills Association — a body of jute mill owners — Moloy Chandan Chakraborty, the jute commissioner, ruled out the industry's demand to import raw jute from the neighbouring country.
The Telegraph had on August 27 reported that the association had written to Ravi Capoor, the textile ministry secretary, and Chakraborty, seeking the Centre's permission to import raw jute from Bangladesh because of a dip in jute production in Bengal in the aftermath of Cyclone Amphan.
"There is enough raw jute available for the coming months and there is no urgency for immediate import," Chakraborty wrote in his reply.
In the letter, Chakraborty said the availability of raw jute — particularly for the production of jute bags — had been estimated at 584,000 bales for the current year.
This estimate has been done after considering a dip in production. The estimated demand is close to 480,000 bales, which is "lower by a margin of almost 100,000 bales from the estimated availability", he said.
A bale is roughly equivalent to 180kg.
The stand taken by the Centre is likely to benefit jute farmers in Bengal, an industry insider said. "Importing cheap raw jute from Bangladesh could have driven down the price of raw jute here… farmers would have been affected."
The jute packaging material act mandates the use of home-grown raw jute for the production of jute bags, which would be bought by government agencies to pack foodgrains such as rice, wheat and sugar.
The availability of raw jute in the country maybe enough for now, but there is a possibility of shortfall in future, an official of the jute mills association said.
At a videoconference of the expert committee on jute, held on September 25, the representative from the Bengal government's agriculture department said a fresh assessment of the production of raw jute was being done after taking into account the damages caused by the cyclone.
The pre-cyclone estimate shared by the department was 770,000 bales.