Union education ministry sanctions funds for IIEST hostel
Rs 129 crore will be used to construct a 10-storey building on the Shibpur campus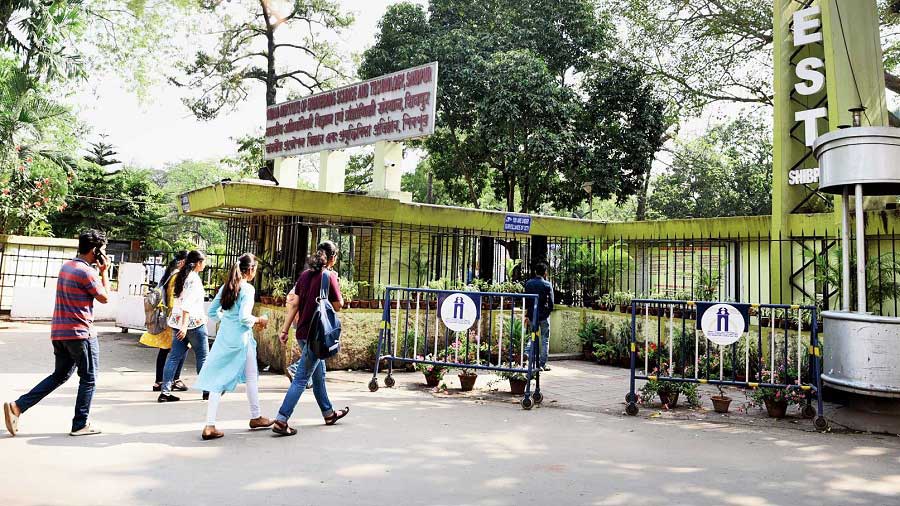 IIEST officials said 1,000 students would be accommodated in the 10-storey hostel
File picture
---
Howrah
|
Published 01.12.20, 03:46 AM
|
---
The Union education ministry has sanctioned Rs 129 crore for the IIEST to build a 10-storey hostel, addressing a long-standing grievance of the Shibpur tech school that has been missing out on many bright students because it cannot provide accommodation to them.
IIEST officials said 1,000 students would be accommodated in the 10-storey hostel. The institute will sign an MoU with the Central Public Works Department (CPWD), the implementing agency for the project.
"The Centre has sanctioned Rs 129 crore for the project. We will soon start discussions with the CPWD. We hope that once the hostel is ready, the institute will not miss out on bright students for want of hostels,'' IIEST director Parthasarathi Chakrabrti told Metro.
The hostel is expected to be ready in two years. It will come up where remnants of a barracks, built during World War II, stand on the campus.
Chakrabarti had on November 18 appealed to the education ministry, through its representatives on the IIEST's board of governors, for immediate sanction of funds to build hostels on the Shibpur campus. The board had in September expressed concern over the delay in the construction of hostels.
The intake capacity of the institute for the BTech, MTech and PhD courses together stands at 4,000. The absence of adequate number of hostels and the rising number of students have forced the institute to accommodate a number of students at staff quarters.
Another official said new hostels were required now more than ever because once the campus reopened from the Covid-induced shutdown, more than one student could not be put up in each room.
"We guess the physical distancing protocol will remain in force for quite some time. The accommodation may drop to 30 per cent from the existing 50 per cent. One additional hostel will help us deal with the situation,'' said the official.
The Centre has yet to sanction any funds for an academic complex, which will have lecture rooms and labs.
"Once on-campus classes resume, we have to ensure that not too many students gather in one classroom or in one lab. So we need more classrooms and labs. But the ministry is silent on the academic complex,'' the official said.
He said the proposal to build an academic complex at a cost of Rs 135 crore had been pending with the Centre since 2018.
Director Chakrabarti said: "We hope the ministry will act on this project as well."