Cars and cement jam bicycle lanes in New Town
Cyclists wary of obstacles like construction materials, vendors on tracks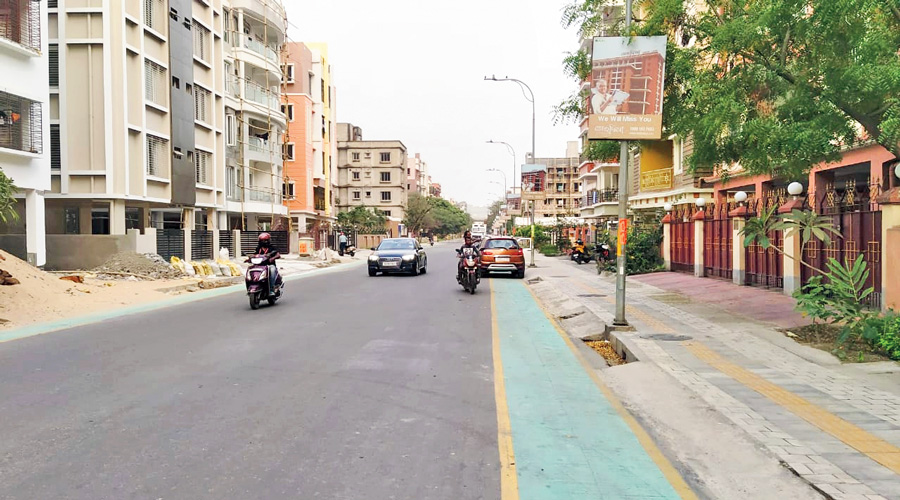 A car parked on a bicycle track in New Town on Friday.
Snehal Sengupta
---
New Town
|
Published 20.03.21, 12:52 AM
|
---
Bicycle lanes in several areas in New Town have become useless as they are occupied by parked cars and two-wheelers and also construction materials.
Hidco, which builds infrastructure in the township, has set up 17km of graded bicycle tracks in New Town. In some areas a bicycle track is a lane set aside for cyclists on pavements, while in others such tracks have been demarcated on roads with green paints.
On Friday, Metro drove through the township and found that the tracks have been blocked in several places by parked vehicles or construction materials.
To add to the problems, vendors selling fruits and vegetables parked their vans and carts on the tracks, completely blocking them.
Cars were parked in several sections of cycle tracks on the road leading from Pride Hotel behind the New Town bus stand to Hidco Bhavan.
Vendors parked their carts on several stretches of the tracks opposite Tata Medical Center in New Town's Action Area I.
Sundeep Agarwal, who regularly pedals for at least two hours in New Town, said the obstacles on the tracks were proving to be quite risky for cyclists.
"We cycle through the tracks as they are safer. However, the entire purpose is defeated since we have to continuously get off them because of parked cars or dumped construction materials," Agarwal said.
Ashis Bajaj, a resident of Sanjeeva Town in New Town, thanked the authorities for the graded tracks for cyclists but urged them to keep the lanes free of obstacles.
"We are happy to live in a place where there are designated bicycle tracks.
People should also be more aware and not block them by parking their vehicles or dumping waste and construction items," said Bajaj.
Lipika Biswas, an Eastern Railway employee who has cycled solo across Europe, said cyclists as well as residents in general needed to be more aware about how to maintain cycling tracks.
"The awareness levels of people should be such that they don't park their vehicles or block the tracks in any way." she said.
Debashis Sen, the chairman and managing director of Hidco, promised action to free the tracks of obstacles.
According to Sen, regular awareness drives are carried out and building contractors have been told several times at meetings not to dump construction materials on the roads, especially on the newly made tracks.
"We have started a survey to find out the places where the problem lies. We will slap fines as well if we find construction waste or materials blocking tracks and roads. We will also have a meeting with police to ensure that people don't park their cars on the tracks," said Sen.