Call for train 'cultural names' by TMC
Trinamul protest at Bolpur station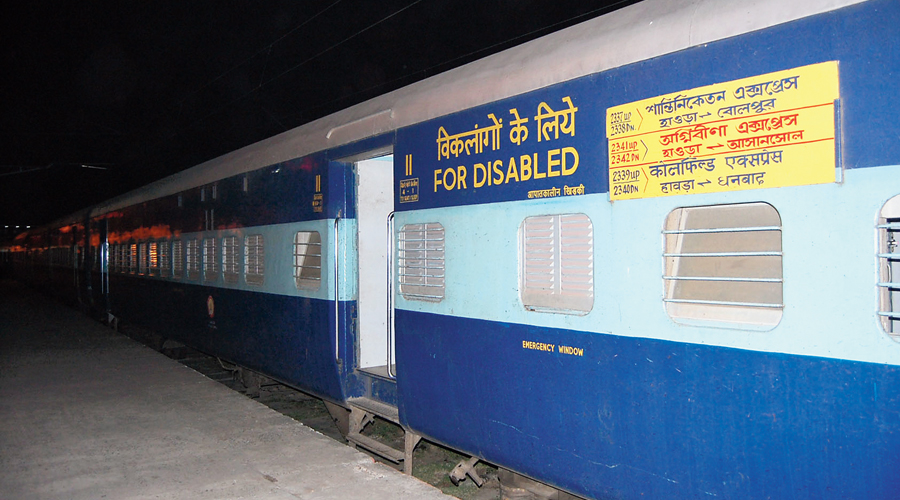 ---
---
Trinamul Congress Bolpur has raised a demand for express trains that originate from the region to be returned to their "cultural" names in place of the "ordinary" location-based names most have received following resumption of services after the lockdown.
Trinamul leaders and workers led a protest in front of Bolpur railway station in Birbhum district on Wednesday, claiming the BJP-ruled Centre had resumed services on an emergency basis but robbed the trains of their "cultural" names.
"Why has something as iconic as the Santiniketan Express been renamed as the Bolpur-Howrah Special? This needs to be changed," said a protester, claiming that the residents of Santiniketan were taking this personally ahead of the Assembly elections owing to their longstanding association with Bengal's cultural development.
"We are used to seeing the names of books, towns and eminent persons linked to our trains — not just the destinations. The railways are a part of Santiniketan's culture and vice-versa," said a protester.
Party sources said Trinamul's town president Shyam Sundar Konar wrote to the divisional railway manager of the Eastern Railway this week requesting him to run Santiniketan Express with its "actual name".
Trinamul leaders said they failed to understand the motive of the railways to change the names even though it plied at the same time and on the same route.
A railway official, however, said the name was not an issue as it had been done everywhere. The trains will run in their original names once the pandemic is over, the official added.
"Even Rajdhani Express is running as a special train and the decision is not only for Bengal, but for all express trains in the country," said Ekalabya Chakraborty, the chief public relations officer of Eastern Railways.
Railway officials failed to explain the reason to change the names of trains when they are running on the same route following the old pre-pandemic timetable.