Calcutta schools record poor turnout on day one
Parents still wary of sending wards to institutions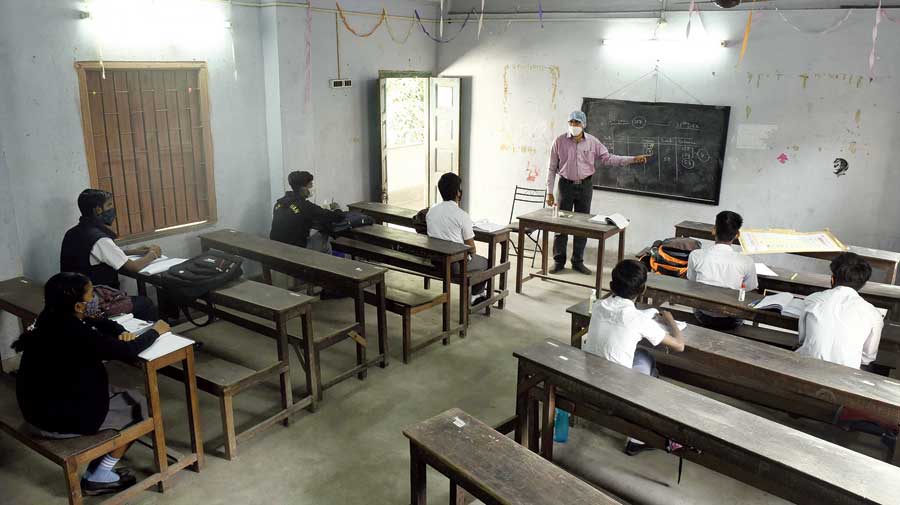 Students at a Jadavpur school attend class on Friday.
Sanat Kr Sinha
---
Calcutta
|
Published 13.02.21, 02:29 AM
|
---
Schools across the city recorded a low attendance — much lower than what they had expected — on the day campuses reopened after remaining shut for almost a year because of Covid-19.
The low attendance suggests parents are still wary of sending their children to school despite the decision taken by many institutions to phase out reopening in batches and shifts.
The government had allowed reopening of schools for students of Classes IX to XII from Friday.
On the first day, a number of schools recorded attendance between 20 and 50 per cent of the reduced number of students who were supposed to go.
Not a single student turned up in at least two schools — one in Rajarhat and the other in Baguiati.
Teachers said parents were in no rush to send their children to school and put their health at risk. "Many want their children to continue attending online classes as there is still the risk of contracting Covid-19," a teacher said.
Parents are also wary because children might not be following the physical distancing norms once they meet friends after almost a year.
At Lakshmipat Singhania Academy, only about 30 per cent of students who were called to the campus turned up.
The school called students of Classes X and XII and divided them in groups. Of the 140 children who were supposed to attend on-campus classes, 46 turned up.
The attendance was around 50 per cent at The BSS School, Sushila Birla Girls' School, Shri Shikshayatan School and Swarnamyee Vidyapith in Jadavpur.
At Jadavpur Vidyapith, about 40 per cent of the students of Classes IX, X and XII who were called turned up. At Hare School, of the 350 students called to the campus, only 80 turned up.
At North Point Senior Secondary Boarding Schools (in Rajarhat and Baguiati), the attendance was zero.
"I am scared to send my daughter to school. My mother-in-law is 69 and I do not want my daughter to be a carrier and infect her. We have hardly stepped out since last March," said R. Singh, whose daughter is in Class XI at a south Calcutta school.
Parents also do not want to let their children use public transport.
"Parents who are willing to send their children to school are not doing so because they do not want them to travel in public transport or pool cars," said Meena Kak, the director of Lakshmipat Singhania Academy.
"The fear of the virus has not gone from the minds of the parents and they will not be ready to send their children to school till they feel the students will be completely safe there. They think the children might not be able to maintain (the mandatory) 6ft distance between themselves," said Reeta Chatterjee, the director of North Point Senior Secondary Boarding Schools.
"Parents are jittery because the pandemic is not yet over. We will have to counsel them," said Kazi Masum Akhtar, the headmaster of Katjunagar Swarnamayee Vidyapith in Jadavpur.
"Technology has allowed children to learn in a personalised way," said Bratati Bhattacharyya, secretary general of Shri Shikshayatan School.