Scientist enters elite US club
Sankar Ghosh, whose parental home is in EC Block, has been elected to the National Academy of Sciences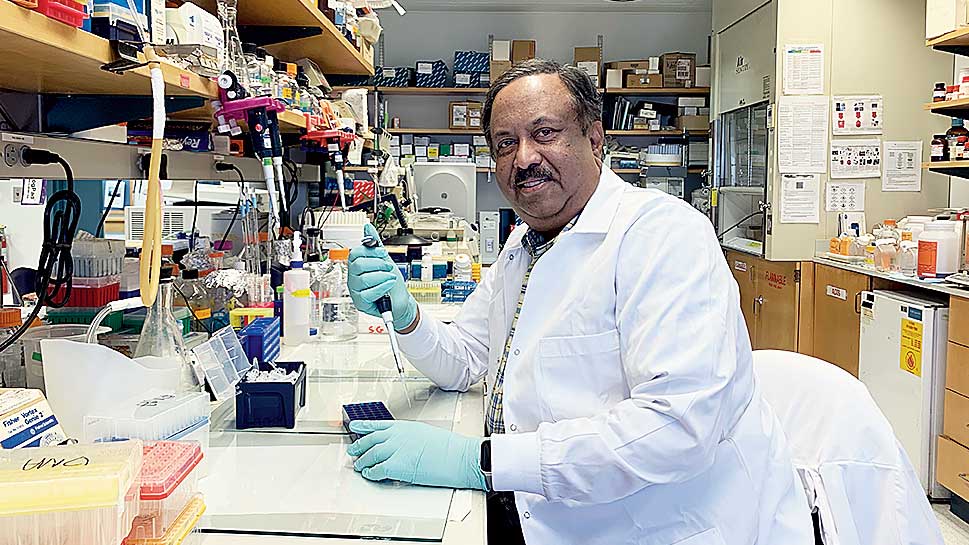 Sankar Ghosh of EC Block at his Columbia University lab in New York
---
Salt Lake
|
Published 07.05.21, 05:21 AM
|
---
A US-based immunologist, with family in Salt Lake, has just been elected to the National Academy of Sciences, a prestigious institution established under a charter signed by President Abraham Lincoln in 1863.
"Only the top scientists get elected here. Nobel winners in the US are all members of this academy. It is a great honour," Sankar Ghosh tells The Telegraph Salt Lake from New York. "The academy inducts individuals from all fields of science so very few are elected from every department."
Sankar, whose parental home is in EC Block, is a professor and head of the microbiology and immunology department of Columbia University. His research is on the immune system and has been critical in the understanding of and treatment of inflammatory diseases such as arthritis, colitis and dermatitis.
One of six siblings, Sankar spent his initial years in Jorhat, Assam, where both his parents — late Mahesh Chandra and Rani Ghosh — were economics professors. He then moved to Darjeeling, pursued BSc in chemistry from Ramakrishna Mission Residential College in Narendrapur and joined the biochemistry department at Ballygunge Science College for MSc in biochemistry.
He ranked top of his class and received the RB Ghosh Fellowship of Calcutta University for study abroad. He moved to the US in 1982 to join Albert Einstein College of Medicine for his PhD and joined the laboratory of Nobel laureate David Baltimore at Whitehead Institute, MIT for a postdoctoral fellowship. His next stop was Yale University as an assistant professor and he has been with Columbia University since 2008.
Sankar met his wife, Dola Sengupta, at Calcutta University and both went to the US for PhD together. She too has worked at Harvard Medical School and Yale and has now taken up an administrative job. "She also happens to be a great singer, specialising in Rabindrasangeet and Atulprasadi and performs at Durga puja or Rabindrajayanti celebrations here,"  he adds. Their son Shomik is a lawyer.
Sankar used to come to India very often till the pandemic and besides his family, misses the sweets here. Four of his five sisters live in Salt Lake — Gayatri Ghosh in FD Block, Sunanda Ghosh in CF Block, Arundhati Chanak in FD Block and Amrita Bhandari in EC Block. All are either in the teaching or the medical line.
"While we are overjoyed with our brother's achievement, celebrations are restricted to phone calls due to Covid protocol," says sister Sunanda, herself a retired principal of Women's College Calcutta. "Since his research is in immunology, we would ask him about coronavirus in the initial days of the pandemic for some insights."
While Covid is not directly Sankar's area of research, the idea behind its vaccine is. "Vaccination won't prevent you from getting infected. It will prevent you from getting seriously ill and dying. But full protection can be achieved only after the second dose as you have to give the vaccine sufficient time to develop the antibodies," says the 61-year-old scientist.
In the US, Sankar feels the worst of Covid is over. "This is mainly because 50 to 60 per cent of the people have been vaccinated. Masks are mandatory for indoor activities, but optional for outdoor. There are no issues with hospital beds at the moment," he adds.
Sankar is concerned about the second wave in India but concedes that the population here is four times that of the US and and that money is limited too. "It's good that President Joe Biden has pledged support to India to battle Covid."
Sankar feels budding scientists get a good foundation in India and asks students to be sincere with their work. "Columbia University is currently on a summer break and plans for the fall are still not finalised. All students, however, will have to be vaccinated. We're not sure about getting foreign students, given the uncertainty with international travel," says the teacher.