Calcutta Municipal Corporation health clinics see sharp drop in Covid shots
The units that were vaccinating about 300 people daily in April are now administering around 150 jabs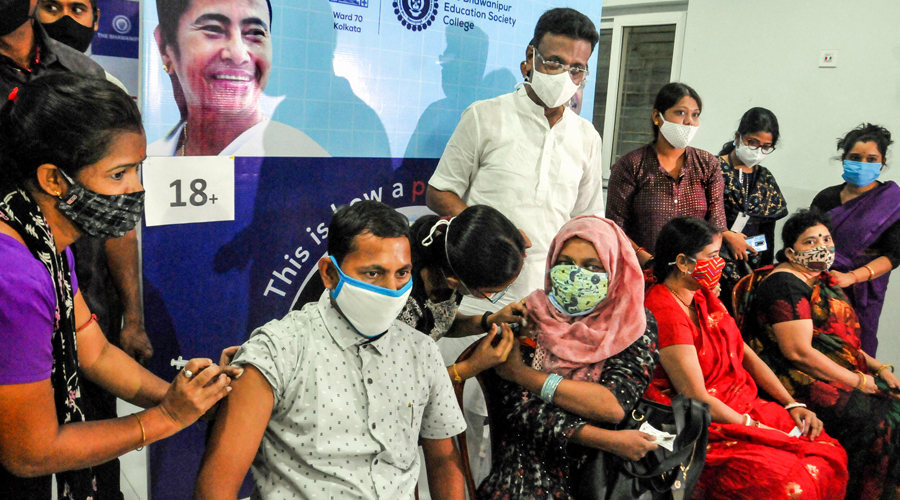 ---
Calcutta
|
Published 14.07.21, 01:03 AM
|
---
Several clinics of the Calcutta Municipal Corporation that were vaccinating about 300 people daily in April are now administering around 150 jabs, a sharp drop that civic officials are attributing to unavailability of doses.
The civic body had targeted to vaccinate 50,000 people daily from its centres, a feat it had achieved earlier. But over the past fortnight, the ward health clinics and other Covid vaccination centres run by the CMC have been able to administer only about 30,000 doses a day, said officials.
"We have the capacity to vaccinate up to one lakh people from our centres daily. Earlier, we had performed 50,000 vaccinations in a day from our centres. A fast vaccination is the only way to prevent a third wave of Covid," a CMC doctor said.
"But in the last fortnight we have not been able to vaccinate more than 30,000 people daily. The number may seem high but if one considers that we run 190 centres, this is not a figure we can be happy about. We have the ability to vaccinate far more people," the doctor said.
CMC doctors said some of their clinics had vaccinated 300 or more people daily in April. "We had inoculated around 300 people on several days in April. The figure stood at 250 on many other days," said a doctor in charge of a clinic in Garia. "Nowadays, we are vaccinating between 100 and 150 people daily."
Doctors attached to several other CMC clinics spoke about a similar drop in the vaccination numbers.
The shortage of doses has crippled vaccination across the state, said a health department official. For all 23 districts of Bengal, there were only about 12 lakh vaccine doses in stock.
"The doses will last for only four days. We are expecting fresh supplies in the second half of July. If enough doses come, we will scale up vaccination," the official said.
The daily vaccination numbers have come down from a peak of 5 lakh to about 2.5 lakh.
The shortage has prompted the CMC and the state health department to give priority to second dose recipients.
Xavier's camp
St Xavier's Collegiate School organised a vaccination camp for the families of students who attend their night school on Tuesday. The free drive on the primary school campus was in association with the CMC and Alumnorum Societas (Alsoc — St Xavier's School Old Boys' Association). Around 380 parents, most of whom work as hawkers and house help, received Covishield doses.