CA Block girl in top 10 of statistical service
There were just 17 seats for the general category candidates out of 47 vacant seats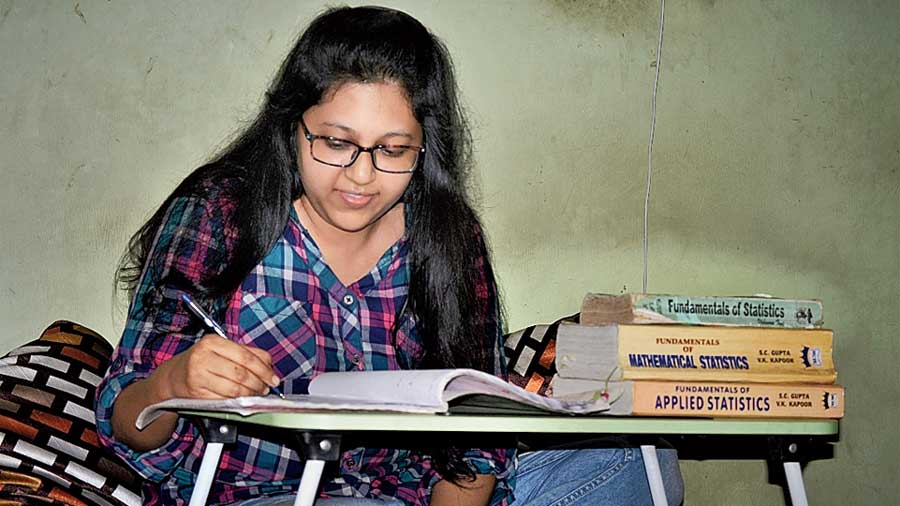 ---
Salt Lake
|
Published 06.08.21, 09:14 AM
|
---
Sutapa Ghosh of CA Block has made it to the top 10 of the Indian Statistical Service (ISS) merit list for 2020. The result was announced by the Union Public Service Commission last Friday where her name featured as the 10th on the list.
There were just 17 seats for the general category candidates out of 47 vacant seats. But mention that to her and she protests: "There are far less seats in other years, often just three or four for the general category. So 17 was a lot."
Sutapa is happy and relieved in equal measure. "I have been taking the UPSC selection tests since 2016, along with Staff Selection Commission, State Bank of India and such government service recruitment exams. I got through in my fifth attempt," says the 29-year-old. This was her last chance as she could not appear for the 2021 written tests. Candidates in the general category can appear in the examination till the age of 30.
"This year, the written round was scheduled on July 16, 17 and 18 while I had been called to Delhi on July 19 for the interview for the 2020 exam. Since this was my first call-up for the interview, I realised I must have done well in the written round and decided to skip this year's test," said Sutapa.
Though this was the first time that she appeared for the interview, she had gone to Delhi another time for the ISS interview. "That was in April, when the original exam date was scheduled. I had just checked into a hotel in Delhi in the morning when a message came with the information that lockdown had been announced in the city and our interview the day after had been cancelled. I had to book the next day's flight immediately and left for the airport that evening itself for fear of not getting transport in the morning," she recalls.
This time, on July 19, there were about 130 candidates who had been called to Delhi. "I could answer whatever was asked," she recalls, adding that she met Preetam Sen of Bansdroni there who has come fifth.
She still does not know how much she scored as the marks have not been declared. "The merit list is declared about a week after the interview round, so I was checking the website regularly."
Big data dreams
Sutapa knew she wanted a career dealing with data. "I liked mathematics at the Plus II level. But higher studies in the subject restricts one's employment option to research and teaching. So I chose statistics for graduation," she said, about her decision to enrol with statistics honours at Lady Brabourne College in 2013. A Masters degree followed from Calcutta University in 2015. She spent a few years working as a data analyst in a private company and also in a public sector bank. But her heart was set on UPSC. "I realised that a full-time job was hindering my preparations. So two years ago, I decided to quit."
She did not enrol anywhere for tuitions. "I focused on the class notes of my university professors, solved test series online and followed the YouTube and website lectures of Shalabh sir, a professor in the department of mathematics and statistics, IIT Kharagpur," she said.
The written round of ISS, held over three days, involves six papers, of which four are on statistics. "Of these four, two are two-hour objective tests while the other two are three-hour tests with descriptive pattern questions. One has to also take a three-hour English test and a three-hour general studies test involving history, geography, current affairs, economics and polity."
Sutapa believes it was lucky that the written tests got pushed back from July to October last year because of the pandemic. "I could prepare better," she smiles.
There has been no celebration yet due to an illness in the family. But Sutapa is looking forward to the upcoming two-year training period. "The institute is in Greater Noida. I hope they allow us to attend the training in person. I don't know what will happen in this Covid situation."
Though there are as many as 40 government departments that has statistics departments, the ministry of statistics and programme implementation is where most ISS officers are posted. "I will then have to deal with gross domestic product estimates, rates of inflation and employment, livestock census etc."
But she would not look so far ahead right now. "The house is in a mess. Now that I have free time, I am trying to arrange and organise things," says the girl who clearly has a mind organised enough to take on the challenges of big data.