Bus requisition on Bengal CM's lips 
Still hopeful, Mamata gives a day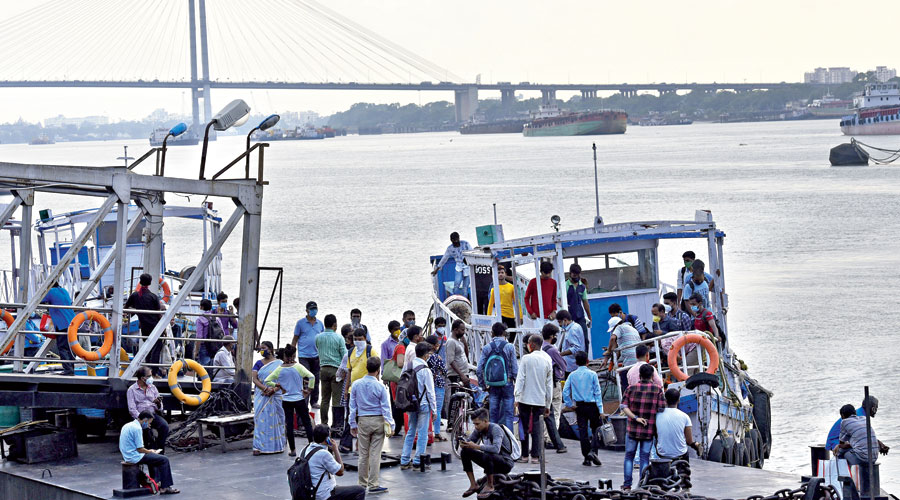 Commuters board ferries at Babughat on Tuesday.
Sanat Kr Sinha
---
Calcutta
|
Published 01.07.20, 04:17 AM
|
---
Chief minister Mamata Banerjee said on Tuesday the state government would requisition private buses under the National Disaster Management Act if operators didn't hit the roads from Wednesday.
"I'm still hopeful they (private bus operators) will bring out buses from tomorrow. And if that doesn't happen, then we will have to find a way. If required, the government will take these buses and drivers. This will be for a three-month period," Mamata said.
"The government will bear the expenses. This move will come within the purview of the (National) Disaster (Management) Act."
The chief minister again appealed to private bus operators to resume business, saying this was not the time for ego tussles. 
"Public-er sarthey ego-r larai bandho korun (Stop any ego tussle for the sake of the public). Ohonkar-er lorai bandho korun. (Stop this battle of pride)," Mamata said. "This is not the time to bargain but to stand by the people. If you don't, we will be forced to (take action)."
Most operators had earlier rejected the chief minister's offer of a monthly grant of Rs 15,000 to 6,000 buses each for three months from July. Almost all operators are demanding a fare hike.
The operators said theirs was "not a battle of egos but a fight for survival".
A bus owner spends around Rs 6,000 a day to run a bus. The daily earning these days is almost half the amount. "A dole of Rs 500 a day is not something we are looking forward to," an operator said.
"The government has been refusing to understand the plight of private bus operators. We hope the government's move to requisition buses will include those in districts as well," said Tapan Bandyopadhyay, of the Joint Council of Bus Syndicates.
Officials in the home department said a provision under Section 65 of the National Disaster Management Act empowers a state to requisition vehicles. Sub-clause C of the section states "any vehicle is needed or is likely to be needed for the purposes of transport of resources from disaster affected areas or transport of resources to the affected area or transport in connection with rescue, rehabilitation or reconstruction, such authority may, by order in writing, requisition such resources or premises or such vehicle, as the case may be…."
Officials said "resources" would imply men and material and "reconstruction" would be interpreted as running places of work.
Preliminary estimates suggest the government would spend around Rs 1.5 crore a day to requisition 6,000 buses. The amount includes payment to owners and workers but excludes fuel cost. "We will pay Rs 1,890 a day to the owner of a bus and Rs 540 to workers. That's Rs 2,430 every day, apart from fuel."