Biker dies, runaway bus erupts in flames near Kestopur
The private bus on the Dankuni-Garia route was headed towards Ultadanga at a high speed when it rammed into Sarkar's Bajaj Pulsar 150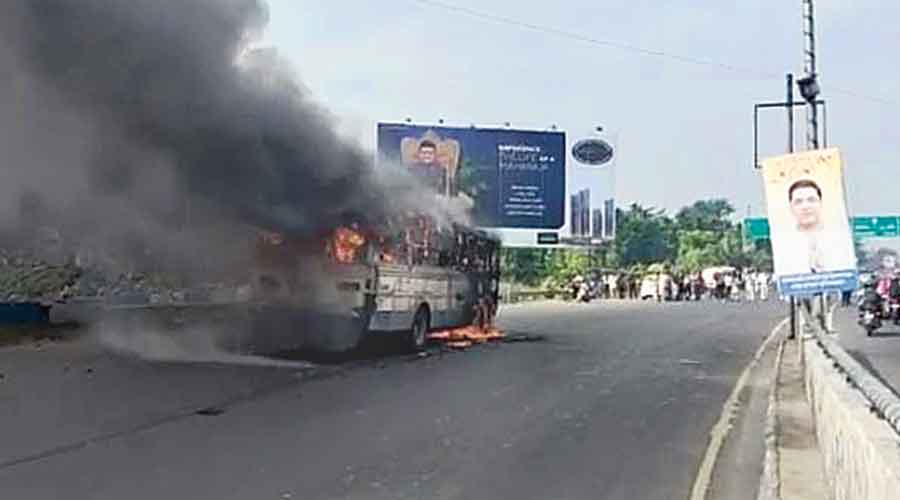 The bus on fire on VIP Road, near Kestopur, after the accident on Friday morning
Telegraph picture
---
Calcutta
|
Published 28.11.20, 01:58 AM
|
---
A bus rammed into a motorcycle and caught fire on the Ultadanga-bound flank of VIP Road, near Kestopur, on Friday morning, leaving the two-wheeler rider fatally injured.
Ashok Sarkar, 38, who was headed to Ultadanga, was flung off the two-wheeler under the impact of the crash. The resident of Kestopur was taken to a nursing home, where he died in the evening, an officer of the Bidhannagar commissionerate said.
"The victim suffered head injuries and lost a lot of blood," said a doctor who treated Sarkar.
The private bus on the Dankuni-Garia route was headed towards Ultadanga at a high speed when it rammed into Sarkar's Bajaj Pulsar 150.
"The impact was such that Sarkar was flung into the air before he landed on the road head first. He was wearing a helmet. The bike got stuck in the bus's undercarriage," the officer said.
"The driver of the bus tried to speed off and the bike was dragged for at least 50 feet."
The driver allegedly refused to stop despite pleas from passengers, who got scared seeing sparks emanating from underneath the bus. The bus, along with the two-wheeler, caught fire as soon as it reached the base of the Kestopur flyover.
"It was only when the smoke started entering the driver's cabin that he pressed the brakes. We all ran for our lives," said Ranjan Samanta, who was headed to Patuli.
The bus had more than a dozen passengers and everyone got off safely. The driver ran away.
A couple of passing motorists alerted traffic policemen at a nearby signal outpost about the accident.
An officer of the Bidhannagar commissionerate's traffic wing said they had formed a cordon around the bus and tried in vain to douse the fire by pouring bucketfuls of water on it. "By the time we reached the spot, the flames had engulfed the bus and there was dense black smoke everywhere," said the officer.
The officer said the bus had stopped at Kestopur to pick up passengers when the driver spotted another bus on a similar route behind it. "It seems the buses were racing. We are trying to get CCTV footage of the incident. A case has been started against the driver," the officer said.