Bidhannagar: Wrested and retained by Trinamul Congress
With the re-election of Sujit Bose, TMC wins back Bidhannagar which had sided with the BJP in Lok Sabha 2019. Analysing what worked for him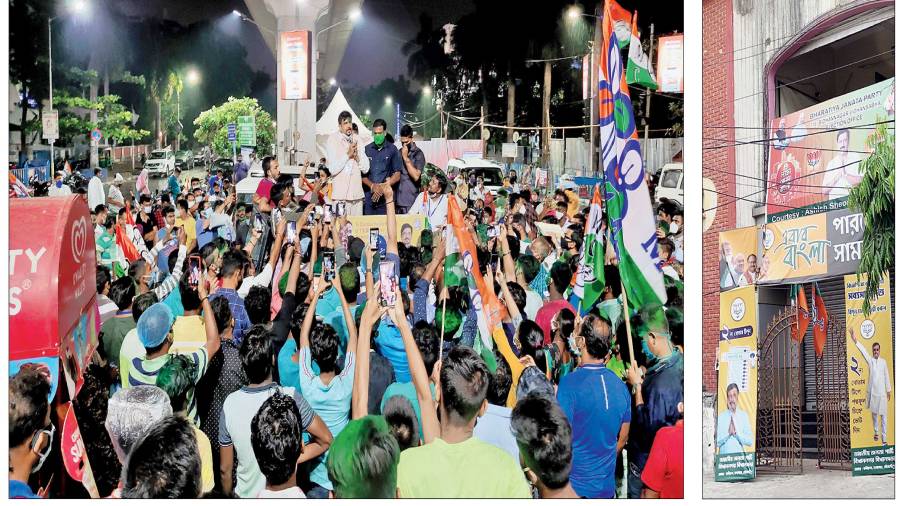 Sujit Bose leaves the counting centre at Bidhannagar College surrounded by supporters after collecting the winner's certificate on Sunday. (right) Shutters down at the deserted BJP party office, which served as Sabyasachi Dutta's election headquarter,on Sunday afternoon
Pictures by Debasmita Bhattacharjee and Sudeshna Banerjee
---
Salt Lake
|
Published 07.05.21, 05:02 AM
|
---
It was a seat which was as keenly contested as was its outcome followed. The Bidhannagar Assembly constituency saw two political heavyweights — Sujit Bose of Trinamul Congress and Sabyasachi Dutta of Bharatiya Janata Party (BJP) — one-time party colleagues turned rivals, locking horns. Their history of mutual hostility only added spice to the recipe.
Their campaigns also sometimes turned bitter, with Dutta calling the tall Bose names like "giraffe" and "camel", deriding his educational qualification and alleging that he had unsuccessfully attempted to join the BJP, in street-corner meetings. Dutta had even claimed that the election was a "walkover" for him.
Dutta's confidence must have stemmed from the fact that the Bidhannagar segment had given the BJP a lead of 18,916 votes in the Lok Sabha election of 2019, even though the Barasat Parliamentary seat did eventually go to Trinamul, thanks to the other six segments.
On the day of polling, even when Dutta was enjoying an orange ice lolly with the air of one who had the match in the bag, Bose kept insisting that voting in an Assembly election was a different ball game than that in the Parliamentary polls. "We had a deficit here even in (Lok Sabha) 2014 yet I won in 2016," he had reminded The Telegraph Salt Lake.
On May 2, 2021, it was Bose who had the last laugh, emerging victorious from the seat, beating Dutta by a margin of 7,997 votes. And he did so without the count from two malfunctioning electronic voting machines, from part no 271A and 252, which had to be ruled out.
Bose's challenge was to wipe out the Lok Sabha deficit and build on it to create a lead.
The sitting MLA managed to win big from segments like Sreebhumi and Lake Town and in added areas like Sukantanagar, Mahisbathan, Khasmahal, Naobhanga etc.
The biggest factor that worked in his favour was Bose's continuous presence on the ground. "People had easy access to him, therefore they had faith in him," said a party worker.
Bose had also held multiple meetings with booth level workers, asking them specifically to help people out in the time of the pandemic. One booth-level worker said that after Cyclone Amphan, Bose's efforts as fire and emergency supplies minister to restore normalcy by supervising the clearing of trees that had toppled over on homes and blocked driveways in Salt Lake was an abiding image in the minds of voters. The worker, who was then with Bose, recalled how an elderly couple who were trapped at home by a tree blocking their driveway in GD Block for two days, came down and hugged him.
Another poll manager of Bose said that during the national lockdown, Bose had ensured that packed food reached homes of the elderly and the underprivileged. "He himself oversaw several such drives in Salt Lake and people could see from their houses what we were doing," the man said.
He arranged for free phone consultation with doctors for Covid-19 patients across the constituency by tying up with Protect the Warriors, a doctors' association through an initiative called Sparsho.
Booth-level workers too had been asked to help people down with coronavirus and Bose on occasions had himself arranged for the hospitalisation of patients.
"There have been occasions when he intervened on learning that somebody had died of Covid-19 and his family members were in isolation," said the worker.
He had won the confidence of multiple clubs in his constituency. "He has had regular meetings with the clubs and he ensures that they get doles from the government every year. This has worked for us to counter the BJP undercurrent," said a worker from Sreebhumi.
He used his MLA Local Area Development Fund judiciously over his two terms, even coming out with a booklet before the election, listing out the projects he had funded in part or whole. Indeed, not a single block appears to be missing from his list of beneficiaries. Rival's weaknesses
On the other hand, many BJP workers said that Dutta, who had shifted to the BJP from Trinamul Congress in 2019, was constantly at loggerheads with older party members which also created a rift in the party's rank and file.
"Dutta behaved arrogantly with us despite the fact that he was a new entrant to the party," said a worker.
Instead of using old party hands, he entrusted his campaign to three men who too had joined the BJP recently, overlooking people who, party workers say, were better qualified to conduct elections at the booth level.
A BJP worker recalled how Dutta had admonished her in public for no apparent reason. "We were sitting together when he suddenly lashed out, questioning my loyalty to the party. I told him that I had joined the BJP earlier than him but he said that it would have been better if I hadn't. It was not only insulting but also very demoralising," said the worker.
Dutta's speeches and statements also boomeranged in places. "We had a good base in Khasmahal and Kulipara. However, he started his campaign by saying that he would raze illegal stalls from pavements of Salt Lake and clear out slums. Most people here depend on hawking for their livelihood and that hit us hard," said the worker.
Compared to Trinamul, the BJP had started activating their workers at the ground level much later. "We had started working much later than the Trinamul Congress and had a lot of ground to cover in a short time," said the BJP worker.
Dutta's inaccessibility and habit of speaking to people selectively were also to blame. "At times, he did not even speak to us, the ground level workers, and we got instructions from his poll managers," said the worker.
Additional reporting by Snehal Sengupta