BF Block residents restore fallen banyan tree
'Many trees had fallen during Amphan but this one held great sentimental value for us'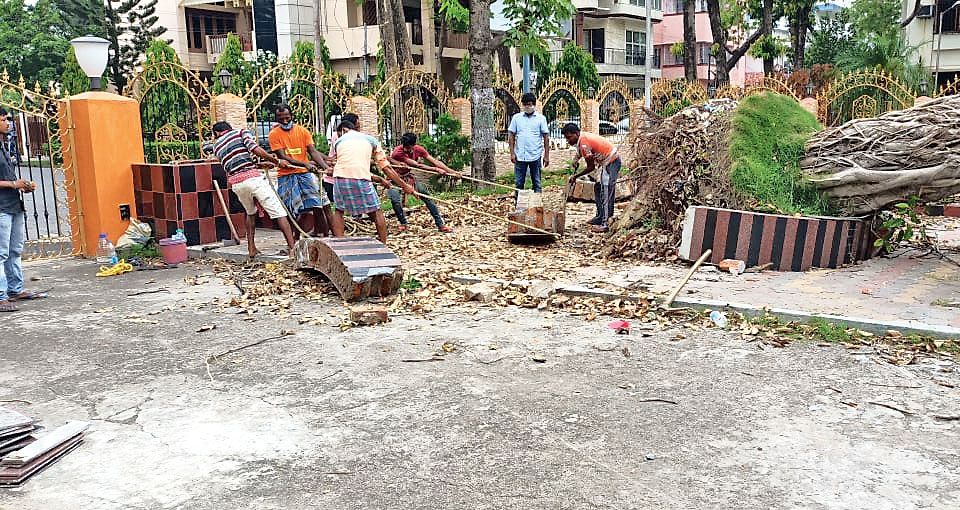 ---
---
BF Block residents pooled in about Rs 26,000 to restore a massive banyan tree that had fallen opposite their community hall during the cyclone.
"Many trees had fallen during Amphan but this one held great sentimental value for us," said block secretary Shibangsu Sarkar, about the tree that was planted in the early '80s by block committee members. Current president T.P. Dutta was one of those who had planted it.
After the tree's fall, the block's WhatsApp group was flooded with condolence messages. Sanchaita Mondal reflected on how "aunties in the block" would sing under that tree during Rabindrajayanti. Barnali Biswas remembers her toddler son sitting under the tree with her father.
"News of that tree's fall moved us so much that we decided to restore it," said Sarkar. "Some residents donated Rs 5,000, some Rs 100, some simply encouraged us. But it gave us impetus."

The legwork was done by youths like Chetan Mukherjee, Ranabir Bhattacharya, Soham Sarkar and Sayan Ghosh, who got in touch with the NGO Nature Mates for help.
On June 7, the NGO sent a lifting crane to pull up the tree, make it stand erect and prop up its trunk with a tent-like scaffolding. "Since the roots are weak, scaffolding is needed to protect it from other storms," said Arabinda Narayan Dolai of Nature Mates, who supervised the project. "We have also strengthened it with ropes. The tree should be fine in a year."
The mammoth exercise began at 9am and ended at 8.30pm, interrupted by two showers. "Now residents are so happy!" says Sarkar. "They are going to check every day if new leaves have sprouted. It's as if the tree symbolises hope of survival at a time that world is fighting Covid-19."
The committee laments that restoration of trees was not done on a larger scale. "Salt Lake has more than 50 blocks and even if every block had restored one tree that many trees would have survived," said Sarkar.