Bengali new year greeted on screen
Some residents turned to technology to celebrate Nava Varsha amid the lockdown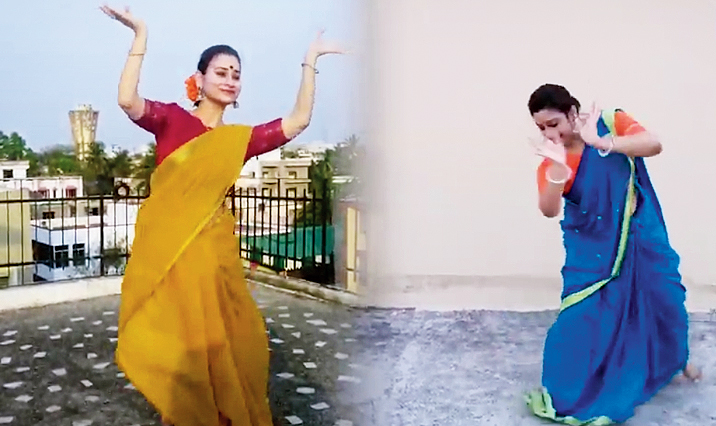 ---
---
Residents ushered in the Bengali New Year on Tuesday using new technology. They sang, danced and recited like on any other year but without laying a foot out of their houses. Their stage was their living room and the audience watched and applauded through their smartphones.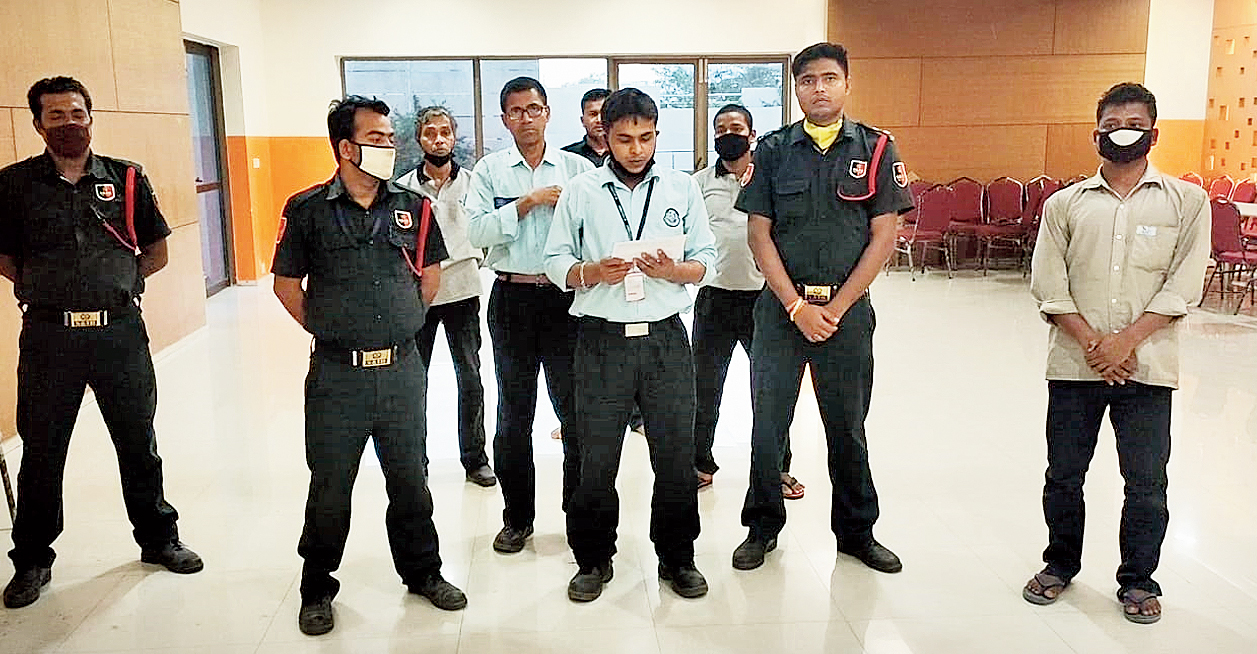 Digital debut
CK-CL Block residents celebrated the festival over the Zoom app. Using this, tens of residents could see and talk to one another over video call at the same time.
"People are getting claustrophobic in this lockdown. Especially kids, who can neither go to schools nor play in parks," said Sujata Ghosh of CK Block, whose idea it was to host this meet. "I reasoned that if I can use an app to connect with people all over Bengal for official work, why not use it to connect with the folks next door?"
New Town's AB Block too celebrated Poila Baisakh using a video-telephone app. The new experience led to rookie mistakes that no one minded. Some forgot to press the "mute" button and so while one lady sang, another man's wife was heard offering him tea in the background. Someone mistakenly pointed his cameras at the ceiling fan most of the time and someone else's grandkid was seen jumping into the screen to check why their grandparents were singing into their phones.
Nonetheless AB Block's Smriti Haoladar couldn't help but share with neighbours how happy she was with the chance to deck up after all these weeks. "Everyone is worried around but so long as we are performing tonight we shall be happy," she said before singing Anando dhara.
Debdarshini Mitra of Class V was dressed to sing Ogo chinno bina three hours before the CK-CL Block show went live. Her brother Keyshaan sang a Shyama sangeet and father Dipankar sang Behag jodi na hoi raji. "We are a music-loving family and are spending the lockout singing," said Dipankar, who performed on mic accompanied with karaoke music. "We sang with the same passion as we would have been on stage."
Anik Chowdhury of New Town performed the audio drama Bhalo Acho with Sudipta Guha. "Fluctuating internet speed made this a little tricky as dialogues often need to be delivered instantly after one another. We consciously dragged the last words of our lines so the other could latch on," said Chowdhury, who as secretary of their block association, was also moderating the meet. "We were also not nervous before this show as we weren't staring down a huge audience from stage."
Sombit Chowdhury is an amateur stand-up comedian and wasn't sure his act would fit into the traditional Poila Basiakh function. "But I badly wanted to lighten people's mood," said the doctor who senses perpetual fear among his patients since the lockdown. "I shared my life experiences and think it's a real achievement that it made residents smile."
Chowdhury's fiance Priyanka Chakraborty sang Dariye acho and her parents Biswajit and Sarbani Chakraborty sang O je mane na mana from Ranchi, where they are stationed at the moment.
"Such widespread participation would not have been possible with a regular show," said Somali Chakraborty, whose idea it was to hold AB Block's festival online. "In fact people are now commenting that the online show spared them the heat and mosquito bites! The experience has been so good that henceforth I can do my music rehearsals with neighbours on the app while commuting by bus."
CK-CL's meet was such fun that Ghosh floated the idea of having weekly meetings like this. "Someone can teach a recipe, doll-making or simply come for adda," she said. Ambar Majumder, a resident of CK Block, signed off by saying that this was a New Year celebration that he would never forget.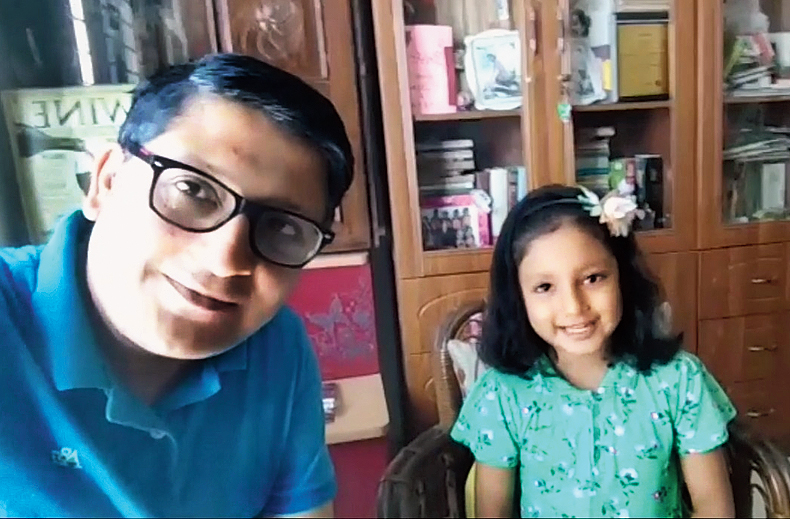 Myriad celebrations
Video telephone is not all. Residents customised the festival and celebrated in any which way they felt.
FE Block presented a bouquet of literary and musical content, digitally. "We had grand plans for Poila Baisakh this year till the lockdown happened. But four days before the festival our block president Gautam Ray suggested we do something after all," said resident and author Krishnendu Mukhopadhyay, who then started work on an e-magazine.
On such short notice, residents sent micro stories and poems typed out on the phone, clicked images of their handwritten work or read out and sent the articles as voice messages. "We compiled them and sent them to residents online. And for a handful elderly residents who do not use smartphones, we printed them out at one of our houses and sent hard copies," he said.
Mukhopadhyay had suggested residents submit material other than on coronavirus but residents could not help themselves. "We also asked them to send videos of themselves singing and made a medley that we put up on YouTube," says Mukhopadhyay. "Our intention was to convey that despite being away from one another we are still united."
Susmita Nandi Sethia, founder of the BB Block-based dance school Kalapi, had anticipated the situation and made arrangements from before. "I gave my students home work to dance to the song Ochena Baisakh and send me. I got them merged into a single video and released it on the morning of the New Year," said the dancer.
On Poila Baisakh Puloma Sen of DA Block-based Nrityam and Indrani Ganguly of DB Block-based Sristi Dance Academy both asked their students to dance to theme-based songs to be woven into a medley in a week.
Sriparna Bose of AK Block's Ahban dance school has created a weeklong WhatsAap group called Ahban Nababarsho Anushtan. "Since we can't perform on stage I've asked students, their parents and grandparents to send pictures and videos of their dance, music, cooking, artwork… I included the entire family as everyone needs a moral booster now," says Bose.
Arpita Roy runs Sangeetalaya music school in CE Block but she decided against holding an online fest on Poila Baisakh. "One cannot synchronise a choir online due to time lags so I'm preparing a quiz instead. It will be a combined quiz of Poila Basiakh and Rabindrajayanti using new year songs by singers like D.L. Roy, Atul Prasad and of course, Tagore."
Also, given the work and study-from-home schedules of her students, Roy has to hold the online event on a Sunday.
Fun on film
Residents of two housing complexes in New Town — Rosedale Garden and Greenfield Ambition — have prepared short videos to bring in the Bengali New Year. Both are collages of performances of residents that they or their family members recorded themselves.
"My daughter Sreya was feeling bad at the thought of her neighbourhood aunties who would be so active on Poila Baisakh sit idle at home on the day. For the last three years, we have been bringing out a probhat pheri but there was no question of that now. So she asked us to perform whatever we could at home," said Chandra Bhaduri, who is an active member of the cultural committee of Rosedale Garden.
So about 15 residents, who are active in in-house programmes, were told to send 10-12 second video clips. Some recited, some gave voice to a prayer, some sang with a harmonium or without any accompaniment, some had the phone camera up close while some were seated afar. One, Shilpi Sarkar, danced. Three were children, the youngest being six years old. "That would be little Soumabho Raha who recited Nabo Anonde Jago," smiled Bhaduri, who selected the songs for the others to sing and recited a message of hope herself. Finally Sreya edited it.
The Greenfield Ambition venture was powered by a team of IT professionals who reside in the complex. "The idea came to me on seeing the music video Muskurayega India (which has Bollywood stars giving lip to the track in their respective balconies). I gave the videos from our neighbours to Abhishek Das, asking if he could edit it. Amit Srivastava, who is known to write well, provided the voiceover. Kingshuk Chakraborty helped me with the execution," said resident Pinaki Roy Chowdhury. "We also had to make it a mix of three languages keeping in mind the mix of residents in our housing complex."
Each resident had to prepare his or her own script. While Tultul Banerjee spoke in lucid Bengali about fighting an unseen enemy, Kali Dubey urged neighbours to stay at home in Hindi while her son Kishu recited a poem Gardish me ho taarey/ Na ghabrana pyare…Others spoke for the need for social distancing, using the government's Arogya Setu app, raising funds to help daily wagers etc. "There were 11 of us. My only suggestion on the script was that we end with a message of hope."
Tata Eden Court had yet another idea for Nava Varsha — to appreciate the support staff for the service they were providing. "We wanted to motivate them. A chicken, shukto, pantua meal for the day was already ordered. I thought a video could be something more," said Debjani Gupta, the complex's treasurer.
At her insistence, the security and the housekeeping teams filmed themselves. The video starts with a shot of the main gate being sanitised, as a grim reminder of the reason for the lockdown. Then there is Buddhadeb Sardar, the electrician, reciting Bochor sheser jhora pata porlo urey eshe/ Ekti bochhor perie gyalo hawar sathe bheshe…"
Once the clips reached her, her husband sat down with the editing. "We managed to upload it for all residents to see on Nava Varsha evening." The committee has more in mind — a video conference this Sunday for residents to celebrate the occasion through a virtual adda. "Most of us are busy, working from home. Let's see if we can pull it off."