Bengal regulator stress on ICU beds in private hospitals
Higher demand at private facilities post Durga Puja than government hospitals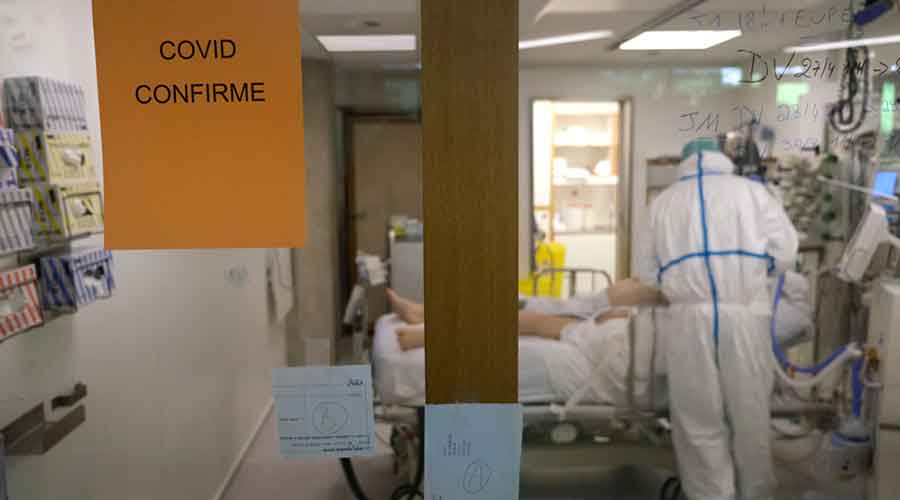 ---
|
Calcutta
|
Published 08.11.20, 02:05 AM
---
Private hospitals should try to increase the number of Covid ICU beds and can think of taking ventilators "on loan", the chairperson of the West Bengal Clinical Establishment Regulatory Commission requested the hospitals on Saturday.
The commission will try to arrange ventilators for private hospitals who come forward with a proposal, retired judge Ashim Banerjee, the commission's chairperson, said in his appeal posted on a WhatsApp group comprising senior officials of private hospitals.
The government has decided to give 50 ventilators, which are in its possession but still to be installed anywhere, to private hospitals so that they can increase ICU beds for Covid patients, a government official said. "We have 50 such ventilators."
Banerjee had met senior government officials on Friday where ways to augment beds for Covid patients was discussed.
Dedicated government Covid hospitals have 1,090 ventilators while the private hospitals have close to 200 ventilators.
There are 3,419 Covid beds in the private hospitals in Calcutta and adjoining areas, a health department official said. Only 868 of these beds were vacant on Friday.
There are 13,508 Covid beds in government hospitals, including the private hospitals requisitioned by the government across the state.
On Friday, 8,922 covid beds were vacant. "It is clear that there is a high demand for Covid beds in private hospitals. The picture is no different in case of demand for ventilators, too," the government official said.
"Private hospitals or nursing homes have some ventilators but the picture is comparatively better in most government hospitals… patients can get ventilator support in case their condition deteriorates."
The rush of critical patients to private hospitals is high because Calcutta has the highest number of active cases — 7,343 on November 6 — in the state and a large section of patients in the city prefer private hospitals to government ones," the official said.
There are almost no vacant critical care beds in hospitals now, an official of a private hospital said.
The demand for critical care beds started to rise from around the time of Durga Puja, Sudipto Mitra, the chief executive officer of Peerless Hospital, said. "Earlier, patients used to visit the hospital the moment they developed some complications. We could treat them early. But now most people visit the hospital only when complications turn severe. There is no option but to admit these patients to the ICU. So, the demand for ICU beds has gone up."
Commission chairperson Banerjee requested hospitals to convert some general beds into ICU ones. "If you sincerely feel there is no scope to increase the number of ICU beds, why not convert some of your general beds to ICU ones or other critical care beds. You send your proposal. I will try my best that you get some ventilators on loan from the government," he said in his appeal. "It might be so that increasing ICU beds will need considerable financial resources. After Covid you may not need so many ICU beds. You can venture for a temporary conversion like taking ventilators on loan."
Banerjee said Kali Puja, Jagadhatri Puja and Kartick Puja were celebrated with more pomp in some pockets and ICU beds needed to be increased in these places. He mentioned places like Chandernagore, Bansberia and Chinsurah in Hooghly district and Barasat in North 24-Parganas.
Besides ventilators, creating new ICU beds will require allied infrastructure like high-flow oxygen and compressed air, officials of several private hospitals said.
The circuit for carrying high-flow oxygen into the ICU will need some time to be built. More ICU beds will mean more doctors and nurses who can attend to more critical patients.
An official of a hospital said getting more doctors and nurses was the real challenge.
Wards with ventilators require uninterrupted power supply because a patient on ventilation support will die if the ventilator switches off for a minute because of a power cut, the official said. If ICU beds are increased in hospitals, such provisions also have to be made, he said.