Bengal government issues guidelines to reopen schools
The 28-page document lists what the institutes have to do before the resumption of classes, what officials have to check and what teachers and students have to follow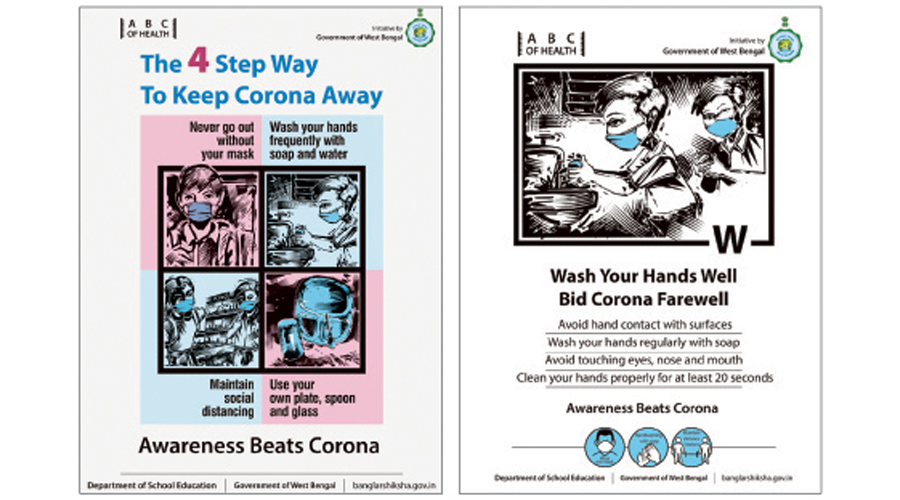 ---
Calcutta
|
Published 05.02.21, 03:36 AM
|
---
The guidelines issued by the Bengal government on Thursday for reopening of schools in the new normal state that there will be no assembly, no touching of each other's books and no sharing of tiffin and drinking water.
The 28-page document lists what schools have to do before the resumption of classes, what officials have to check and what teachers and students have to follow.
Education minister Partha Chatterjee had on Tuesday said schools could reopen from February 12 for in-person instruction for students of Classes IX to XII.
"Keeping in mind the guidelines issued by the Department of Health & Family Welfare, Govt of West Bengal, these guidelines have been framed to help the school authorities and supervising officials face the challenges with careful and essential planning. It is imperative for all stakeholders to follow the guidelines before and after the institutions open, to maintain healthy and hygienic conditions in the schools," said the introduction to the "Covid-19 general guidelines on reopening of schools", published by the department of school education.
An official of the department said schools could contact them if they needed any clarification.
Before class
No assembly for prayer, the guidelines say.
"Prayers shall be done in respective classes accompanied by class teachers," the guidelines say.
No guardian or visitor shall be allowed inside.
Gathering should be avoided at the time of entry and exit and social distancing should be strictly maintained.
"A copy of the rules will have to be affixed on the gate in such a way that it is visible to all students and guardians from outside," the guidelines said.
At the beginning of each day's session, a 10-minute programme on Covid awareness has to be held.
In class and outside
Students are not to share exercise books, bags or any other belongings, food and drinking water. They have to sit at the "assigned place" as directed by the teacher.
Before reopening, officials are to check whether seating arrangements have been made in a manner that two students are separated by at least 1 metre.
The guidelines contain a few diagrams on the seating arrangement.
"The seating arrangement may be revised accordingly as per local needs but should be kept in conformity with social distancing norms, based on the dimensions of the classrooms and lengths of the benches/desks," the guidelines say.
Students have been told not to "rush or fight". They have to maintain social distance in classrooms, laboratories, libraries and corridors.
Students are not to leave the school before the end of the day's session and they need to learn how to fold arm over mouth and nose before sneezing and coughing.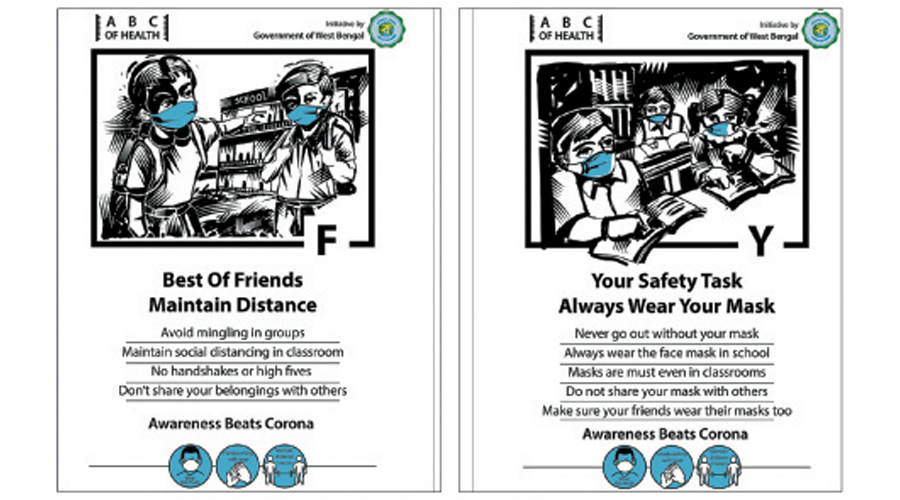 If someone is sick
Guardians shall be instructed not to send their children to school if they are suffering from "fever, cold or any other kind of ailment as their immune system may be weak". They should stay home for at least seven days.
A separate isolation room with a bed may be set up at the school. The room has to be properly sanitised.
Teachers and staff have to be briefed properly on the "handling of cases of sickness during school hours". The school heads shall ensure such cases are brought to the notice of local medical officers.
Schools may also keep a "class-wise record of health check-up reports of students" wherever applicable.
No accessories
Wearing of masks is mand-atory.
The guidelines advise students to avoid wearing metal accessories like rings, chains, bangles and amulets. They must wear shoes and socks so their feet do not touch the ground and no one should be within one metre of another person.
After reaching home, uniforms should be washed with detergent if they have another set, the guidelines say. "If that is not possible, keep the uniform isolated for 12 hours and put it under direct sunlight next day."
Masks, gloves and caps to be washed with detergent and in hot water.
No group activities
Sports and cultural events may be discontinued for now. "The teachers must ensure that students do not form close clusters with friends. Students must play innovative games maintaining physical distance,'' the guidelines say.
School infrastructure
Taps and tube wells at schools must be mandatorily kept in usable condition to facilitate frequent hand washing.
Guardians
Guardians must wear masks and maintain social distance while accompanying their wards to and from school. They should also ensure that social distancing norms are followed at all times from home to school and back.
Teachers' role
No student shall be left to themselves without being watched during school hours.
"There will be a natural tendency among the children to socialise among friends after a prolonged lockdown. That is why, they shall always need a teacher to guide them how to socialise maintaining physical distance and non-sharing of one another's belongings," the guidelines say.