BC Block's garbage collection woes sorted
On Wednesday, the matter was resolved at the intervention of the mayoral council member in charge of solid waste management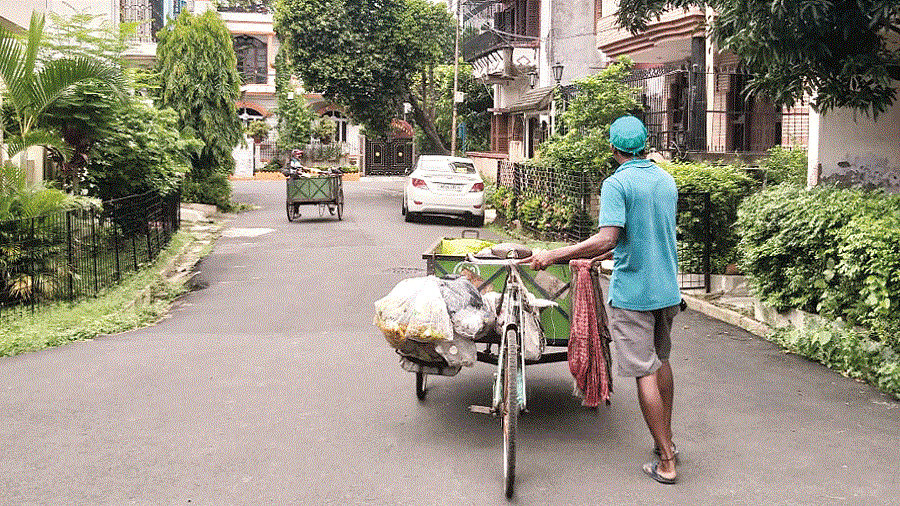 ---
---
Residents of BC Block complained of a stoppage in the door-to-door collection of garbage in their block. Garbage was not collected for three days this week, they said, due to a protest by municipal sweepers.
On Wednesday, the matter was resolved at the intervention of mayoral council member in charge of solid waste management Devasish Jana.
According to sources, it started with a neighbour alerting a non-resident owner of hearing noise in his empty house on Sunday. The owner, who stays in Howrah, immediately alerted the Bidhannagar North police station. The patrol officer cordoned off the building as the owner made his way to Salt Lake. Though nothing was remiss inside, the owner pointed to broken pipes as proof of attempts of an earlier break-in. As part of the investigation, the police questioned some sweepers who had been engaged to clean the house some days ago. Though no arrests were made, the sweepers reportedly took umbrage and boycotted the block.
"We do not know the owner as the house has recently changed hands. But garbage piling in our hands in the midst of a pandemic is a cause for worry," said Kaushik Ghosh, secretary of the BC Block Residents' Association.
The association approached Jana on Wednesday. "I also received a call from the minister (Jyotipriyo Mullick, a resident of the block)," Jana told The Telegraph.
The MIC member said he spoke to the sweepers and "within 15 minutes" a team of sweepers got to work in the block.