City markets coming back to life
This time, people are visiting malls for an outing like they did before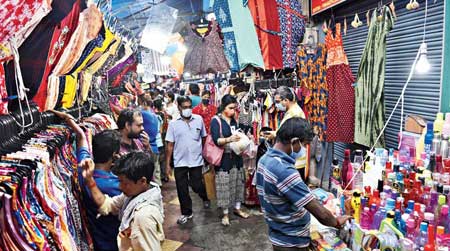 A busy Gariahat pavement
Bishwarup Dutta
---
Calcutta
|
Published 08.08.21, 12:41 AM
|
---
Slowly but surely, the markets are coming back to life.
Bolstered by vaccines and tired of staying home, several Calcuttans are returning to their favourite places.
Finding a parking slot at malls is a tough task and a walk across Gariahat pavements is not as breezy as it was a couple of months ago. Retailers said business was on the rise and with the festive season two months away, footfall would only go up.
Metro stations are busy even during the non-peak hours. Around 2 lakh people are taking the trains every day. Stations closer to markets, like Kalighat and Shyambazar, are back to being busy even during non-peak hours.
People's incomes have not gone up suddenly. But having stayed indoors for such a long time, people have some spare cash that they can spend. Retailers and mall staffers said purchase was need-based last year. But this time, people are visiting malls for an outing like they did before.
Familiar feel
Late afternoon on Friday, the pavements in Gariahat were busy. A handful of hawkers were still sitting idle, some of them fidgeting with their phones. But many were busy.
A walk along the pavement from Traders' Assembly to Ballygunge AC Market meant wriggling past buyers.
Bargaining bouts, typical of the hawkers' enclave that sells everything from trinkets to crockeries, were back at many stalls. A woman wanted a couple of doormats at a stall. The shopkeeper started by asking for Rs 400. The woman offered Rs 250. The deal was finally settled at Rs 310.
At a stall right in front of Traders' Assembly, three women were checking out bags. Two of them bought a bag each after around scouring nearly half of the stock.
"Things are not as gloomy as they used to be. When I reopened in the middle of June, I would be busy swatting flies for most of the day. Making the first sale would often take three to four hours. That has changed. But the Puja rush has not started yet," said Bappa Pal, who sells crockeries.
A bulk of the customers at Gariahat comprised mothers of children at schools in and around the Gariahat-Ballygunge area and female college students. With schools and colleges shut, that clientele is largely absent.
Swapan Saha, who sells earrings, trinkets and imitation jewellery, said he would sell stuff worth Rs 3,000 to 4,000 on an average day two months before the Puja till 2019. "Now, it is around Rs 1,000. But after reopening last year, or even a month ago, I would struggle to get two to three customers every day. So, I am not complaining," he said. Malls
Around 6pm on Friday, only a few slots were remaining at the parking area on the second floor of South City Mall. "You will not get any after half an hour," said a security guard manning the entry point from the parking lot.
Though not packed to the hilt, the mall was still busy. "Sale" posters adorned almost every store. People, young and old, kept moving in and out of the stores with bags in hand.
Ditto at Quest Mall an hour later. "Things have been looking bright for the past few weeks. The festive season rush has just started. People are buying in bulk, after a long time," said Krishnendu Tiwari, the manager of a premium menswear store. "Before the pandemic, our daily sales volume in July would be around Rs 1 lakh. Last month, it was around Rs 70,000, which is not bad at all, considering the circumstances," he said.
An employee of a kids apparel store in Quest Mall said people had started Puja shopping. "Last year, buying was low-volume. Even for kids, people bought only one or a pair of clothes. That seems to have changed. People are buying in bulk," said the man.
Many retailers said they noticed a change in the buying pattern. Purchase was entirely utility-driven in June and a better part of July. Now, retailers said they were getting flying customers as well.
"Friday and Saturday are the best days for business. On Sundays, the mall footfall is huge but that does not translate into business. But it is a relief to see so many people," said a repre¬ sentative of a chain of bags and accessories, with stores at South City and Mani Square.