Basti ki Pathshala
There is a gap everyone will tip-toe around. An education gap widened by the pandemic and Amphan. A group of students took it upon itself to attempt a solder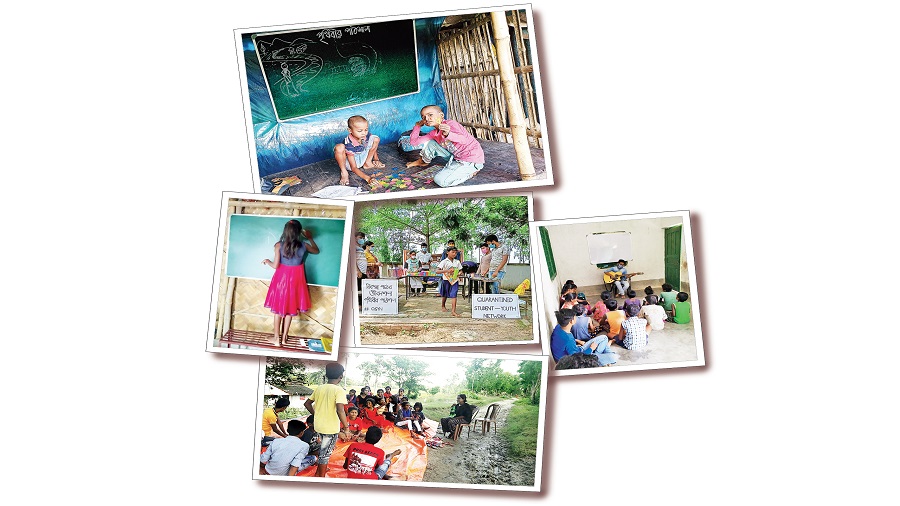 Class Act: Since July, Prithibir Pathshala has been teaching 810 children across 21 makeshift schools.
Courtesy: Quarantined Student Youth Network
---
Published 20.09.20, 12:48 AM
|
---
Surojit Sinha lives in Balidweep in Bengal's South 24-Parganas. His father works in bheris, or fishponds, and fisheries. Some days Surojit fills in for him. But in the long run he wants to become an engineer, wants to "fit" his village with a certain kind of electric line, the kind that will survive super cyclones. He also wants to make mobile phone batteries that won't discharge too fast. Surojit, a student of Class IX, travels 10 kilometres daily to school and back. But since the pandemic outbreak, school has been shut.
Aisha Khatun's situation is somewhat different from Surojit's. She is 13, lives in a slum in south Calcutta and attends school. She is in Class VI. She has a constant fear that her father, a rickshaw puller, and mother, a domestic help, will not be able to afford it for long, and will sooner than later marry her off.
Even before Prime Minister Narendra Modi announced the nationwide lockdown beginning March 25, schools across India had shut down.
A couple of weeks down the line some started online classes, but not everyone has access to those. Surojit attends a government school 110 kilometres from Calcutta; Aisha too goes to a government school. No MP or legislator thought to make an alternative arrangement for them.
And then, enter Prithibir Pathshala.
Prithibir Pathshala roughly translates to school of the world. It is an initiative by a group of past and present students across universities in Calcutta — Calcutta University, Jadavpur University, Presidency University, Indian Statistical Institute and so on and so forth.
Some members of Prithibir Pathshala had participated in relief operations under the banner "Students of Bengal" during the 2015 Nepal earthquake, the Kerala floods of 2018 and the Delhi riots earlier this year. Post the corona-induced lockdown, the group reinvented itself as Quarantined Student Youth Network or QSYN and started reaching out to people in need. Immediately after super cyclone Amphan struck in May, the volunteers travelled to interior Bengal and that is when it stared them in the face — the education gap. Debojit Thakur, who is an alumnus of Presidency, says, "We witnessed first-hand how an entire generation of underprivileged children was affected." 
Debojit, who is currently a PhD student of Germany's Karl Marx University of Trier, has been in town the last two months. Recalls Bandana Mondal, a former student of Presidency, "We were distributing rations in Kulpi, South 24-Parganas, when an old lady came up to us and said — 'What is the point of one-time help? If possible educate our children.'"
That was July. Since then, more than 103 volunteers have been teaching 810 children, aged 10 to 16, across 21 such pathshalas in Calcutta, North and South 24-Parganas, Bankura, Malda and Howrah. "It wasn't very difficult to reach out to people because in most of these areas we were involved in some kind of initiative through ration distribution, people's kitchens or medical camps," says Debojit.
It seems locals came forward to help, each in their own way. In Dum Dum, the authorities of a local club offered to turn one of its rooms into a classroom. In Uluberia, the headmaster of a primary school let them use a room in the school building. In other places, such as Baghajatin, where there was no infrastructure, volunteers bought tin and bamboo and built pathshalas.
The student composition varies — children of migrant workers, daily wagers, slum-dwellers, tea-estate workers in Alipurduar, those from the tribal community in Bankura and in the North and South 24-Parganas. The majority of them have a fleeting childhood; it would be no exaggeration to say that many enter India's invisible workforce before they have lost their milk teeth. Their parents do not have the wherewithal to fund their education. Once in a while, short-term drawing or dance classes are organised by some NGOs.
Armaan's home is one of the sidewalks of north Calcutta's College Street area. He went to the local corporation school for some years. He had to stop when his parents couldn't afford the fees anymore. Armaan, who loves maths, would thereafter practise sums from his old school textbooks ad nauseum. Armaan has started attending the College Street pathshala which has children from Kalabagan basti and other neighbouring slums. Koushani Mukhopadhyay, a second-year student of the performing arts department of Presidency who teaches there, recalls one class where the students spoke of how their books were washed away by the super cyclone. She says, "Even the memory had Armaan in tears."
Bandana teaches in the Patuli and Baghajatin pathshalas. In Patuli, most of the children come from the slum near the railway tracks. Aiswarya Dev Goswami teaches in Patrasayer, Bankura, a jungle area dotted with tribal villages. The students speak Santhali. The nearest primary school is two kilometres away and the high school, five kilometres away. During sowing season even the children work on the fields. Says Aiswarya, "Some days we have only two students and some days there are 20. Even before Covid-19, many have lost their parents as there is no access to basic healthcare. Children are not motivated much to study but they are trying." Shrabani Hembrom, a Class VII student at the Patrasayer pathshala wants to become a nurse when she grows up.
Bandana says, "We have no idea how they study, what they have been through, what conversations they hear, what the role of their parents is." Reeaz Hasan Mollah, an engineering student at Jadavpur University, teaches in Howrah's Chengail and Panchla pathshalas, where most of the students are children of zari karigars and jute mill workers. He says, "One day, while teaching them life sciences and the requisite calorie intake for humans, I watched them make the connection with their own lives. There I was telling them that a healthy diet should have this, that and the other, and one by one they started to ask me if that meant their own meals were deficient."
Koushani, who travels from Barrackpore to College Street to teach, recalls the day of the solar eclipse. She says, "As we spoke to them about the science behind it, they told us about their idea of the day picked up from their immediate environment — 'not auspicious', 'a day of no cooking', and 'kirtans'."
A recurring fear among the girls seems to be that they will be married off and not be allowed to complete their education. Says 21-year-old Reeaz, "They convince their parents and fight for education. Education for them is a privilege." A resident of Howrah, Zulekha, loves life sciences and literature. She has seen some older girls from her neighbourhood become teachers and she too wants to become one.
Another student, Rimpa, is not very good at the lessons but she tells Reeaz, who is from the same neighbourhood, "Bhaiyya, like you, I will also go to Calcutta to study."
But what is Prithibir Pathshala? Are the classes daily affairs or something for weekends only? Does this aspire to dovetail into one school board or the other? Or is this some kind of a stop-gap charity work? Is this going to last beyond Covid-19? What about funding? The questions abound. And from the sound of it, the answers are still evolving.
"This is a long-term initiative," says Saikat Sit, a volunteer and a student of civil engineering at Jadavpur University. Prithibir Pathshala and its network is not affiliated to any board. Classes are held daily and organised according to age groups. Lesson plans are drawn keeping in mind the state board's prescriptions and the overarching goal of social empowerment. Says Debojit, "Keeping in mind that many of these children are starting from scratch, the groups for foundational classes are often age agnostic." He makes clear that their objective is not to become an alternative to tuitions or regular schools.
Koushani says, "We also teach them things outside a rigid syllabus structure. We talk to them about nature, climate, current affairs, things we see or observe in our day-to-day lives." She adds how some parents request their child be taught the English language.
Aiswarya, a student of electrical engineering, who has earlier taught children in the Sunderbans, says, "Textbooks scare them. The sounds of subjects scare them. But when I talk to them about the handpumps they are so familiar with and explain pressure and lever, they understand easily and are delighted."
Apart from books and blackboards, these young teachers use audio-visual aids to address some of these wonderments. While history is taught through films and plays, science is explained through experiments. Weekends are for special classes in drawing, music, dancing. "We want to be the happiness providers," says Saikat.
The increasing number of pathshalas has to do with disparate locales being catered to; a central pathshala would mean organising transportation and even then there would be impossible logistics. Funds come in through crowdsourcing.
Aniket Das of Alipurduar does not miss a single class. His father sells lottery tickets and mother sews clothes for a living. Puja Maiti's father works in a hosiery factory in Tamil Nadu. Her mother is a fisherwoman. The Class IV girl wants to join the police service. Samir Kishku is the son of a honey collector from Patrasayer in Bankura. His village got an electricity connection a few years ago. He wants to become a footballer like Messi. Lakshmi Murmu's father is a farmer. She wants to study the Ol Chiki script and do something for her own community, the Santhals. Mahfuz's father is a zari karigar. He is excellent at maths and wants to be an engineer.  
Saikat says, "People say a doctor's son will become a doctor, a lawyer's son will become a lawyer, and they say the same for children of labourers and rickshaw-walas. We want to break this."