Barricades set up to raze Vivekananda Road flyover
Senior officials of the urban development department said the demolition would be carried out in three phases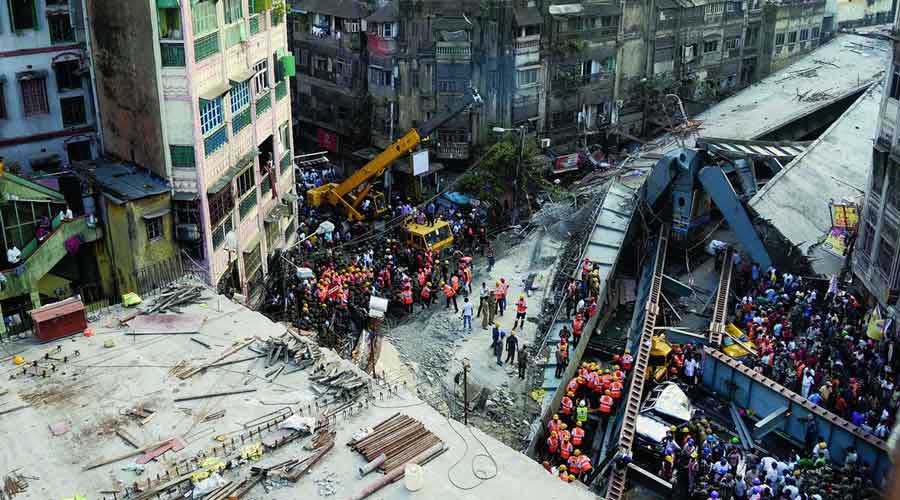 Rows of steel rods have been lying dumped on a portion of the 2km-long flyover, adding to the weight on the deck slabs.
File photo
---
Calcutta
|
Published 12.06.21, 01:21 AM
|
---
Work on erecting barricades along the stretch of the Vivekananda Road flyover that will be pulled down in the first phase, began on Friday.
Labourers dug holes on Strand Road to put up bamboo poles. Police asked shops and godown owners to take necessary precautions so that no one sneaked in.
The state government has set itself a target of demolishing the Vivekananda Road flyover in eight months, from June 15.
Senior officials of the urban development department said the demolition would be carried out in three phases. It would start with the portion over Strand Road and end with the stretch over KK Tagore Street.
On Friday, engineers from the Calcutta Metropolitan Development Authority (CMDA), the implementing agency, set up a temporary site office opposite Old Mint in Posta. Over the next few months, this office will serve as the meeting point for engineers and experts who will oversee the demolition.
By Sunday night, police said, officials from the Mumbai-based Edifice Engineering, which would execute the work, would move in with their men and machinery.
"Godown and shop owners have been asked to use their rear entrances on Strand Road for the time being," said a senior officer of Posta police station.
Lalbazar has worked out an extensive plan to divert all vehicles headed for Posta from Strand Road through Central Avenue and Rabindra Sarani. The vehicles can take Beadon Street, Nimtola Ghat Street and Strand Bank Road to reach Posta. Parking of vehicles along Strand Road, KK Tagore Street and Raja Katra for loading and unloading of items will be restricted. Posta-bound buses will be diverted towards MG Road.
"An alternative parking space is being readied near Jagannath Ghat. By the night of June 13, when machines start moving in, the movement of heavy vehicles will be restricted," said a senior officer at Lalbazar.
In the first phase, some of the iron girders near Strand Road, which have no concrete deck slabs on them, will be pulled down, engineers of the urban development department said. Once this "relatively easy" task is completed, the second phase will entail bringing down the structure that goes past Old Mint towards Posta. On June 15, the demolition work is scheduled to begin on the stretch between Napit Patty and the entrance to KK Tagore Street from Strand Road at 10am.
Traders have been asked to ensure that labourers don't move around the area when work starts. "All loading and unloading will have to be stopped," said Pawan Shrivastava, an owner of an automobile lubricant shop.
"Some of us have been living in perennial fear that the structure would collapse. Once the structure is demolished, the fear would be gone," said Deepak Agarwal, who owns a tyre shop on KK Tagore Street.