Balcony of two-storey house collapses in north Calcutta, elderly man injured
Golok Chandra Das, 68, who fractured his hip, lives in Behala and returned to the north Calcutta house where he is still a tenant to get his second Covid shot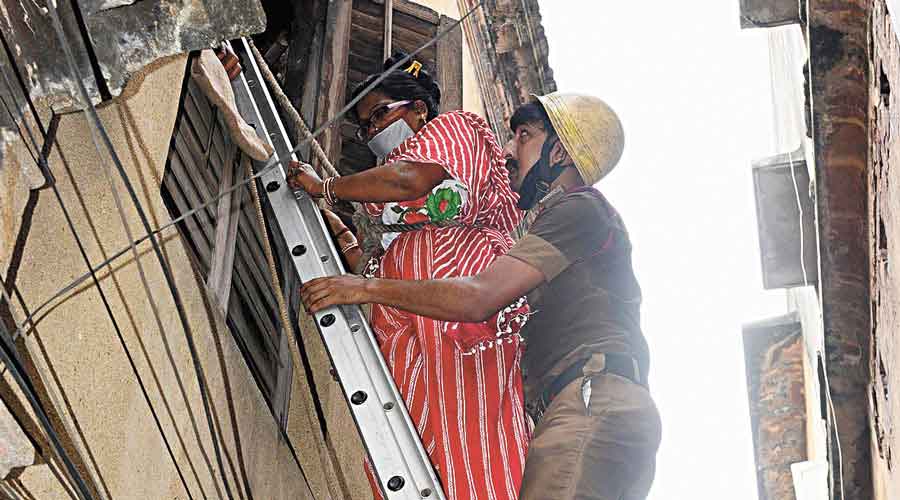 A fireman rescues a resident of the house on Monday.
Pradip Sanyal
---
Girish Park
|
Published 27.07.21, 02:07 AM
|
---
An elderly man was critically injured when the balcony of a two-storey house in north Calcutta on which he was standing collapsed on Monday afternoon.
Golok Chandra Das, 68, who fractured his hip, lives in Behala and returned to the north Calcutta house where he is still a tenant to get his second Covid shot.
Three other members of the family, including two women, were trapped on the first floor of the building. They were rescued by fire department personnel.
Residents of the area said the building — 9 Dayal Shome Lane — was at least 100 years old.
Das was standing on the balcony around noon when neighbours heard a loud noise. They rushed out and found that the balcony had collapsed. Das was lying in a heap of debris.
"He was trembling and unable to speak. A friend and I brought him out of the debris and took him to the Calcutta Medical College and Hospital in an app cab," said Rajdip Pal, who lives in the same neighbourhood.
"We have been tenants of the house since my grandfather's era. My parents have all their identity documents registered at that address. We now live in Behala but my parents wanted to take the vaccine in our old neighbourhood. They were vaccinated on Friday," Das's son Joy said.
The balcony that collapsed could be accessed from all rooms on the first floor. To reach the staircase, one has to walk through the balcony.
Calcutta Municipal Corporation officials said they had declared the building "dangerous" long ago but the families living there did not move out.
On Sunday afternoon, a portion of the roof of a dilapidated building on Ashutosh Mukherjee Road in Bhowanipore had collapsed.
The CMC often declares buildings as "dangerous" but it allegedly does not do much beyond that.
"The problem is most of the dilapidated buildings are litigated. If the CMC tries to demolish them, it is dragged to the court," said an official in the civic health department.
To overcome this problem, the CMC had introduced a rule that allowed relaxation to the owners of dilapidated buildings to construct additional floors if they demolished the risky structures and raised new ones.