Autorickshaw services between Garia and Tollygunge suspended on Monday
The police said one vehicle had been taken back by a finance company after its owner had failed to pay multiple monthly instalments for it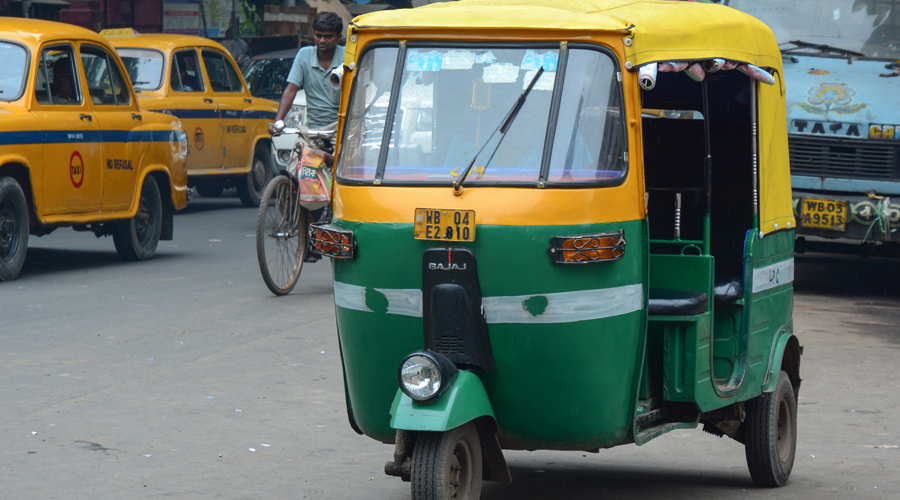 Representational image
Shutterstock
---
Tollygunge
|
Published 20.04.21, 02:32 AM
|
---
Autorickshaw services were suspended between Garia and Tollygunge on Monday. Auto drivers on the route refused to ply their vehicles in protest against an autorickshaw being taken back by the vehicle's financier as the driver, who was also the owner of the vehicle, had missed two loan instalments, police said. 
Suspension of the auto services on the first day of the week caused inconvenience to hundreds of commuters who had been availing of the services, especially to avoid the crowded buses during the pandemic. 
The police said one auto rickshaw had been taken back by a finance company after its owner had failed to pay multiple monthly instalments for the vehicle. 
Several auto drivers said their income had been hit badly because of the pandemic-induced lockdown. 
"We are barely surviving in the present circumstances. Our income has almost halved as many who used to take auto are now travelling in private cars. How can a finance company be so inhuman to take away the vehicle that is the only source of bread and butter for auto drivers?" a driver said. 
Auto drivers said many of them had bought their vehicles on bank loans which they were finding difficult to repay because of the losses in their income in the past few months.
Several Calcuttans who had no inkling about the suspension of the auto services on that route suffered as they waited on the road in vain for hours for autorickshaws which did not come. 
"I waited for 30 minutes at the Naktala crossing. There was not a single auto on the road. Suddenly, I heard a bus conductor saying: "Chole ashun, auto bondho ache. Aborodh cholche (Come along, auto services are suspended),"  said Subhankar Chatterjee, who was heading for Behala on Monday noon. 
Autos that ply between Garia and Tollygunge are the lifeline of communication for hundreds of commuters between southern fringes of the city and pockets of south Calcutta like Haridevpur, Behala, Thakurpukur. 
Srimoyi Mukherjee, a resident of Ranikuthi, who has her office in Garia, had been taking auto rides for years now to reach her workplace. Monday was an exception. 
"I have completely stopped taking buses because they are over crowded. Today, it was an unimaginable situation when I had to step into a private bus after waiting for 40 minutes at the auto stand. There were empty vehicles stationed along the road But no one was ready to go," she said. 
The fact that the majority of the buses have been requisitioned for the Assembly election-related work compounded the plight of many commuters. 
An elderly resident of Bansdroni said if the condition prevailed, she would be forced to stop commuting to her daughter's home in Tollygunge. 
"I cannot afford a taxi. I will have to wait for the auto services to resume before I can see my daughter who is expecting her first child," the woman said.
Officers of Regent Park police station said they held a discussion with several auto union members and convinced them to resume services for the benefit of the public. 
"We have explained to them that the entire fleet should not go off the road for one auto owner defaulting his loan," said an officer. 
A few autorickshaws hit back the road late on Monday evening.