App help for visitors to locate Botanic Garden trees
Software also helps members of the garden staff to negotiate the sprawling 273 acres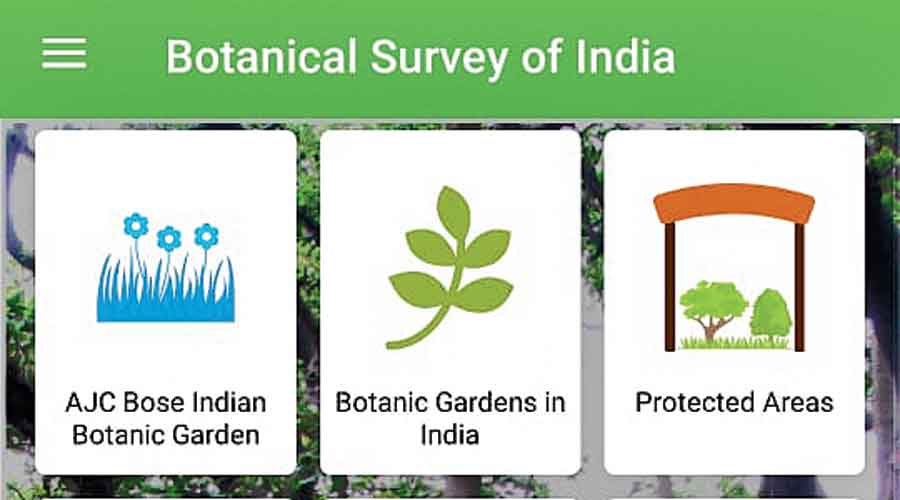 Screenshot of the app developed by the Botanical Survey of India
Telegraph picture
---
Howrah
|
Published 07.11.20, 02:26 AM
|
---
The Botanical Survey of India has developed an app to help visitors to the Indian Botanic Garden, Howrah, locate various trees and even buildings on the garden premises and reach them easily.
The app helps members of the garden staff as well to negotiate the sprawling 273 acres that is home to 14,000 species of trees, plants and climbers.
The BSI app, which can be downloaded from the Google Play Store, has been designed and developed with assistance from Geo Climate Risk Solutions Pvt Ltd. It lists the various botanic gardens in the country as well as the protected areas.
An entire section is devoted to the Indian Botanic Garden, Howrah, giving the garden's history and listing the iconic trees in the garden, the various sections, including the aromatic plant garden, the bambusetum, the cactus house, the large palm house, among others.
The flowering calendar lists all the flowers as they bloom in various months.
The buildings and monuments section helps one reach the Central National Herbarium, the Griffith Monument, and the Robert Kyd Monument, among others. The lakes, too, are identified and there's a map as well.
So, if a visitor wants to reach the Great Banyan Tree, all he/she has to do is to go to the Iconic trees section and tap on the Great Banyan Tree. There's a picture, along with the option of spotting and reaching the plant. If one taps the plant in the app, a drop-down information box will provide the scientific name, the local name, and the English and Hindi names, along with its characteristics. There's a short history of the tree, too, which can be heard orally. If one were to tap the option of "reach the plant", he/she will be guided to it through Google Map.
One has the option to visit nearby trees as well. Pressing the button on "Nearby trees" brings up a map showing nearby trees with their scientific names.
"Work on the app had started four years ago. It was launched recently. The app assists not just visitors but also members of the garden staff. Not all of us know where the different trees and plants are exactly located in the garden," Kanak Das, the garden director, said.